In Russian we have a saying "Beauty asks for sacrifice". It is a well known fact: face, hair, feet – it all requires work. Very few of us can roll out of bed and head out the door within 5 minutes (I remember doing it in my 20's though), we need to spend some time making ourselves look pretty, but how about our little mini-me? If you look in the mirror and see a small face next to yours observing your beauty regimen, you live in my world. She might be putting virtual contacts in her eyes, applying chopsticks or even styling her hair – she is there to learn.
Eco Princess was created by a mom who grew concerned with allowing her own little princess to use play makeup, nail polish, and bath products due to the highly toxic ingredients found in popular kids products. Wanting to indulge her daughter in princess makeup parties and fun Bathtime products, she created Eco Princess using 100% natural ingredients for a safe and healthy alternative.
The Eco Princess Bathtime collection includes shampoo, conditioner, and 3 different bubble bath scents. The makeup collection consists of 2 eyeshadow shades, blush, pink shimmer lip balm, and 9 water-based nail polish colors.
 My little girl loves her hair. She gets an occasional trim,  but otherwise her hair is quite long. Not quite Rapunzel's hair, they do still require a lot of handling. I have to be very careful about the hair products for her as some leave her hair unmanageable and the last thing I need in the morning is brushing hair and dealing with a screaming child.
Eco Princess products are
Sulfate-free
Paraben-free
Gluten-free
Vegan
Cruelty-free
Toxin-free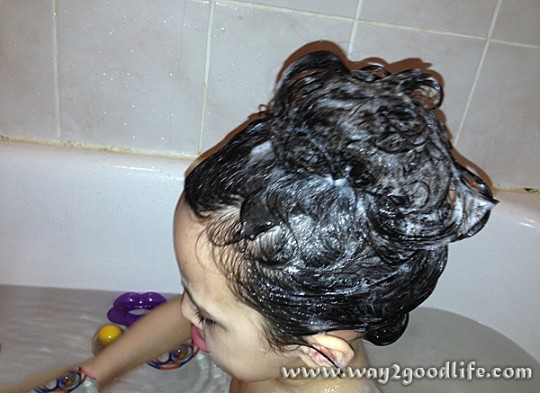 Perfect hair might look like no big deal to anyone who meets her during the day, but it is definitely a huge business in our family. I like the idea of the detangling conditioner because it does the work for me and helps me train my daughter's hair . Between shampoo and the conditioner, it is definitely a great combo for hair handling needs. What I need now is detangling spray for my kids to make them nice and smooth. Oh, the girl can dream….
Learn more about Eco Princess products and check out their great products
This review was made possible by Mom Spark Media. Thoughts are my own. I received items from Eco Princess for the purpose of this review.