We have attended classes at the Goldfish Swim School in Mundelein
free of charge, but the opinions are all mine
Just over a year ago I decided to take kids to a private swim school – my almost 8-year old girl, my 6-year old boy, and my 5-month-old baby boy. This decision was long coming: by that time my older kids have gone to a part district swim classes for a year with a minimal progress. Kids loved swimming, but the cold pool water made them seriously question their desire to continue going to the classes. However, right after I toured a nearby swim school something else happened – I got an email from the Goldfish Swim School in Mundelein. This email led to a partnership that has become one of my favorite partnerships as I learned more about the swim school and people who work there.
Why Private Swim School?
Goldfish Swim school is proud to share that their water temperature there is always 90 degrees. My daughter can't stop talking about how much she loves warm water. Rain, Snow or Shine – the water is always the same – and it always feels like tropics.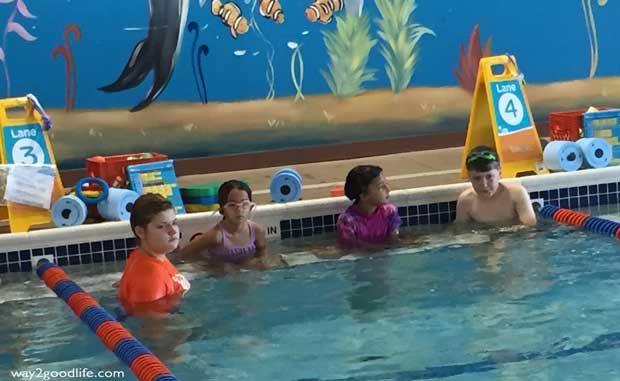 Over the course of the year, we met different teachers, management, and customer service – we have nothing, but good things to say about them! I know that both of my children are a bit challenging when it comes to staying still, learning new things, and not getting sidetracked. However, both, the teachers and the management, are happy to answer my questions, give suggestions, and answer more questions (because I can sometimes a helicopter mom).
Teachers Matter
My kids love their teachers! In one of my Goldfish swim school interviews, a teacher suggested how good it makes her feel when a child wouldn't want to move to the next level, because of their bond he developed with the teacher. My daughter is just like that! She loved her teacher and was sincerely upset when she had to go to the next level. Imagine her happiness, when the same teacher started coaching her new class!
A Year Later
We are still going strong – every Saturday we are up at 7.30, leaving the house at 8.30 to be at the school by 9 AM. Guess, what I never have to deal with? Whining and complaining – kids are always excited to go to the swim school!
Even my 18-month old is absolutely in love with his swimming classes – he loves splashing and has progressed quite a bit with his water activities. His favorite trick is jumping in the water, swimming back to deck (with help), and climbing back on the deck.
Our Progress
I always wanted to know how quickly my kids can hop through the swim level in the swim school. However, my children so far have advanced one level since they started going to this school. While for some this might not be the all-star progress, I certainly like getting the updates, so I know exactly where they stand. Every four weeks or so we get an evaluation from the deck supervisor on the progress and weekly updates from the teacher.
If you considered a swim school or just thinking about activities for your child, look into a Goldfish Swim School!