How do you pick the right multi-vitamin for a your child? What make you pick one over the other? We as parents do the best we can to offer great nutrition for our kids, but when it comes to vitamins – are we educated enough to make an inform decision? I am not an expert, but would like to share my opinion – I truly believe in liquid vitamins.
WHY?
When you take a pill, it goes through your digestive system before getting into the blood stream and taking a full effect. When you take any kind of supplementation in liquid form, it doesn't just sit around in your stomach, but immediately gets into the stream gets busy.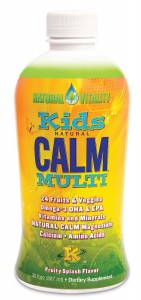 Natural Vitality Kids Natural Calm multi is a great liquid vitamins and has some very good "good for you" things trapped under the cap.
24 fruits and vegetables
This vitamin has several super fruits likes pomegranates and acai – great help for strengthening immune system along with many fruits and vegetables to make sure your little gets needed nutrients. Fruits and vegetables used in this vitamin are organic and free of genetically modified ingredients, pesticide, herbicide, fungicide residues, chemical fertilizers.
Fish oil
Don't you even say EWWW. Omega-3 DHA and &EPA are essential for brain development as well as supporting digestive system. The fish oil used in Kids Natural Calm Multi is sourced from the purest wild sardine and anchovy, fished in cold water of South America.
Balance of Calcium and Magnesium
Calcium and Magnesium are key ingredients of every day diet and work well together. While calcium is essential for you child' growth, magnesium helps your child's muscles and nerves to work properly. It keeps heart rhythm steady and supports healthy immune system.
BOTTOM LINE:
I am happy with the ingredients and that fact that they are organic (for fruits and vegetables) and wild (Omega-3). It tastes like juice. It is for kids 4 and up though.
From a Parent to a Parent, here is what I would like for you to know:
Despite the fact that Kids Nutri Calm Multi Vitamin is a great product, multivitamin will never replace proper nutrition. It is there to supplement good food habits and not to fix everything that isn't done right. That means that you child still needs to get Omega-3 from other sources and have plenty of fruits and vegetables.
For more info, check out  "Kids Health – A Doctor's Guide  For Parents" written by Dr. Carolyn Dean MD, ND is available as a free download at the non-profit www.nutritionalmagnesium.org.
For more info, check out Natural Vitality on their site, Twitter, and Facebook
FTC Disclosure: I received the product(s) mentioned above free of charge by the company or PR representative in order to conduct an honest review. I was not compensated in any other way for this post. The thoughts, experiences, and opinions are entirely my own. I am not liable for any issues you may incur from use of said product(s).