Prior to joining Sea Cadets Program, I learned about the program very randomly at the Iowa State Fair in 2019. Now two years later, I cannot imagine our lives without it. The opportunities are crazy good, and I am happy to share this program with anyone who would listen. However, let's be absolutely honest – Navy Sea Cadet programs not for everyone. And as a responsible parent, I believe you should ask yourself 10 excellent questions before joining Sea Cadets Program.
1. Are you obligated to join the Navy after Joining Sea Cadets Program?
The quick answer is "No." Some kids join the program for the experience without long-term goals of joining the military. Most units' instructors are parents of cadets – not recruiters. There is no direct funnel from Sea Cadets to military service. However, the program definitely encourages serving in the Navy or the Coast Guard by providing advanced paygrade.
2. How are Sea Cadets different from Boy Scouts?
Each program is unique in its own way. The Sea Cadet program is built after the US Navy program. The fitness requirements and tests, training manuals, and lingo are unique to the United States Navy. Training camps are also somewhat similar to the Navy boot camp. Certainly, you can look at the sea cadet program to introduce the military lifestyle without the obligation to do so).
And the Navy recognizes Sea Cadet training by offering an advanced pay grade to those looking to join US Navy.
3. How are Sea Cadets Different from ROTC?
Sea cadet Corps program is open to kids from the age of 10, while ROTC is a high-school-based program. However, not all schools have ROTC, those that do offer great advantages to the participants. I have seen plenty of forum posts with each side insisting that their organization provides better options and perks. Both JROTC and Sea Cadets offer college scholarships. ROTC scholarships are extended to those graduating from Sea Cadets Corps.
The programs certainly have their differences, but both are great for the high-schoolers looking to join the Navy in some capacity.
4. What is the Best Age to Joining Sea Cadets Program?
Sea Cadet program is for the kids 13 – 18, and its junior program League Cadets are for the kids 10-13. I believe the earlier they join, the more they will get out of the program. I am talking about fun summers as well as the skills they will learn in the program.
However, maturity is a factor not to forget. I have seen cadets that started early but were not ready for the commitment. They left but came back a few years later.
5. How will Joining Sea Cadets Programs benefit my child?
I do believe that different kids take different things out of the program. This program offers excellent leadership skills. However, it also teaches the importance of discipline and working as a team, which I think is a lot more important than the ability to lead.
There are also a great number of other opportunities, from the recruit training that gives cadets a taste of the military life to a variety of advanced training. My 11-year old son in the first year studied Search and Rescue Operations and Marine Biology. He is studying Mountain Rescue right now and looking forward to STEM courses.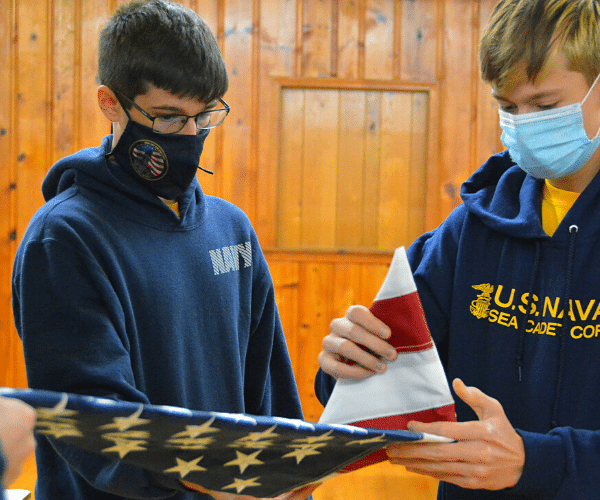 My daughter, who just recently enrolled into the Sea Cadet program, is about to start her first STEM course and is thinking about Car Maintanance and Field First Aid courses for summer.
I also heard about fantastic scuba diving courses in Hawaii and Florida, exchange programs in the UK, and so much more.
6. Who wants it more – me or my child?
I love this question and honestly speaking, it is a hard one to answer. I found that older kids (those in high-school) have a greater understanding of how Sea cadet corp can help them cover college costs, offer great training options, or enlist at the higher rank and pay grade. However, when it comes to the little kids, the motivation is completely different. I have met some extremely motivated ten-year-old who plan on enlisting. There were also plenty of kids whose parents decided that their kids NEED this program. I am myself belong to the second category.
After we, along with a dozen or so families, listened to the presentation, kids were asked to stay for a drill. To my surprise, my then 10-year-old said, "Absolutely not!" This was the point my son realized that he might be missing out on hours of video-gaming. And it wasn't easy to change his mind.
7. Is the Sea Cadet Program Budget-friendly?
If you compare the Sea Cadet program with the kids' extra-curriculum activities at private clubs, it is very affordable. The initial costs include uniforms and administrative costs. Actual numbers vary from unit to unit and depend on a few factors. However, all money cover membership dues and unit operating costs. The annual renewals are usually around $100 (this number varies again from unit to unit).
There are also some costs to cover lunches and small expenses here and there. There are also summer/winter training costs. The headquarter covers most of the training costs. An average training costs around $100 – 200 and covers cadet's overnight stay and training for several days. Parents also have to pay for the travel if chosen training is in a different state.
For example, if you and your cadets decide on taking a scuba diving certification in Hawaii, you have to pay for the airline ticket, but most of the training there, along with room and board, is covered by the program.
8. Will anyone yell at my child?
Let's face it, we might secretly want someone else who is not me to set my child straight, but I have to disappoint you – the Sea Cadets program is not about yelling. And don't forget, many volunteers are parents with kids enrolled in the program. However, like in the Navy, discipline is a priority – instructors and Petty Officers work hard to ensure that.
9. What is the time commitment?
Most units ask for 75% participation. A lot of elements in the Sea Cadets program mimic Navy rules, and that includes discipline. Regardless of the unit drills weekly, bi-weekly or monthly, the number of drill hours remains the same. The curriculum of this training is approved by the U.S. Navy and standardized at all training sites.
Cadets receive 106 hours of instruction focusing on the Navy's core values of honor, courage, and commitment over nine months. Additional opportunities like summer and winter training will, of course, require additional time.
10 . How to Find the Right Unit
If you are like most people, you would go to Seacadets.org and punch your zip code into the unit locator. Next, you know you will either find out that the closest unit is an hour and a half away, or you have three units each is about an hour away.
My first search result came back with three results, and I really didn't know which one would be a good fit for my son, but I also didn't know much of a difference between them.
You can do what I did and roll the dice filling out Contact Us form and let the headquarters decide which unit should email you back. However, if you want to take a more proactive approach, learn as much as you can about your area's units. Follow them on social media, see their adventures on Instagram and Facebook. Learn from their website prior to joining Sea Cadets Program.
Different units have different drill schedules. Some meet once a week, others do it every other week, and thirds drill one weekend a month. Which schedule works for you?
Do not hesitate to reach out to each unit before making an educated decision. Attend a drill if possible and see how cadets and adult instructors interact with each other.