I wish somebody told me earlier about make-ahead meals to be a key to a great family camping trip. Last year we got to the campground late and as I didn't plan any meals ahead of time. Next morning we drove to the camp store and got a box of Crispy Cream doughnuts. I think it's a fantastic breakfast, but I am also old enough to know that I can't serve a box of sweets to my family for breakfast more than once.
Why didn't I cook anything myself? I am not a big fan of cooking from scratch over the campfire while supervising three children. Most of the time I have enough energy to chase the youngest one, make sure the middle one doesn't get himself in trouble, and keep an eye on the older one. Besides that, trying to figure out what food to take camping is a project of its own.
Since sometimes cooking while camping can be more hassle than it's worth, I gathered up 20 Make Ahead Meals for Camping – best-camping meals I know you'll love! And keep reading for camping kitchen tools that will ensure you can make the best camping meals fast!
20 Make Ahead Meals for Camping
When camping, it's harder to wash dishes, and after a long hike, the last thing you want to do is prepare a meal from scratch. Having some make-ahead meals ready for camping is a life saver. These are simple to make in advance, and they store wonderfully. You can also reheat these easy camping meals easily over an open fire. Hold a foil pack above the fire, so it doesn't burn, and you got yourself best camping meal EVER!
Camping Snacks
Camping Breakfasts
These few might be enough to get you started with camping breakfasts but if you are looking for more delicious breakfast camping recipes, check out 25 camping breakfast recipe ideas.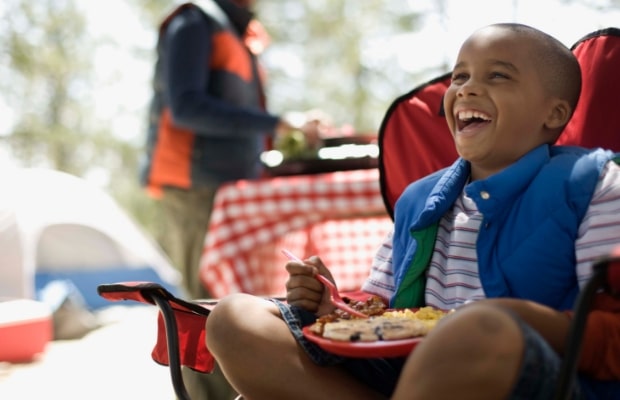 Camping Lunches
My personal favorites are the easy camping meals in the foil bags. While it's not entirely made ahead of time meal, these camping recipes still require some planning. And we have some pretty cool camping lunches – 20 Foil Packet Meals for you to check out.
Camping Dinners
Another great idea is to plan a few one-pot meals as it only needs one pot. Unless you have a portable dishwasher, you will probably agree that dishwashing activities might be challenging to do while camping. That's where one big pot comes in! Check out our One Pot Meals for Camping for some camping dinner inspirations.
Camping Desserts
This list is a great place to begin when planning your upcoming camping trip. Make ahead meals are a great way to make your camping trip more of a glamping trip. With so many delicious and healthy options on this list, you can have no guilt about heading out to go camping!
Have no time for make-ahead camping meals? Easy Camping Recipes
If you are anything like me, you pack as your significant other start loading the car. Yeah, might not be too late for the make ahead meals. Guess what? We have plenty of camping cooking ideas you can put to good use right on the spot as long as you make a stop at a store first.
The only thing you have left to do is to figure out what food you need to take with you. As a bonus let me share some incredible portable kitchen tools that will take your camping experience to a whole new level (like Where have you been all my life?). These things are all about great protection for your food items and convenience for you.
Camping Accessories for Best Camping Recipies
As you can see, these items are made specifically to keep you safe while also making mealtime easier. From using waterproof containers to keep your ready made meals safe from melting ice, to having a double wash station to sanitize plates and utensils – this list is perfect. No matter where you and your family head out camping this year, these fascinating make-ahead camping recipes and accessories are a must!