When my kids were little I couldn't wait for them to get older so the road trips would get easier. Oh my, was I wrong! While toddlers require frequent potty stops, older kids are talented at getting bored or driving each other nuts. While a smartphone is a good solution to keep everyone quiet, we might spend most of the day on the road. That is why I started looking for other things teens can entertain themselves with that would also make incredible gifts for the holiday or any other occasion.
1. Digital Energy Kinetic Educational Spring Toy
CHECK IT HERE
My daughter put it on her wish list last year and now almost a year later she is still a huge fan of it. The presentation is great – it comes with its own felt bag. It is also a great sensory and stress-reducing activity. The only difference is ours is not colored – these colored ones look amazing!
2. The Outrageous Crossword Puzzle and Word Game Book for Kids
CHECK IT HERE
Keep that brain working! My daughter loved watching grandma solving her crossword puzzles so I figured it would be a great idea to get her a puzzle book that will challenge her and would make a fantastic road trip companion. It is definitely challenging yet entertaining to keep them busy for a while.
3 3D Maze Game with 138 Obstacles, Labyrinth Ball
CHECK IT HERE
This game is my family's all-time favorite. I've seen everyone from 3 to 80 play it. Yes, it is addictive and it is so colorful! I've loved every variation of this game as every new one seems to have new challenges for the player. This might not be a great game for the county road but if you are on a highway for hours, your kids will love playing it as much as mine do.
Another game we got last year that doesn't get old. It's challenging enough, fun, and an amazing memory game. We also take this one to the wrestling tournaments to keep our son occupied with something that is not a phone and reduce anxiety between his matches.
5. TrueBalance Coordination Game Balance Toy
CHECK IT HERE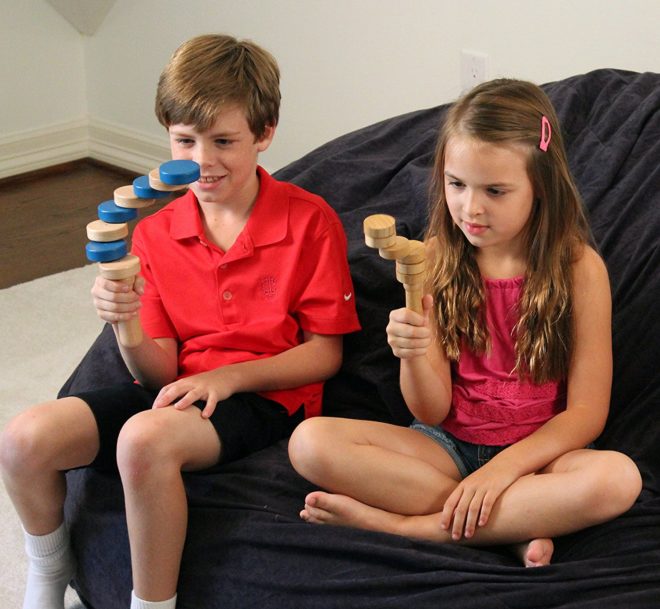 My husband was the first one to win this game and I have very little patience for standing still. However, highway miles will be a bit more fun when you try to keep it together for this game. Boys in our family seem to do better at it than girls. The one I have is a single color and the link above is to a multi-colored model I absolutely love!
6. National Geographic Kids Why? Over 1,111 Answers to Everything
CHECK IT HERE
This fun book is on the wish list this year for my daughter. She saw it at a friend's house and it was love at first sight. My daughter is a walking random fact generator and if you have a kid who loves learning, this book is what you are looking for.
7. Travel Scavenger Game for Kids
CHECK IT HERE
8. Set of Cubes: Speed Cube Set, Roxenda Magic Cube Set of 2x2x2 3x3x3 Pyramid Smooth Puzzle Cube
CHECK IT HERE
This oldie but goodie keeps is a favorite one of every generation. It is a fun stocking stuffer and a perfect solution for boredom.
My favorite thing about this game is that while a Bingo, it doesn't have any loose parts as we know those wouldn't survive long as a set on a road (or is it only my family's problem?) And guess what, younger and older kids can play this game together, which makes it a winner in my book.
Perfect for a county road driving, Wiki Stix is like a physical version of a drawing. Encourages imaginative play and fun, it is also portable and perfect for on-the-go. This tub also includes a bunch of ideas and illustrations to keep kids engaged. You can even scan a QR code to get step-by-step instructions.
11. Rubberneckers Travel Game
CHECK IT HERE
For several years now my kids look for bike son the road and fight over who saw a bike first. While it is amazing for bike awareness, it is mildly annoying. Rubberneckers is like that but better as it will be a fun game for everyone and you get to look for different things on your way.
12. The Best Ever Back Seat Games
CHECK IT HERE
This is a book that will keep the fun going while you are driving hundreds of miles and run our of things to talk about. There is more than one hundred varieties of fun games and interesting facts to help you make memories that last a lifetime. Entertaining enough for all age groups – children and adults and encourages imagination.
Best stress relief for creative souls and fidgeters alike. Coloring Books For Teens: Ocean Designs is like a coloring version of meditation. It contains over 35 ocean coloring pages to color and incorporates a variety of detailed designs. Purr-fect Coloring Book for Tweens is a bit more fun and entertaining.
14. Brain teasers for kids – Perfectly Logical!
CHECK IT HERE
There is no vegetating on the back seat when Perfectly Logically is on. This game helps to develop logical reasoning and critical thinking skills while having a blast. Find the missing pattern pieces and break codes and secret messages. Ten chapters 100 skill-building logic puzzles and unique challenges – this book is all about brain-teasing fun and hopefully some peace and quiet for the rest of us.
While visiting a Quilt Shop in Amana Colonies in Iowa, my daughter all of a sudden expressed a desire to try this. "That's a cool idea," I thought and caved in. This kit includes everything you need to create a simple design and a perfect starting point for a beginner.
16. Spirograph Travel Playset
CHECK IT HERE
A portable version of the original version, this travel spirograph is fun and a great way to get some energy out while coasting down the highway. Another great option for a fidgeter and a fun toy for any age.
If you keep losing colored pencils in the car, this tablet is a solution. While it is a piece of electronic, it will ensure your child is expressing creativity and not playing a candy crush. Simple to operate and easy to delete and lock designs
18. Scratch Paper Combo Art Set
CHECK IT HERE
Many levels of creativity are all in one small box. This set has 36 sheets covered with a black matte surface, but when scratched, 18 have brilliant vivid colored rainbow drop background, 9 sheets have gold foil background and 9 sheets have silver glitter holographic background!
Games on the Go is a collection of 50 games and activities that can be played anywhere at any time. Silly guessing games, perplexing word games, mind-bending memory challenges, wacky trivia questions, searching games and much, much more. It is compact and with a smart clip, the carts will stay together and could be clipped to a variety of things.
Same exciting game but with the power of magnets, it will stay on in place on a road. And maybe this time your sibling rivalry will manifest itself into an amazing game.
21. Our Adventure Scrapbook
CHECK IT HERE
What an amazing way to capture memories almost in real-time with a scrapbook designed especially for the road. Collect adventurous memories in a box and start filling the Adventure book. 40 pages and high-quality thick black pages with wrap closure. Scrapbook pages are made out of thick craft pages.
22. Artist Travel Portfolio
CHECK IT HERE
Big enough to fit a lot of different things, it has four different sizes of pockets – the main pocket for 18×24 inches drawing board and three other multipurpose pockets. You can carry it as a handbag or a backpack. The adjustable buckle can be adjusted freely. Store all your drawing supplies for the road and use them as needed.