Guest Post
Almost every woman will suffer from fatigue during pregnancy. The changes that your body is going through can make it almost impossible to stay awake at times during the day. The need for a nap can be overwhelming, and is most common in the first and last trimesters of your pregnancy. To help you combat your body's need for sleep during the day, here are some tips to help boost your energy so you can better cope with pregnancy fatigue.
7 natural ways to combat pregnancy fatigue
Take Short Naps
While you don't want to sleep the day away, short naps can be beneficial to the health of you and your baby. Not only can it help reduce harmful stress levels, there are times when you simply need a short power nap. Your baby uses a lot of your energy to grow and develop, which can leave you feeling drained and tired. A short power nap can revive your energy levels and help you make it through the rest of your busy day.
Relax
You don't have to be constantly on your feet during the day, and simply taking a few minutes to sit down and relax can be just as beneficial to you and your baby as a 20 minute nap. Instead of tackling a big project, spend a few minutes relaxing with a book or just sit back and put your feet up. This also helps to reduce stress and tension that can be potentially harmful to your baby.
Hydrate Often
Staying hydrated is essential for your overall health, especially during pregnancy. Not only can drinking 8 glasses of water during the day help you stay refreshed and hydrated, it can also help prevent pregnancy fatigue. Staying hydrated can also help you achieve that healthy glow that many women associate with being pregnant. Some women prefer to add a slice of orange or lemon to their water for added flavor, and the vitamin C found in these citrus fruits can also help revive low energy levels.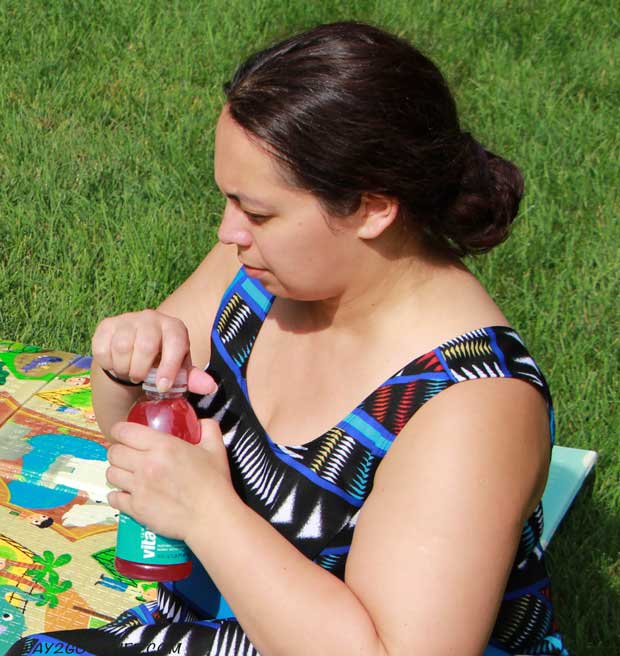 Eat well-balanced meals
Even when you are not pregnant the foods you eat can affect your energy levels, and now that your baby requires part of the nutrients you consume for healthy development it is even more important to follow a well-balanced pregnancy diet plan. Eating plenty of fresh fruits and vegetables can help boost your energy levels, along with foods that contain essential proteins and omega 3 fatty acids. Some energy boosting foods that are necessary for your health, and that of your baby include:
Salmon
Avocado
Nuts and Seeds
Whole grain foods
Frequently eat small meals
Instead of eating three main meals a day, which can cause fatigue even when you are not pregnant, try several enjoying several small ones. Large, heavy meals can cause you to feel full and tired, and zap energy levels. When you enjoy several smaller and healthy meals throughout the day, you can prevent your blood sugar from becoming low, which can result in pregnancy fatigue. Eating several smaller meals can also help you feel full longer, so you only gain the weight you need for your baby's health. When you have less weight to lose, it is easier to get back in shape after your baby is born.
Exercise regularly
While you do want to speak to your health care adviser before starting or continuing with any exercise program, it is an excellent way to improve energy levels. Not only will exercising help you stay active, it can also help you only gain the weight you need for your baby's health. Regular pregnancy exercises can also help lower stress and tension, along with giving your energy the boost you need to make it through the rest of your day.
Listen to your body
One of the most important steps you can take to boost energy levels and stay healthy is to listen to your body. While napping all day is not recommended and can actually make it difficult for you to sleep at night, if your body is telling you it is tired then you might want to take a few minutes to relax. Your body requires a lot of energy when you are pregnant, and when it is telling you to take a break it is best for your health and your baby's to take a few minutes to rest and recharge your energy levels.
Following these tips can not only help you combat pregnancy fatigue, it can also help you and your baby stay healthy. While these tips are safe and natural, it is always best to speak with your health care provider before making any changes in your routine. Even though it is natural to experience fatigue when you are pregnant, this does not mean that you have to sleep nine months away if you follow these healthy tips to boost your energy levels.
Video:
References:
https://www.consumerhealthdigest.com/pregnancy-center/
https://www.glozine.com/lifestyle/health
http://americanpregnancy.org/your-pregnancy/fatigue-during-pregnancy/
Author Bio:
Ella James is an aspiring author who is pursuing Health Services Administration degree from St. Petersburg College. She is an active contributor to Consumer Health Digest, which is a leading Health News Website. Her interests include reading and writing about Pregnancy, Parenting, Health, Fitness, Beauty and Skin Care. In recent years she had the opportunity to learn about Solvaderm skin care treatments. Get connected with her on Facebook and Twitter.
Are you a new mom or will be one soon? Maybe you know one?
Look for more tips, tricks, and other great articles on Advice for a New Mom page
Follow Way 2 Good Life's board Advice for a New Mom on Pinterest.