Love Halloween but not enjoy breaking the bank for the Halloween costumes, then you're in luck as we have 9 easy to make Halloween costumes for kids.
A little history: my kids' summer day camp is lots of fun and I absolutely love taking my kiddos there, yet their weekly theme day drove me absolutely insane. 10 weeks – 10 costumes and what full-time working mom has the time to make 10 costumes for two kids? However, I refused to give up and made it my mission to get these costumes done quick and easy with only what I had on hands.
9 Easy to Make Halloween Costumes
How much money do you put aside for the Halloween costumes? A few times I paid full price for a Halloween costume, I wished I could return it whenever the credit card costume hit my mailbox. Let's be real, if you want to get good quality costumes, you have to pay lots of money and the ones on the budget usually don't last long.
Well, that stops here. Check out these easy to make DIY costumes and surprise your kids and neighbors with something unique yet very cheap. Did I say cheap? Some of them are free or almost free, yet are complete head turners. Are you ready?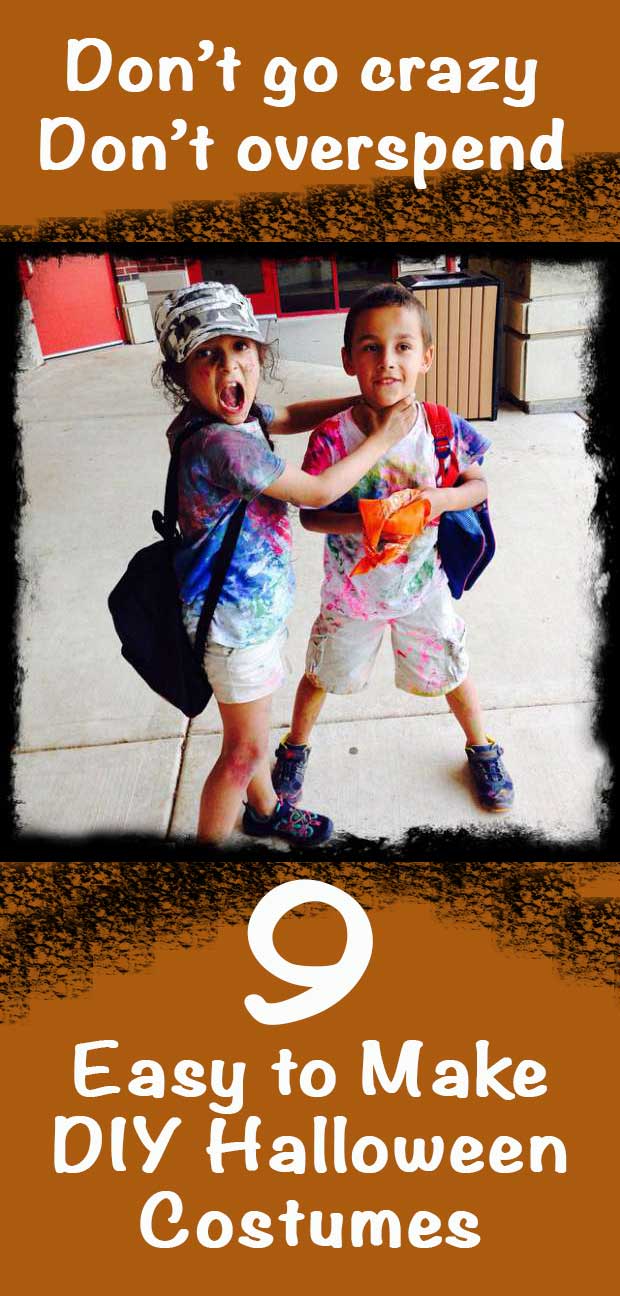 Come back here during this Halloween season – I will be adding links to most of the costumes mentioned with step-by-step instructions.
Box Trolls
Relive this great movie with box trolls characters. This probably is the most adorable out of my DIY Halloween costumes. See the full tutorial here.
1 Fish, 2 Fish
Are you a fish? I am a fish! These costumes will definitely get attention, but they are super simple and require only three things…
Casual Turtles
We are happy turtles and we are going places. I think it took me less than 10 minutes to make these costumes. We used an Oval Turkey Roaster with handles. It is super shiny, and te ridges sure make it look like a turtle's shell. Search the web for the "turtle shell pattern" and pick the one that will make the best fit. Check out the full tutorial here.
Sleepy Buddies
Believe it or not, the messy look might just be what you are looking for this season – relax.
Pirates!
It is all about details with these costumes, but it is totally free – you are most likely have everything needed for this outfit. See step-by-step tutorial here.
Dino vs Dino
Love the Jurassic Park? You will love these dinosaur costumes – flashy, adorable and 100% paper made! You will need a lot of green paper, a hat, stapler, and some adhesive tape. Check out these step-by-step instructions.
Grownup
Ok, kids don't rush growing up, but this costume looks super adorable.
Celebrity
She totally looks like someone you know, who is famous. Does it even matter which celebrity she looks like – just go for the celebrity pose.
Color Crazy
Do I even need an explanation for this?
MORE HALLOWEEN IDEAS:
Water Themed Homemade Halloween Costumes
Easy Halloween Treat Ideas for Busy Moms and Kids