Our visit to the Land of Oz and Aberdeen, SD have been sponsored by Visit Aberdeen SD
As soon as Chicago disappeared in my rearview mirror, I relaxed. While the Chi-town has been my home for over twenty years, I feel so much better on the road. An open highway always gives me a sense of freedom. And there is no feeling like the road trip feeling when the highway is wide open, and you have hundreds of miles ahead to explore.
I can't wait to get whatever place we are going to visit, often the travel there is an adventure of its own. When the kids were little, I planned my stops every 2.5 hours around playgrounds via a playground finding website. These days kids don't need pitstops as often, yet no kid wants to spend the entire day in the car. I try to plan my stops (or at least stop options) ahead of time. Overnight stops, local diners, roadside attractions, hidden gems – that is what either makes or breaks a family road trip.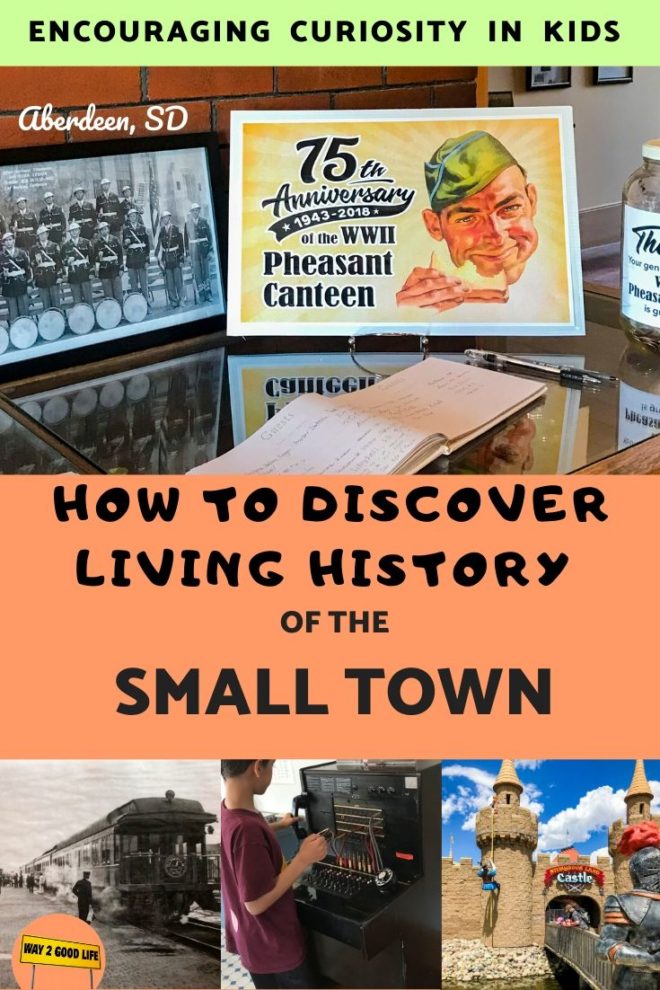 If you drove to Mr. Rushmore or Badlands, you were close enough to Aberdeen, yet if you are making this trip with the children, you must visit this town. Aberdeen, South Dakota, is surrounded by fields and railroads. Farmland and railroad might not be the most exciting sight, but Aberdeen is worth the trip as it hides some fascinating gems.
Storybook Land
Kids of any age would absolutely fall in love with the Storybook Land whether you spend a whole day here or a couple of hours here. This park is free to visit, and it is filled with characters from 'kids' favorite tales. My kids loved the Old McDonald Farm and the real animals in the barn, while I absolutely adored this slide. You can guess that this a tribute to a lady who had a bunch of kids and lived in a particular style of footwear.
However, the real treat is the Wizard of Oz Park. The yellow brick road will take you from Dorothy's house that landed on the Wicked Witch of the East in the Munchkin village. My kids skipped down the yellow brick road to the Tin Man and his metal house and the Scarecrow hanging out on the small cornfield. My four-year-old listened to the Haunted forest that urged him to turn back.
The park has several rides kids can ride. There is also a train ride. The other side of the Storybook Land has a beach, bike rental, golf course, bumper boats, go-karts, and other fun activities.
L. Frank Baum, the author of The Wonderful Wizard of Oz, lived in Aberdeen from 1888 to 1891. While in Aberdeen, he first owned 'Baum's Bazaar, a variety store and later published the Saturday pioneer. Local suggests that Baum's description of Kansas is based on his experiences in drought-ridden South Dakota. However, Baum certainly influenced the city, and today's Storybook Land is the evidence of that.
Aberdeen, SD Food Spots
This much fun would get anyone hungry! If you are anything like me, you will be looking for local flavors that would look fantastic in your Instagram feeds and will please your stomach. Here are a few food spots to consider:
The Junction is definitely has a hipster vibe with unique decor, music, freshly made sushi, and a variety of other foods it offers. Interesting enough, the Junction started as a daycare catering service, but over the last seven years, it made a name for itself for healthy and delicious food for kids and adults. Their freshly grilled paninis are delicious, and fresh cookies, bars, and brownies seemed to follow me everywhere I went. Yes, we did buy a few.
Twist Cone is a fast-food spot with only a few tables outside is popular. It serves hotdogs, walking tacos, Italian Ice, Orange Dreamsicles, and so much more. The ice cream cones have eyes (just saying)!
Jimmy's Pizza is an absolute must. Try a local flavor – a Pheasant Pizza! Smoked Pheasant, Caramelized Onion, Bacon, and Mushrooms on a Ginger-infused Country Gravy sauce and topped with Mozzarella and Cheddar cheese. Drizzled with an Old West BBQ Sauce drizzle, it is incredibly hot or and still delicious the next day.
Aberdeen History
Aberdeen (named after Aberdeen, Scotland) came to life due to the developing railroad in 1881. It quickly became a hub city for Dakotas. The city map published in 1886 shows nine different rail lines piercing through Aberdeen from all directions.
More than 28,000 people proudly call Aberdeen home. Aberdeen is a hometown that hasn't lost its warm and welcoming appeal.
The Depot
We walked into an old Depot building. A small part of it has been occupied by the Convention and Visitor's Bureau. However, most of the building is empty and blocked off.
I looked out of the canteen room to see the inside of the railroad Depot terminal. I imagined the bustle of the everyday train depot life with people rushing in and out, sitting on the benches impatiently waiting for a train or napping stretched across the unoccupied seat. With the train tracks just outside of the windows, I imagine it wouldn't take more than a half a minute to cross the platform and jump into a train cart.
However, the story of the Depot is way more interesting. The first train left the newly built Aberdeen depot on September 1, 1907, and arrived in Minneapolis 10 hours and 55 minutes later. Aberdeen was becoming a major hub connecting Twin Cities and Peoria, Illinois, Iowa, and South Dakota, as well as Chicago and Milwaukee.
The Pheasant Canteen
During World War II, thousands of troops passed through Aberdeen, SD every day, and citizens came up with an idea on how they can support the soldiers. Every day they made pheasant sandwichs for the soldiers and served them for free right there on the station. Farmers made sure that the canteen workers had enough pheasant meat to make sandwiches for the military passengers. By the time this unique service closed in 1946, the canteen had serviced 586,000 servicemen and women.
There is a poster on the wall: a smiling soldier holds a half-eaten sandwich. The title underneath says Pheasant Sandwiches! Holy smokes! Who'd ever believed it?
Holy smokes indeed! This tradition lives on today through the annual pheasant hunts, but more on that in a minute.
The small Pheasant Canteen today serves as a museum – a way to preserve the memory of what took place here more than half a century ago. Some memorabilia and photos of the smiling Canteen ladies wearing red jackets and a half a century older. It is also a way to preserve the memory of the Railroad glory Aberdeen Depot once had.
Non-Railroad Depot
Unfortunately, in 1949, nearly 50 years after its first ride, Aberdeen Depot sent its last passenger off. The once busy building was put up for auction 42 times with no bidders in the '40s, eventually abandoned. In the '60s, several local businesses leased the Depot for their own needs. It once again came to fame around 1968 when it became the hottest nightclub in town. The Depot Club was at its busiest during the Vietnam War as the full-time students didn't have to join Armed Forces.
The Depot became vacant again in the '80s, and since then, it leased on and off to local businesses.
Mostly unoccupied at the time of our visit, the Depot still had the look of the terminal – something years of partying and trade couldn't erase.
The Pheasant Hunt.
I mentioned earlier that Aberdeen carries on the Pheasant Sandwich tradition today during their Pheasant Hunt seasons. And it is something both the hunters and local locals look forward to every hunting season. To welcome hunters coming to the Aberdeen during hunting season, locals serve them traditional Pheasant sandwiches upon arrival.
There are seven hunting lodges in Aberdeen, and these just might be the best pheasant hunting in the World September through March. I counted seventeen hunting lodges offering their pheasant hunting services in the local tour guide. No joke, this area provides 420,000 private and 250,000 acres of public land ready for the hunting season
One such lodge, Northern Plains Outfitters, is situated on over 25,000 acres of prime pheasant hunting habitat, just a short drive south of Aberdeen. It offers all-inclusive pheasant hunting packages tailored to a wide variety of hunters from small family and friend hunts, to the corporate hunting outings. They provide highly trained guides and dogs, grass fields, CRP, sloughs, tree lines, and food plots along with homemade meals.
Interesting, what you find in a small town just off the bitten path – history, entertainment, fun food? Next time get off the highway and explore!