With summer upon us, we usually travel a lot. And that means a lot of driving in a our mighty minivan. We actually already started the season by taking a trip to Bentonville, AR. Mommy went to the conference and the family committed to the 12 hour ride just for the pure fun of it. I have to tell you that I didn't have some of the items listed below, but I sure wish I did, because this was not a short trip. So getting ready to spend some serious quality time in car as a family, do some homework ahead of time.
FOR KIDS
Old iPhone or iPod (FREE – if you already have one)
When we upgraded to new iPhones last fall, our old ones were two years and still kicking. This is an ultimate toy, because any time kiddos get sick of one game, the other one is only a few clicks away. And the games on iTunes cost a lot less than games for Leap Frogs and Innotabs.
You might think that your Outterbox case would do a good job of protecting "THEIR" phone, but you will be better off with Kid-Tough Apptivity Case by Fisher Price. I can't even tell you how many times these phones got dropped, eaten with, and dropped some more. The only inconvenience I found is that you have to open the case any time you charge it and you have to make sure to put it back in a case before giving it to the kids.
Your phones will not survive 10 our car drive, but a power inverter provides the convenience of the 110 Volt outlet on the road.
Comfortable kids headrest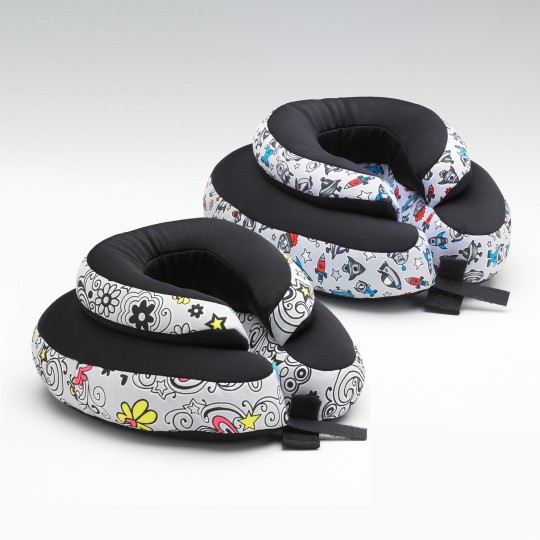 EVOLUTION MICRO JR™  ($20) is an excellent option. It is 15 steps above the traditional headrests and has great kids option. It's made with safe and certified food grade microbeads, has raised side supports helping to create 360° comfort, designed with a flat rear cushion that won't push your child's head forward, has a front closure and covered in breathable Lycra.
Travel Blanket
BLANKID BUDDY®  ($20) – is a kid-friendly 4-In-1 blanket, backpack, travel pillow, & plush animal. It converts from pillow to blanket in 3 easy steps, includes an extra water-repellent bag inside, and offers 4 characters that kids love.
FOR ADULTS
A Good Coffee Mug
Contigo West Loop Mug
 ($21) is 100-percent spill and
leak-proof
mug
uses
exclusive AUTOSEAL® technology to prevent accidental spills. Press button to sip, and release to automatically seal. Double wall vacuum-insulated steel keeps beverages hot for four hours or cold for 12 hours.
[bctt tweet="Ready to spend hours in the car as a family? Check out this Family Friendly Car Travel Guide https://www.way2goodlife.com/active-family-guide-2013/"]
Coffee to Go
CoffeeKitchen Pronto ($5.99) by Barnie's is a new line of amazing coffees designed to satisfy the taste of even the most demanding coffee connoisseur. Add one brewstick to 10 ounces of hot or cold water and unsweetened Pronto! brews instantly; just stir and enjoy—anytime, anywhere.
For the Whole Family
Fun 'on the go' food storage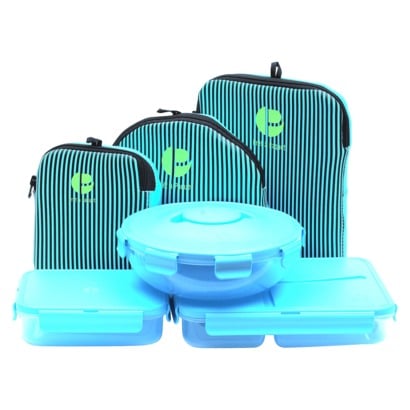 Prêt à Paquet ($30) is stylish and easy to use, these products feature insulated, leak-proof kits that store a full lunch, salad, snacks and sandwiches on the go. Additionally, they are designed to fit the ideal food portion recommended by a nutritionist, keeping users smart and healthy about their food choices. Can be found at Target.
EZ- Freeze Collapsible Salad container includes a collapsible bowl that compresses for easy storage, lid with snap tight tabs, dressing container with leak proof cap, non-toxic gel filled freezer tray keeps food cold & fresh
Snacktime containers for kids ($5.99). This twist-off cookie container has two containers in one – flip-top sipper on top and a snack containe ron the bottom. Non-toxic gel will keep snacks fresh and drink cold.
Lil' Spike kids water bottle is equipped with pull-top sipper cap with carry strap and non-toxic gel filled freezer stick keeps drinks cold. Top shelf dishwasher safe.
Ez-Freeze Pure Filtration Water Bottle – 64 oz ($17.99) has a built in filtration system and filters water through the inside channel. Each filter filters as much as far as 100 gallons of water (approximately 4+ months depending on usage). Freezer stick will make sure that your water stays cold.
Want more ideas on traveling with kids? Check out everything you need to know about travel with kids
Check out Travel with Kids – Family Friendly

by Lena B at Mode
Check out Travel with Kids – Family Friendly

by Lena B at Mode