If you have kids, chances are you have found yourself worrying about ADHD, depression or other mental health-related issues with your children. Most parents do.  We hear enough about it in the news, that it's hard not to worry about these things.  ADHD and Depression in Kids is something commonplace in today's society, and often they go hand in hand.  Below, we will take a look at some things you can look for to recognize these struggles in your own child.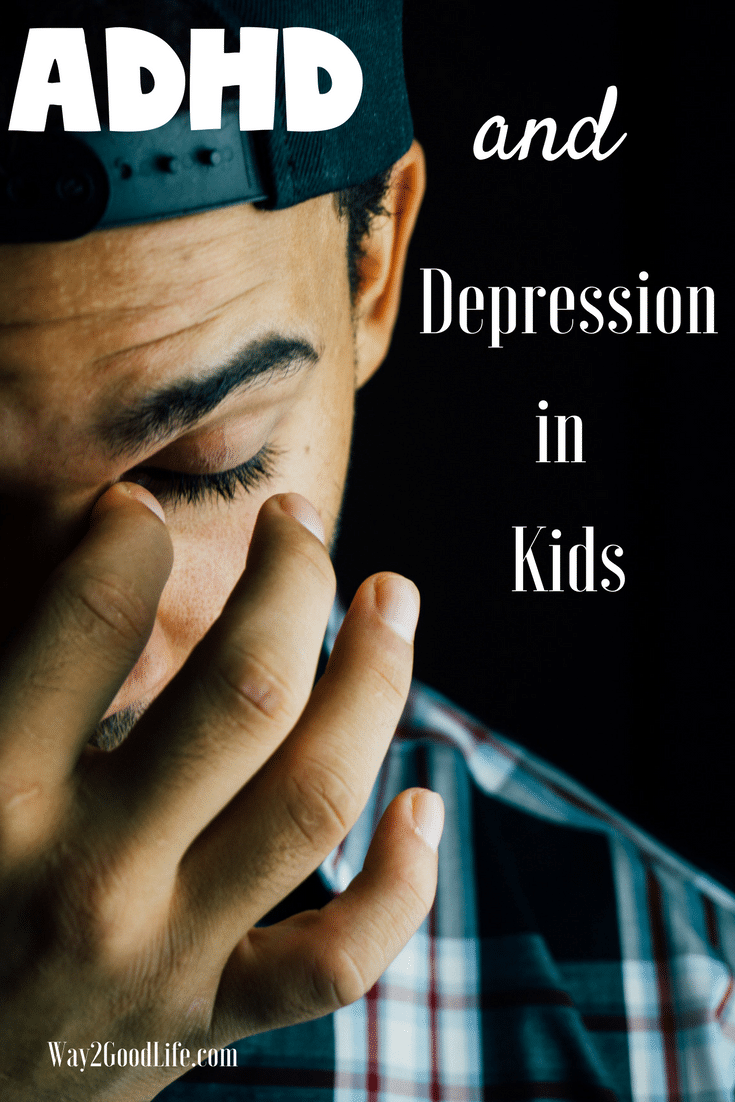 ADHD and Depression in Kids
The truth is, 1 in 5 teens will be diagnosed with a mental health condition, so in reality, it is good to be concerned about this stuff.  The best thing that you can do to be proactive in this is to watch out for signs and symptoms of these mental health conditions in your child.  How will you know though?  How will you know if your child suffers from ADHD, Depression or other mental health issues?  
Here are some signs and symptoms to look out for:
Sadness.  Sadness is a good indicator of depression in most cases, but not always.  Of course, this doesn't include situational sadness. Everyone is sad sometimes, but just because they are sad doesn't mean clinical depression.
Sleep Issues.  If your child all of the sudden develops insomnia or other sleep-related issues, it may be a sign of something more.  
Anger or irritability.  Is your child displaying bouts of anger or irritability?  This often is a symptom of other issues.
Loss of interest in regular activities or friends.  If your child has recently showcased signs of losing interest in their friends and regular activities, this can also be a sign of something more going on.  
Inability to focus.  The inability to focus and concentrate is a big red flag for parents looking for signs of depression and/or ADHD in the kids.  
What Can You Do?
If you find yourself concerned that your child is displaying any of the behaviors listed above, be sure to first, take them to see their doctor.  There are also things that you can do at home that may be able to help:
Seek medical help immediately.  There is no need to "wait and see".  The truth is, even if your child balks at it, you need to seek professional help if you have real concerns about your child being mentally unwell due to depression.  The same goes with any struggles they may have due to ADHD.  We as parents want the best for our children, and that means making sure they have proper treatment for any medical concern whether it is physical, emotional, mental, or even spiritual.
Look into mental health counseling.  Your child's doctor will probably recommend this, but it doesn't hurt to start looking for a mental health counselor that specializes in the mental health condition that your child is dealing with.
Eat a healthy diet.  Be sure to avoid candy, sodas, energy drinks, etc.  The sugars and artificial flavors can exacerbate the symptoms of ADHD in your child.  It's not surprising though, because even those without ADHD or other mental health issues should avoid these in their diets, for health reasons. If you have any other questions about an ideal diet, you can speak with a dietician that specializes in ADHD and depression and anxiety disorders.
Exercise.  Exercise can help to reduce the symptoms of mental health disorders.  It's not always easy to get someone who is feeling down to get out and exercise, but if you can make it fun and involve the whole family, it can help.
I know that this is a tough road to travel.  Mental health disorders are difficult for anyone dealing with them, especially when it is a child.  That said, you can get through this, so don't lose hope!  ADHD is a disease that can hurt many families, but it does not have to be that way.  Between effective counseling and potential medications, there is no reason to struggle without help. 
More ADHD Tips: 
The Art of Picking ADHD Friendly Sports
Can Touchpoints Help Kids with ADHD?