What's round, orange, and makes the perfect fall ornament? But, wait. There's more. Where can you explore mazes made of corn? How about hayrides? Yep, it's pumpkin season across the Land of Lincoln. Pumpkin patches across Illinois are in full bloom as families, couples, friends – even company outings – explore games, activities and sample delicious food and treats. Where should you visit for a fun tour?
Pumpkin Patches in Illinois
He is a list of the top pumpkin patches in Illinois.
FYI: Check each pumpkin patch's website for hours, admissions, and any restrictions.
Sonny Acres – West Chicago
Offering Chicagoland a fun reason to enjoy fall, head to Sonny Acres to pick up a pumpkin or two and enjoy a train ride or a trip through the petting zoo. Sonny Acres is a perfect family or group outing with a play area for young children, including a bounce pad, inflatables, and a kiddie roller coaster.
Hop aboard a hayride to the pumpkin patch to personally pick out this season's family jack-o'-lantern. The 125-year-old farm also features a gift shop with plenty of seasonal foods and gifts, as well as a café with delicious options.
You can celebrate the Halloween season throughout October with its haunted hayride and haunted barn (ages 11 and up) Friday-Sunday. Kid-friendly Halloween hayrides are offered daily through the end of the month.
Curtis Orchard – Champaign
There's plenty to do to wear out the little ones during a visit to the pumpkin patch. Aim, ready, and shoot the target at the slingshot gallery during a visit to Curtis Orchard. Among the family-friendly activities, you can grab a handful of treats and help feed the goats at the petting zoo or check out the giant slide and corn maze.
Speaking of, grab a little red wagon and take the kiddos out to the patch to hand select your pumpkin. Don't forget to stop by the gift shop for a few treats for the ride home or to enjoy later as a reminder of the fun time the family had.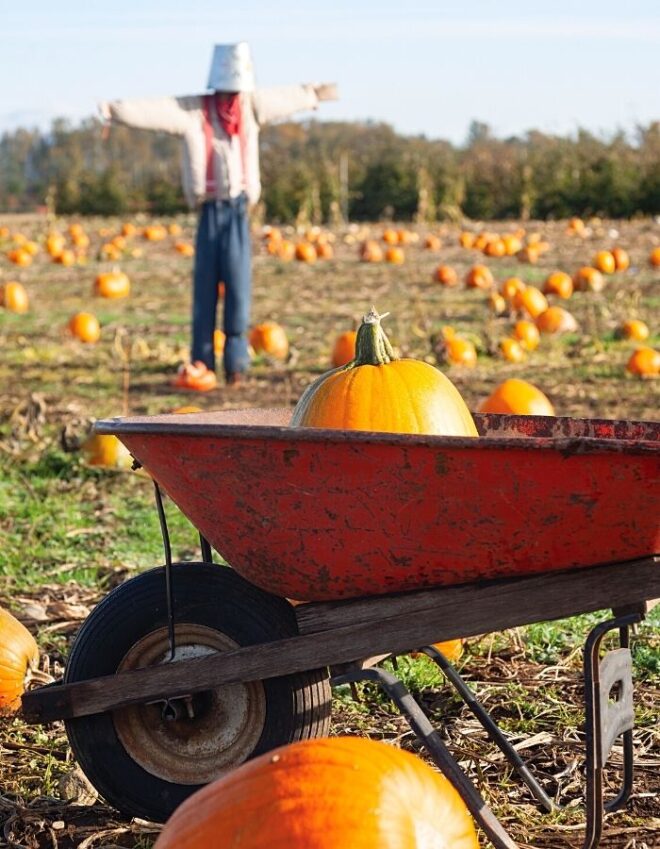 The Great Pumpkin Patch – Arthur
Maze fans enjoy a walk through the one-acre corn maze, a sunflower maze, or a strawbale maze. You get the picture – they love their mazes at The Great Pumpkin Patch. While you may not find the Great Pumpkin (leave that to Linus and Lucy), you will find about 300 varieties of pumpkins for your choosing.
You can either visit the farm's U-Pick field or select from the colorful gourds they pick ahead of time. Either way, you'll walk away with the perfect choice. During your visit, check out the farm animals, including goats, pigs, and llamas. You can also grab something yummy to eat during your trip to the farm. Visit the 200 Acres Shop for gifts and treats.
Didier Farms – Lincolnshire
Come for the pumpkins, stay for the pig races at Didier Farms. With all kinds of kiddie rides and animals waiting to be petted, the northern Illinois farm is home to several varieties of pumpkins of every size and color. Grab a red wagon and venture out to the patch for your jack-o'-lantern. Enjoy a trip through the corn or straw mazes during Pumpkinfest, running through Oct. 31. Enjoy treats and a warm beverage to stave off fall temperatures.
More Pumpkin Patches in Illinois
Rader Family Farms – Normal
You may wonder if Rader Family Farms is a pumpkin patch or an amusement park. With activities such as a double-barrel chute, jumping pillow, funnel ball (it's a country thing), roller bowling, and apple shooters and slingshots, you may want to spend the day playing.
And, that's all fine and dandy, but don't forget to head to the pumpkin patch for the perfect gourd to take home. Don't forget to visit the crop circle, where you can learn about the top eight crops raised in Illinois.
Bengtson's Pumpkin Farm – Homer Glen
With more than a dozen attractions and rides, you may not know where to start your day at Bengston's Pumpkin Farm. From the Barnyard Dance Cow Coaster to the Rockin's Rabbits, everyone in your group will want to hop aboard the rides and play games.
Meanwhile, baby goats, llamas, chickens, and more, will challenge your attention at the petting zoo. Enjoy a tractor-pulled hayride to the pumpkin patch to search for the gourd of your dreams, or at least the Halloween season.
Ackerman Family Farms – Morton
With a corn maze that rivals any other across the country, a trip to Ackerman Family Farms is more than just a visit to the pumpkin patch. There are plenty of treats and gifts available, you'll have a blast exploring the farm. With friendly animals, such as donkeys and goats, kids will have fun petting the cute little creatures.
Enjoy a hayrack ride on the weekends before searching for a pumpkin or two or three. It will create the perfect jack-o'-lanterns to light up autumn nights.
Kroll's Fall Harvest Farm – Waukegan
In less than 30 years, Kroll's Fall Harvest Farm ranks among the nation's best pumpkin patches. With a pumpkin patch that stretches several acres, it's personally designed to celebrate the pumpkin farm, including the animals that call the farm home.
Hop aboard for a hayrack ride and learn about the different crops raised on the farm. Check them out at the petting zoo, and you'll find donkeys, sheep, alpaca, turkeys, goats, and chickens. You'll also be able to choose this season's pumpkin and other gourds from the pre-picked section of the farm.
Shady Knoll Farm – East Moline
If you're in the Quad Cities area, head out to Shady Knoll Farm to find your perfect gourd. This family farm is more than 160 years old. It features a corn maze that should only take about 40 minutes to complete. Of course, no farm is complete without its animals, so Shady Knoll features a petting zoo with goats and sheep.
You can even feed the critters for a small fee. Don't forget to stop by the cattle pen and check out the herd. You'll also want to watch out for the free-roaming chickens on the farm. Proudly raising pumpkins without using pesticides, Shady Knoll offers a U-Pick 'em patch, or you can purchase pre-picked pumpkins and gourds.
Lindberg Pumpkin Patch – Caledonia
With more than 50 varieties of pumpkins sprouting in the fields over seven acres, you'll have fun picking your pumpkin at Lindberg Pumpkin Patch. Bring a wagon and take a walk to the area, or jump aboard a hayrack ride (extra fee), to pick the perfect pumpkin. You can also buy prepicked gourds at the harvest barn. Of course, the pumpkin farm includes a petting zoo and barnyard activities. The seven-acre corn maze offers a fun adventure for everyone.
Whether you enjoy petting zoos, outdoor games, or maybe fall treats, a trip to the pumpkin patch is more than just picking out a pumpkin. Illinois is home to pumpkin patches that are all-day adventures and challenge amusement parks with rides. As you head out for the season's best jack-o'-lantern, enjoy a hot cup of apple cider and maybe some pumpkin bread or apple pie.
Explore Midwest through our Midwest travel posts