Autumn is made for leaves and apples. How many of us head out to apple orchards for a day of fun and picking apples? Nothing tastes better than a handpicked apple fresh off a tree. And with Thanksgiving toward the end of fall, apples serve another purpose – pie.
Not all apple pies are created equal. So, here's a look at some of the best apple desserts around the Midwest.
First Slice Pie, Chicago, IL
Featuring Granny Smith apples with brown sugar and cinnamon, and more, you're challenged to find a tastier apple pie in the Land of Lincoln. According to Good & Wine magazine, whether as a whole pie, mini pie, or by the slice, First Slice Pie is among the best apple pies in the country, according to Good & Wine magazine. First Slice is also committed to addressing the hunger issue in the area by serving meals to the food insecure. And it has two locations in Chicago!
Oasis Diner, Plainfield, IN
The Oasis Diner is one of the rarities in the food industry where they do everything right – from breakfast to dinner and dessert. So, having a slice of pie inside the classic silver dining car is an adventure for your taste buds. It is baked locally, and this Dutch apple pie tastes sweet and features a crumbly crust. Order it ala mode for a truly decadent dessert experience. You'll want to take a pie home with you.
Kathy's Pies, Cedar Falls, IA
If you live in eastern Iowa, you know Kathy's Pies is THE place to go for homemade apple pie. If you live elsewhere, you'll want to make a road trip to enjoy a fresh slice of their pie. Using Granny Smith apples and combining cinnamon and nutmeg, Kathy's Pies adds a touch of sugar to the crust. If you're watching your sweets, Kathy's also makes a no-sugar-added version of the pie.
Carriage Crossing Restaurant and Bakery, Yoder, KS
In the heart of Kansas' Amish country, Carriage Crossing Restaurant and Bakery makes their apple dessert from scratch. With fresh apples and spices, the crust is flaky. Add a scoop of ice cream, and it's a divine dessert. The Yoder restaurant's pie is so delicious and popular that it was included in a documentary about Kansas pies. If you want a whole pie for home, you'll want to call a day in advance to ensure they'll have a fresh one out of the oven for you.
Eat Ann Arbor, Ann Arbor, MI
Ann Arbor may be home to the Michigan Wolverines, but it's also home to apple pies. Using lard, as Grandma did, Eat Ann Arbor's bakers create their pies with Kapnick Orchard apples in a traditional pastry crust. With two locations in the area, the Kerrytown spot offers dine-in and carryout, while Packard features only carryout.
Betty's Pies, Two Harbors, MN
It started with a fish shack because, of course, in Minnesota, doesn't every story begin with "It started with a fish shack…?" With Betty's Pies, it actually did. In 1957, her dad built a shack near the three Stewart River along Minnesota's North Shore. He thought the people could use some treats, so Betty made doughnuts and coffee. It eventually morphed into a restaurant, and the rest, as they say, is history. Today, almost 65 years after building the fish shack. And you can order a delicious caramel apple pie featuring fresh apples, cinnamon, and brown sugar. You can also buy an old-fashioned apple pie with a flaky crust.
Sugarfire Pies, Olivette, MO
This place opened as a barbecue and pie joint more than 15 years ago, but since its desserts became so popular, the restaurant outgrew the location and transformed into Sugarfire Pies in 2014. The apple crumb pie may be the best on the menu with its melt-in-your-mouth deliciousness. However, the menu offers a variety of impressive desserts.
Farmhouse Bakery and Cafe, Omaha, NE
Not only can you get a traditional apple pie with a flaky crust filled with lots of apples, cinnamon, and spices at the Farmhouse Bakery and Cafe, but you can also get an apple crumb or Dutch apple pie, with a crunchy streusel topping. The three homemade pies are among the dozens Farmhouse is famous for in Omaha and eastern Nebraska. During the holiday season, bakers make up to 1,400 pies a week.
Nichole's Fine Pastry, Fargo, ND
Located on Fargo's Historic Eighth Street, Nichole's Fine Pastry has been featured on the Food Network's Drive-ins, Diners, and Dives. Home to Dutch apple pie, which comes in two sizes – serving 4-6 or 6-8 people – as well as lattice apple pie, which tastes as delicious as it looks.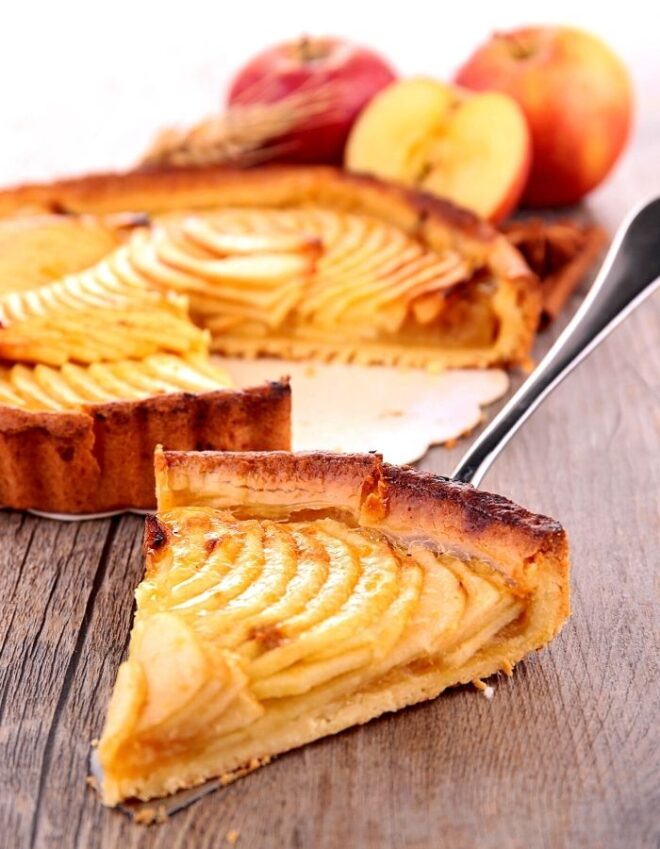 Der Dutchman, Plain City, OH
Known for great shopping with unique stores and boutiques, including a year-round farmers market, no visit to Plain City is complete without a trip to Der Dutchman restaurant. Home to the best Dutch apple pie in Ohio, you're in for a treat with each fork's bite. If you prefer, they also feature a traditional apple pie.
Pistachio Pie Bakery, Rapid City, SD
In the heart of America's the Black Hills, you'll find the best apple pie in South Dakota. Pistachio Pie Bakery's nine-inch pie features a perfect crust, and it's made fresh with a bevy of sweet apples and spices. You can also order a four-inch tart, as well as a tartlet.
Elegant Farmer, Mukwonago, WI
Recognized by national media as the best apple pie in America, Elegant Farmer's Apple Pie Baked in a Bag unique. It is a delicious combination of Ida Red apples piled high and baked inside a crust inside a bag that creates a crusty top. Add a layer of caramel over the crust to make the Farmer's caramel apple pie in a bag. Whether you purchase your pie at the country market or order online, you'll be joining another 250,000 incredibly happy and full customers.
No matter how you like apple pie – traditionally, Dutch, or in a paper bag – there's a place for you in the Midwest. Almost universally piled high, cinnamon, nutmeg, and other spices create a delicious treat so good that you may want to skip the main course and go straight for dessert.
Love pumpkins? Check out the best pumpkin patches in the Midwest.