Do you want to take your family on a vacation this year?  We've done the research to gather the Best Family Vacations in the US for you!  Where do you want to go? Or, are you trying to figure out where to go in order to take the best vacation possible?  Well, I will tell you this, the United States has some amazing vacation spots and you have plenty of opportunities to take a vacation that you won't soon forget.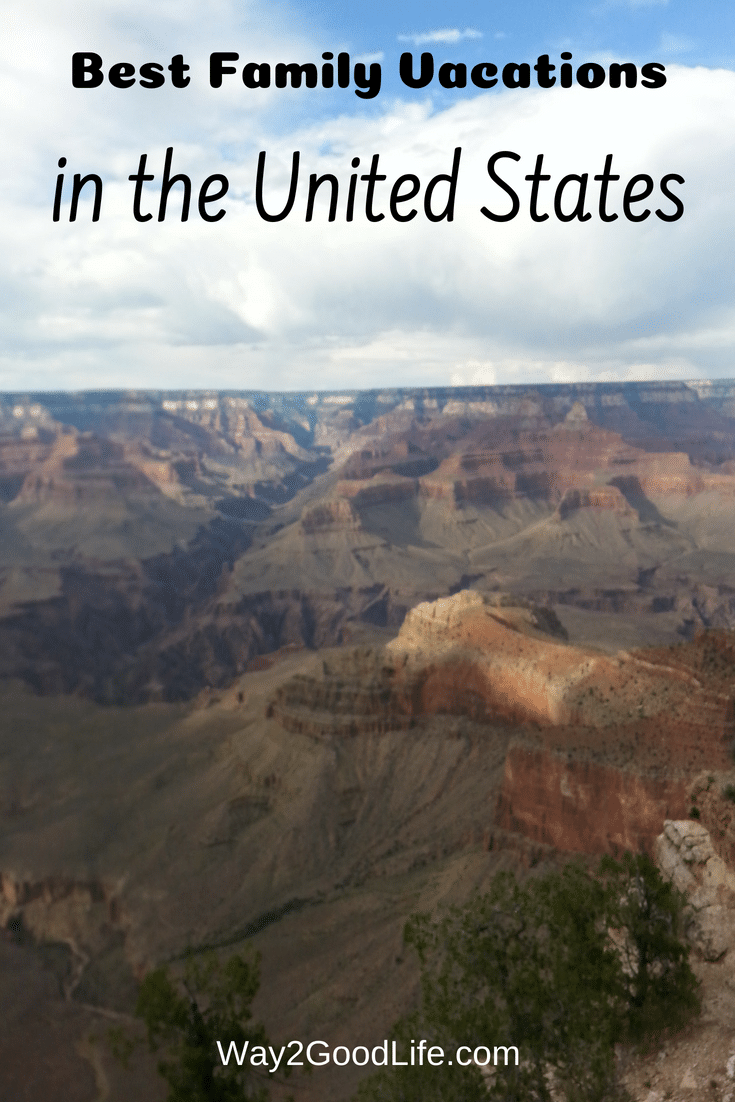 Best Family Vacations in the US
The Grand Canyon

.  I mean, it's one of the Seven Wonders of the World after all.  If you haven't yet laid eyes on the Grand Canyon, I promise you it is worth it for the view alone.  There are, of course, plenty of activities to enjoy while you are there, but even if you are just in it for the sightseeing, you are in for a treat.  It is by far, one of the best family vacations in the US for the entire family.

Yellowstone.

 Yellowstone National Park has been voted the #1 tourist area in the country and for good reason.  There are over 2 million acres of an amazing backdrop that you can view by car or by trail. Throughout this 2+ million acres, you will see things such as pristine lakes, stunning geysers, beautiful wildlife and more.  Many people who visit Yellowstone often find themselves ready to plan their next trip before their first one is even finished.

Hawaii.  You knew that this had to make the list, right?  Many people would love to take a tropical vacation without actually leaving the country and Hawaii is just the way to do that!  From surfing amazing waves to snorkeling in pristine waters, hiking waterfall trails to volcano watching, there is no shortage of amazing things to experience on a Hawaiian vacation. We love the Hawaii Guidebooks for learning more about where to go and what to do once you reach the islands.
Alaska.

 Home to the tallest mountain in the US, Alaska is an adventurer's paradise.  I have friends who have visited Alaska only to move there shortly thereafter.  Yes, it may be cold and yes, it may not get dark during the Summer months, but you will never run out of places to explore in the country's biggest state.

New York City / Washington DC.  These are close enough in proximity that I wanted to put them together.  If you are not from the area and are planning a trip to one or the other, you should seriously consider extending your trip a couple of days and adding the other to your list.  In DC you will get to explore and visit some of America's most important historical monuments, while in New York you will have a chance to visit one of the largest cities in the world.  If you plan a trip to either of these locations, I highly recommend investing in the CityPass options.  It saves a ton of money and helps you focus on an itinerary that works for your family.
Disneyland or Disneyworld.

 I've heard it said that every kid should visit Disney at least once in their lifetime.  Luckily for us, there is a Disney park on each coast so you can pick and choose your preference and which one would be a better fit for your family.  
This is a shortened list because believe me, I could go on and on about the wonderful vacation spots throughout the United States.  Have you done much traveling? What would you say is the best family vacation spot in the US?
More Travel Tips: 
Summer Fun at 10 Museums in Illinois
20 Foil Packet Meals for Your Camping Trip
Free and Fun Activities in Quad Cities