With the holidays upon us, you know you will have more than one excuse to show off your mad cooking/baking skills to friends and relatives. Looking for something new to master? Russian cuisine like many ethnic cuisines is full of surprises and is refreshingly new.
Herring Under a Fur Coat Salad
This Herring under a Fur Coat has appeared before on the list of weird Russian dishes, but don't you judge until you try it. It is amazing if it's done right! My family only makes it once or twice a year, but we enjoy every fork of it.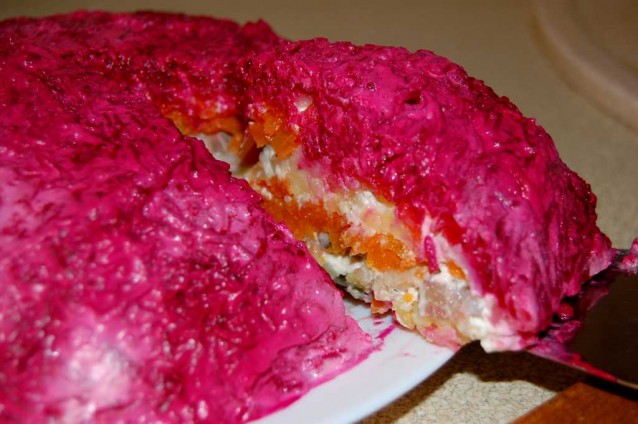 3 large potatoes
4 large unpeeled carrots
3 large beets
1 1/2 cups mayonnaise
1 medium yellow onion
4 fillets of pickled herring in oil (finely chopped)
4 large hard-cooked eggs (finely chopped)
Black pepper to taste
Directions
Place all vegetables in a large pan unpeeled and boil until tender. Remove vegetables as they become tender and continue cooking the rest.
Peel while still warm, cool completely and shred carrots and beets. Finely chop the potatoes.
Layer potato on the bottom of the oval plate and pat it down to create an even layer. Spread 1/3 of the mayonnaise on top to completely cover the potatoes.
Place half of the beets, half of the carrots, and half of the finely chopped onion, chopped pickled herring, and 1/3 of the mayonnaise.
Layer the remainder of the onion and carrots, chopped eggs and black pepper to taste, mayonnaise beets.
Pack it down and refrigerate for at least 6 hours before serving.
Russian Beet Salad is another one of the favorites on our table. This one also uses beets as a base, but this one has a totally different taste.
Olivie (Winter) Salad
Russian Salad "Olivie" is more than a holiday appetizer – my family makes it any time they find an excuse – this is ultimately THE favorite appetizer.
Mimosa Salad
My family doesn't usually put the Mimoza salad in separate glasses, but it sure makes for a great presentation.
Ingredients:
2 of 5 oz cans tuna in oil, drained
6 large hard-boiled eggs
2 large carrots
1 medium onion
4 medium potatoes
1 cup mayo
1/4 cup extra light olive oil
Salt and Pepper, to taste
Directions:
Place all vegetables in a large pan unpeeled and boil until tender. Remove vegetables as they become tender and continue cooking the rest.
Peel while still warm, cool completely. Peel and grate vegetables
Boil eggs. Once eggs are cooled, peel and cut eggs in half separate whites from yolks.
Set aside 2 tbsp of mayo. Mix the rest of mayo with light olive oil and stir until blended. Set aside.
Combine drained tuna with 2 Tbsp mayo and spread the mixture over the bottom of a glass dish. Add a thin layer of mayo over it.
Grate egg whites over the tuna layer and add another layer of mayo.
Grate carrot and add another thin layer of mayo.
Finely chop the onion and spread it over the salad and top with a thin layer of mayo.
Grate potatoes evenly over the salad, season and add the remaining mayo, spread evenly over the top with a spatula.
Top it with finely grated egg yolk
This appetizer is often used as a pre-appetizer while waiting for the guests to arrive. Cabbage Pirojki is just a perfect finger food to get the edge off while waiting for the official table invitation