Before I started riding a motor bike my understanding of two-wheels riding safety was pretty simple – try not to crash the bike you're on. That's it… There was not much of paying attention to what's going on around. My buddies and I were interested in stunts and speed more than safety. When I started riding a motorcycle few years ago I HAD to learn safety rules. But ultimately motorcycle is just an upgraded version of a bicycle. Somehow I automatically started applying rules of the road to a biking trail and here is a rule number one:
YOUR SAFETY IS YOUR OWN RESPONSIBILITY!!!
While on the bike you are the only one in charge of your own safety. No one else. DO NOT RELY ON OTHERS TO WATCH AFTER YOU! Before crossing the road assume that you're invisible. Before coming out from around a blind corner assume that there is a horse right around it heading your way. Before taking a turn at high-speed assume there is gravel around the corner (gravel on turns can cause skid and crash … unless you know how to drift).Think conservatively. This type of thinking will drastically decrease your chances of injury.

Safety Gear! Get it and wear it.
If you have any issues with style, find the one you like – there is plenty to choose from. Your gear is the ONLY thing between your skin and the ground. Crashing at even 10 mph hurts bad enough, so don't make a mistake assuming that You are a good rider and ride safer – do wear protective gear. Hopefully you are a good rider, ride safe, and will never crush, but stick with the rule: hope for the best, but prepare for the worst. We're not talking about a full closet – just helmets, gloves, goggles, shoe wear, etc.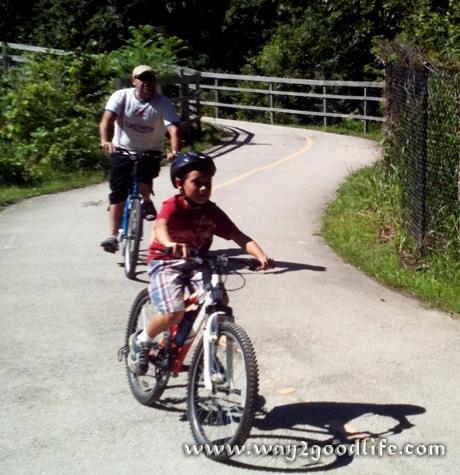 Safety Be Aware
As I get more comfortable with a riding course and equipment, I sometimes tend to get carried away and get outside of the comfort zone – the better I feel my bike, the faster I go. If (when) it happens to you, remember to slow down for maneuvers and be comfortable with your speed. Same goes for riding in a group: if the group goes faster than you can handle – slow down. When riding look ahead and know where you're going before you get there.  Remember – you're taking care of yourself. No one else.
Buddy Safety
Pick riding buddies wisely – pick more experienced ones and avoid crazy ones. Want to try new things – find a safe place to do so.
The safety part is probably the most repetitive, graphic, and sometimes gruesome part of learning how to ride any bike, but the reason is not to scare you out of riding, but rather stress to the importance of all components safe riding involves.  So, just to repeat it one more time: pay attention, do not exceed your capabilities, and wear your gear. And once again, repeat after me – MY SAFETY IS MY OWN RESPONSIBILITY!!!