What's your kid's swim style? This is a question I hear every time I meet another swim parent. Freestyle might be an easy answer. It is after all the first style swimmers master.
However, as my daughter got more serious about swimming, we started learning new terminology like four legal strokes any swimmer needs to learn before competing – Freestyle, Backstrokes, Butterfly, and Breaststroke.
I have to admit, Butterfly and Breaststroke kept both of my children from graduating into the swim team for months. That made me look for alternate ways of practicing strokes.
My extensive research showed that both styles (Butterfly and Breaststroke), are more technical and require coordination between arms and legs. Being very technical these styles also need a lot more practice to perfect the technique. Let's talk more about what is so tricky about it:
Butterfly Swim Style
The butterfly is not a square stroke – it's a circle, and you have to move continuously without pausing: when your hands enter the water, the face follows, and the hands immediately work on completing the circle – no gliding, no stopping.
Breaststroke Swim Style
Kick your legs behind you. Glide for a bit and pull yourself forward with your arms. Coordinate legs and arms to make sure they are perfectly aligned for the optimum speed.
Please see this video to get a better handle on these styles here:

Can You Practice Breaststroke and Butterfly at Home?
While very few of us have a pool at home they can use between swimming lessons, kids can still practice the technical aspect of these strokes while watching TV.
Practice Butterfly while watching TV. Start by standing and moving like a dolphin or a warm. When comfortable with the first move, add arms – draw a lightbulb or a T-figure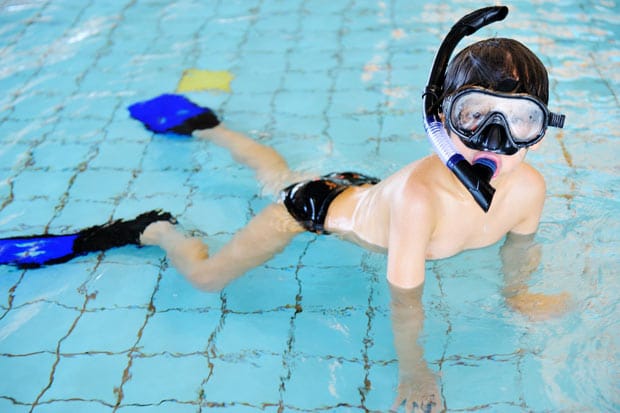 To practice Breaststroke, start by sitting down and practice breaststroke kicks. When comfortable with legs, add arms.
Watch the video where we break it all down.
Graduating Final Swimming Level
My children have easily spent six months to a year in the final swimming level called Pro II at the Goldfish Swim School practicing Butterfly and Breaststroke which felt like an eternity for me as I was sitting and watching them.
I was confused and a little frustrated: are my children not smart? Are they not trying hard enough?
However, I found out that it is very normal for kids to be stuck in this very technical level as they have to know how to swim these four swim styles before graduating to the swim team.
Who Needs a Swim Team?
The swim team is where all the knowledge gets put to a test in a longer class that involves lots of swimming and competing with your teammates. It might also be a first step to the world of competitive swimming, but we will talk about it later.
MORE SWIMMING TOPICS HERE:
SHOULD CHILDREN TAKE SWIM CLASSES ALL YEAR ROUND?
WHAT YOU NEED TO KNOW ABOUT SECOND DROWNING
THE DOORS THAT WILL OPEN WHEN LEARNING HOW TO SWIM
WHY SHOULD YOU CONSIDER A PRIVATE SWIM SCHOOL?
IS MY TODDLER READY TO SWIM ON HIS OWN?