This is a Fashionista Event Opportunity, and is hosted by Still Blonde after all these YEARS and Modly Chic.
What do you love about the holidays? I am all about the excitement of gifts, delicious holiday food, and family gatherings. However, what I am not a fan of is the dressing up and looking extra pretty around these events. Don't take me wrong, dress ups are fun, but running after the kids in a five-inch heels, catching baby spit-up with a the prettiest dress in my closet, and making sure that my daughter doesn't mess up her clothes before we even leave the house – those are my top unfavorite things. Can you relate?
However, since the Holiday season is about family gatherings, this just may be the perfect time to switch from perfect and beautiful to beautiful and comfortable clothes.
Dressy Yet Comfortable? Yes, Please!
As usual, when it comes to dressing up, I go to check out Monroe and Main, because, unlike me, they know how to do it right and up to speed with the trends.
Go for the Color
Bright colors are the best because they are very festive and are an excellent choice for the parties. For those of us, who are on the plus side, if you are going for the lighter colors, like silver or white, make sure the cut compliments your figure. Darker brights are more forgiving and will let you get away with a less structured dress.
Shape Up
No, it is not the best time to try another diet or buy a treadmill. In any case, if you have a child, you know exactly which parts of your body are less than perfect. Invest into shapewear, especially when wearing a dress that's cut closer to the body. Be mindful of comfort and if you also have to watch after the kids at the party, make sure you shapewear will allow you to do so. Though – you have lots of options!
Simple is Beautiful
Don't feel bright and bold? Go with the timeless classics! However, up the look with a great pair shoes or exceptionally great accessories! Necklaces, purses or a pair of long earrings will take you from classy to clas-say!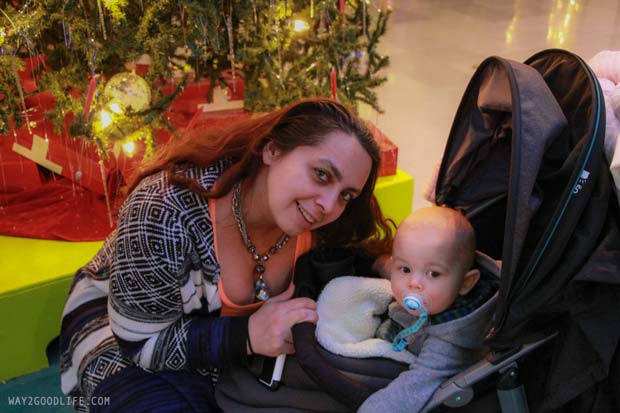 Layer up
Living in the colder climate, I know first hand the importance of layers. If you the weather where you are at is chilly, consider adding some layering essentials like cardigan sweaters and blazers to your winter closet. These are perfect to take with, toss on just about anything, and don't require careful handling because let's face it – you will have your hands full. The piece I am wearing here is Aztek Stripe Sweater, which covers my hips beautifully, helps me to brings focus to the upper body while keeping me perfectly warm.
Trends! Trends! Trends!
Each holiday season brings different styles and colors. While it is imperative to have a selection of styles that never go out of style, you should still get a few pieces that will give your classics a fashion forward look – like ankle-length cardigans or knee-high boots. Don't know where to start? I am with you, I might know everything about the games and toys my kids play, but the trends is not something on the forefront of my thinking. That is exactly why I occasionally read Monroe and Main blog. They speak my language and have great recommendations for the season with the color and styles in mind.
Here is my latest find: If you are like me – have to curves and struggle to find the dress to fit you right – go for something foolproof. Wear an A-line cut, a wrap dress or something else that cinches in at the smallest point on your body, and you're sure to look great. Most importantly, though, wear something that makes you feel good!