This post is sponsored by Spot Shot® Instant Carpet Stain Remover.>The house cleaning creative activities, thoughts, and opinions are all mine!
I don't know about you, but sometimes I feel like the home cleaning never ends! If you have kids or pets in the house, your carpets probably have a spot or two that could use a tune up.  Keeping up with kids' creative messes and a new puppy's potty training mode is s full-time job!  If you can relate to my clean-and-repeat game and are looking for better ways to clean your carpet during this back-to-school season, you will appreciate these carpet cleaning tips that have come from seasoned pros and parents alike.
Carpet Cleaning Tips for Back to School Season
As a general rule of thumb, you should be vacuuming your carpets at least once a week, but if you have heavy foot traffic in your home, you should probably do it 2-3 times per week.  This picks up all of the smaller things that gather and collect on your carpet and doesn't allow them time to turn into full blown stains.  Additionally, you really should spot clean as soon as you see a spill as this may prevent stains later on.
When it comes to cleaning your carpet though, there are some more in-depth tricks that can help you get to the really nasty stains.  
Blot the stain, do not try to scrub them out.  This is an important one because when you scrub at stains or rub them it will actually force the stain further into the fibers of the carpet and stain it further.  Blotting at the spill helps you to try and soak up any spills while avoiding further stains.
Use Club Soda.  Whenever you get a spill on the carpet, be sure to break out the club soda.  No, it's not just an old wives' tale.  Do not pour the club soda straight onto the carpet, however, you need to put it onto a washcloth and use it that way.  
Use shaving cream.  Did you know that shaving cream can be used as a cleaning product?  It can be used to get out most types of carpet stains.  Put the shaving cream straight onto the stain and let it sit for 30 minutes, then blot it away with a clean cloth.
Keep vinegar on hand.  Create a vinegar solution (one part vinegar, two parts water) and use it on most carpet stains.  If you are concerned about the scent, don't worry, the vinegar smell will go away after it dries.
Use heavy duty help. Some stubborn stains will need a special approach. Did you know that Spot Shot ® Instant Carpet Stain Remover instantly eliminates the toughest carpet stains – even OLD stains? It can fight pet stains, coffee, spaghetti sauce, grease and oil, marker, wine and more!
The trick is a unique formula that would work with a stain regardless of how old it is, a day or several years old. I have tried it on both, oil-based and water-based stains with a great success!
Just spray on Spot Shot and blot the stain away. No need for rubbing or scrubbing. It's that simple!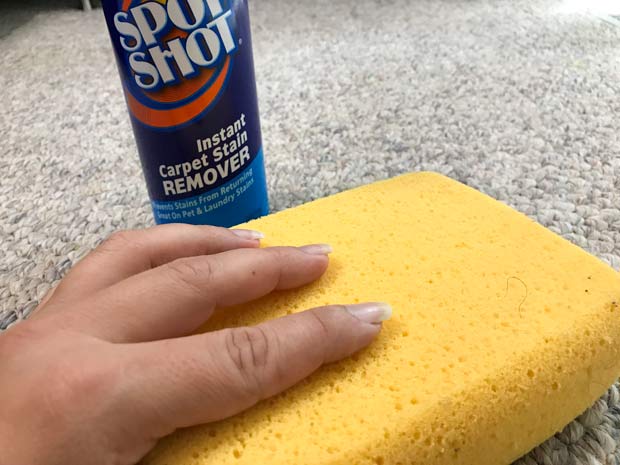 When it comes to pet stains, it doesn't just clean the stain, it also defeats the stinky odor.
Find Spot Shot Instant Carpet Stain Remover in a store near you and don't forget to print this coupon to get $1 off your purchase.

Join Stain Fighting Community. We are especially busy during back-to-school season and it might be tempting to skip the housework. However, joining a Stain Fighting Community on Facebook won't only give you support from other moms, it will also help you clean smarter rather than harder. I just discovered handy tips for cleaning old pets' stains by the Lazy Pitbull – you got to check it out!