This post is sponsored by Spot Shot® Instant Carpet Stain Remover. The house mess, creative solutions, and opinions are all mine!
I'm sure you have been staying home safe like the rest of us. I'm also sure you are keeping the kids busy with craft project after craft project, throwing them yet another snack, or sending them outside to play. Seriously, everything they are doing right now has the potential to get messy. Paint spills, mud tracked in, popsicles melted on the floor, the messy possibilities are endless.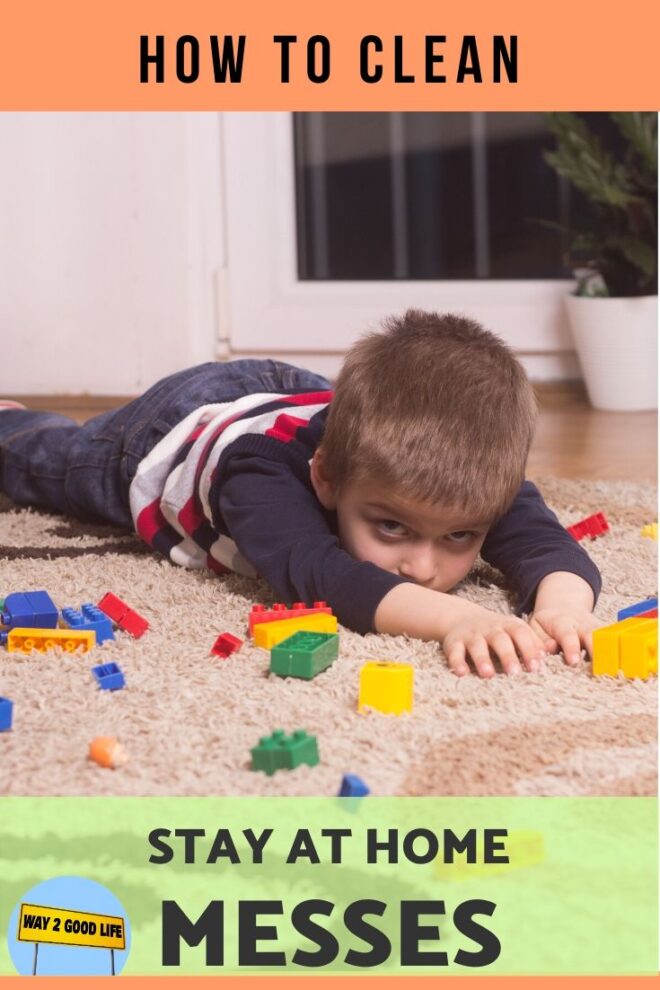 The kids really do need these added activities right now to keep them busy. However, I find that my children manage to turn the cleanest activity into a messy one! Is there anything that these kids haven't tried to destroy the carpets with? Okay, so they haven't actually tried to do it on purpose, but sometimes I wonder. It used to stress me out whenever I saw a new mess, but now that I have learned how to clean up those stay at home messes, it's not such a big deal.
Clean Up Those Stay at Home Messes
Let's talk about the best ways to clean some of the common stay at home messes we are dealing with lately. I don't know about you, but I have personally cleaned up all of these messes in the last two weeks, and figured you might need a refresher on how to clean them up too.
What is the best way to remove mud from carpet?
When the kids track mud into the house and onto the carpet, have no fear! You can fix it! Here are the steps to follow to clean this the best:
Let it dry – While I know it is hard to do, let the mud dry.
Once dry, grab the vacuum and use it to remove as much of the dried soil as you can.
Next, grab your Spot Shot® Instant Carpet Stain Remover and apply it to the soiled area using a damp cloth and blot slowly to remove the stain.
What is the best way to remove craft paint from carpet?
If a kids' craft project has gone awry and you end up with paint on your carpet, all hope is not lost. It may seem stressful, but I assure you, hope is not lost. To battle this particular mess, follow these steps:
With a clean, dry cloth blot up the paint spill as much as you can.
Vacuum up any loose pieces of paint.
Spray Spot Shot directly onto the soiled area of the carpet.
Blot at the spot again with a second clean cloth
What is the Best Way to Remove Spilled Kool-Aid or Melted Popsicles from Carpet?
You'll find that with most carpet messes, the cleanup process remains very similar. That being said, when the kids spill Kool-Aid, or drop a popsicle on the carpet, make sure to ACT FAST!
With a clean, light-colored rag or towel and blot up as much of the wet spill that you can. Do not scrub, or further rub in the stain.
Spray Spot Shot directly onto the Kool-Aid soiled area on the carpet.
Blot at the spot again with a second clean cloth, working from the outside in.
How About One Step Solution for All Little Messes?
I am incredibly thankful for my partnership with the Spot Shot Instant Carpet Stain Remover as it has allowed me to find a quick solution for just about any mess around the house. Did you know that Spot Shot also works on old stains? From time to time I find mystery spots often creatively covered by a table or a pillow – Spot Shot has the power to make it disappear!
Spot Shot has also been approved by the Carpet and Rug Institute for product performance with Anti-Resoiling agents that protect the carpet. It comes in both aerosol and trigger spray bottles and are both equally effective at fighting dirt and odor.
If you haven't yet used Spot Shot, you are going to love it. Not only do I love how great it works, but I also love that Spot Shot Pet is non-toxic and is specially formulated to safely remove stains. It is also really great at battling stinky odors. Most of all though, I love that Spot Shot Pet is safe for pets, kids, and the environment.
Spot Shot Instant Carpet Stain Remover is available at Walmart stores nationwide. Click here to find a store near you.
I hope that this little bit of info helps you to clean up those stay at home messes! Despite the messes being made, I hope you are having a wonderful time staying home safe with your family!
For more cleaning tips and tricks check out The Stain Fighting Community on Facebook – I always find new ideas there and to find a Spot Shot retailer near you. You can also print off a $1 off coupon.