We received a complimentary stay at the Country Inn & Suites Mason City.
However, the experiences are all authentic  
What do you look for when hotel shopping for your upcoming trip? My favorite part is ALWAYS the free breakfast – it's presence that is! Do I judge hotels on their breakfast offerings? You bet! Like it or not, this is where I bring my children, sample local food offerings, pay very close attention to the people I share premises with.

Breakfast at the Country Inn & Suites Mason City
You can imagine a busy weekend in Mason City makes morning breakfast a hectic activity. Since we stayed in Mason City during the North Iowa Fair, the breakfast lounge was packed! The night before, I noticed a few trailers from the Hot Air Balloon Companies pulling into the hotel lot.
Are we seriously staying in the hotel with people that make giant balloons fly?
We did, and according to the North Iowa Fair schedule, Saturday at 7 am these cool people were to launch their balloons. They were back and hungry for breakfast as I finally got my family up. I noticed a table with the balloon people enjoying their meal when we entered the hall!
My inner ten-year-old wanted to ditch my unruly children and go hang out at the cool kids' table – can you imagine the stories they had to share? I don't think I would have been more excited to sit next to the NASA engineers.
Be cool, Lena! Sit down and eat your breakfast. Make sure your children don't trash this place!
I allowed my grown-up self to take over, put my plate down and settle the kids in front of their food – a 10-year old, 8-year-old, 3…what, where is the 3-year old?
A minute ago he was making eye contact with anyone who cared to look at him, waving and smiling, but that wasn't enough as now he was hopping away from his chair. I stood up, but he was almost next to the table with the Hot Air balloon people.
Hop… Skip… Plop
A few moments later he found himself next to a short-haired woman in a white tank top and cap who was having a conversation with her friends. He looked up, smiled, sprung his arms upwards and screamed: "Tickle Tickle!"
I could only see a part of her face but I observed a smile disappearing from her face and changing to a shock and back to a half smile as she retracted away from her tiny tickler – she was ticklish! Oh, how glad I was that she wasn't a black belt attending a local karate competition. She turned and faced the three-year-old, and her smile once again became relaxed. With a hundred apologies I grabbed my tickler and returned him to the table and sat him next to myself to make sure he doesn't do any other embarrassing acts of violence. I wanted to hide under the table – my dreams of exchanging friendship bracelets and getting complimentary rides on the hot air balloon just shattered into million pieces.
Time to dig into my Belgian waffle and swallow the sorrow with maple syrup. Next time I will pretend that I don't know him (might even move to a different table).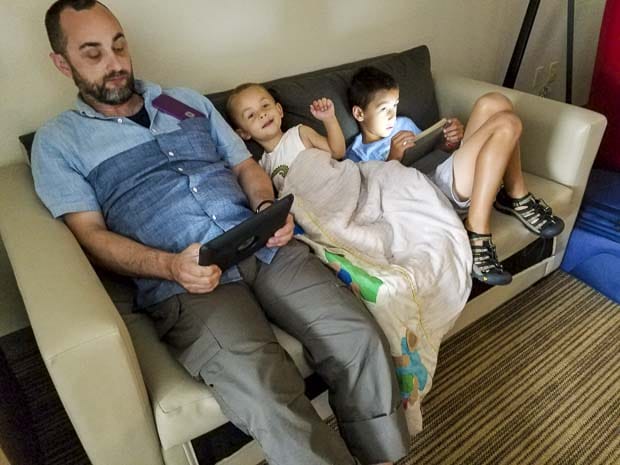 More About Country Inn & Suites Mason City
I was embarrassed by my charming 3-year-old offender in the breakfast area to the point I had to ask my husband to bring my breakfast to the room the next day. However, I had another reason to stick around the hotel suite – it was gorgeous!
Bright accent chairs in the room, a lot of lighting throughout the room brought a feeling of the home I always wanted to have. A separate living room space with a pull out sofa is exactly what this mama needed to have some space away from the children.
Staying here more than one day, I often made a point of encouraging the husband to spend some quality time with the little guy. He read him a book in the big red chair, and I would stretch across the bed to journal travel notes.
Other things we discovered in the Country Inn & Suites® by Radisson
An adorable Alice in a Wonderland door that has a sign "Storage" on it and of course it's locked. We think the sign is a diversion and something amazing is behind it. We couldn't prove that as it was closed.
The waiting area by the reception desk is tranquil. I classified it a mama's cave (in case I need to run away from my family).
A jacuzzi in the pool area is excellent for anyone who wants to chill in a hot tub. Except I have kids, so no chill time for me. The water was still relaxing though, and the kids enjoyed jumping from a hot tub into a cold pool a LOT!
5 Things to know about Mason City:
Drive or Fly?
Drive. Mason City Municipal Airport is only 10 minutes away. Air Choice One is the only airline that flies there, and it operates 8-seater planes. It's an exciting experience if you would like to try it and the tickets are cheap! If you are not into flying on small planes, then the drive from Chicago is about six hours
How Long to Stay Here
Six-hour is a great drive for 3-4 day vacation. Mason City has a lot to offer, but Clear Lake is right next to it too. That would make a great long weekend for anyone who lives in the Chicagoland area.
Will you need a car to get around?
You need the car to get around in this area
Family Activities:
The North Iowa Event Center – check their schedule and they often host fun family events
River City Sculptures on Parade – grab a booklet and have a scavenger hunt to discover all fun sculptures
The Music Man Square & Meredith Wilson's Boyhood Home – great stroll down memory lane
Local food not to be missed.
Suzie Q Cafe – in business since 1949 and serves a killer Spic-n-Span Tenderloins
Birdsall's Ice Cream Co – in business since 1931 and is a town favorite