Imagine riding a horse across hills and valleys as you drive a herd of longhorns across the dusty plains, from Texas to its northern destination.  Or, maybe staring down a challenge on the dirt streets of Dodge City. Wherever your imagination takes you, the Midwest is home to several opportunities to relive the days when cowboys ruled the plains.
Dodge City, Kansas
From the days of bringing in herds of longhorn cattle and Wyatt Earp to the television series "Gunsmoke". And these days Dodge City proudly wears its moniker as a cowboy town. With sculptures celebrating its western history, you'll find statues of figures,  such as Earp, Doc Holliday, and a longhorn steer. Television Marshal Matt Dillon's sculpture greets people at the visitors center.
The city's Boot Hill Museum showcases the area's history. It includes a western town, where you can stroll through exhibits or enjoy cold sarsaparilla at the Long Branch Saloon. Celebrating its cowboy heritage each August, the 10-day Dodge City Days include a rodeo, where children can learn to rope cattle, among other fun activities.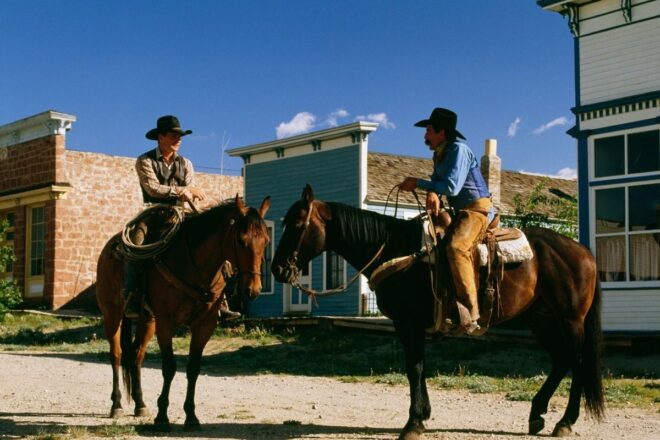 Medora, ND
Home to North Dakota's Cowboy Hall of Fame, Medora happily accepts its role as a cowboy town. From the Native American influence to Euro-American settlers, the museum in southwestern North Dakota honors its rodeo stars. Check out the cowboys saddles used on the rodeo circuit, as well as the history of clowns in rodeos in a Hall of Fame.
Taking you back to the 1800s, check out the downtown storefronts as you walk along a boardwalk. Stop in for taffy or chocolate, as well as a new cowboy hat and pair of boots. Fulfill your cowboy dreams with a horseback trail ride. Dinner at the Pitchfork Fondue gives children an opportunity to see what dinner on a cattle drive may have been like.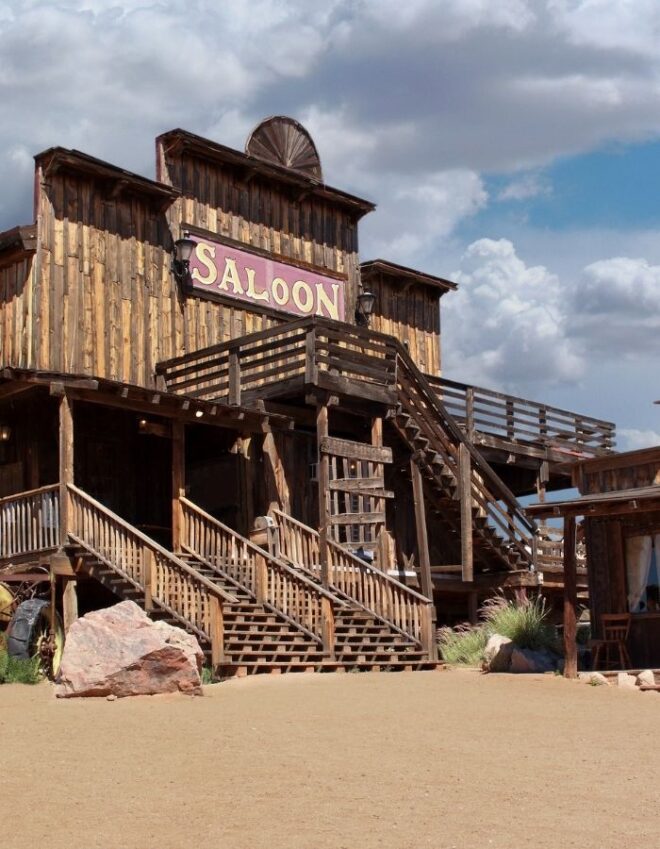 1880s Town, Murdo, SD
What started as a planned western movie became a tourist attraction. It allows visitors to fulfill childhood fantasies of being a cowboy.   The town's 1880s storefronts were donated after a film company abandoned plans to film in South Dakota. Not to be outdone, props of the 1990s movie "Dances with Wolves" are located among the 30 western-themed buildings. As you explore the town, you'll feel like you've stepped into a time machine and landed in the 1880s.
Olathe, Kansas
Enjoy a ride aboard the last stagecoach still in use on the Santa Fe Trail. The Mahaffie Stagecoach Stop-Farm relives the days when people would visit during their travels in eastern Kansas.
As you tour the farm, reenactors carry out daily chores involved with running the stagecoach stop. You will see them feeding horses, cutting firewood, tending to crops, and working in the blacksmith building. Inside the Mahaffie house, you'll see the area where stagecoach passengers could wash up and enjoy a home-cooked meal before heading back on the road. After the farm tour, ride on the stagecoach it will you on a route around the farm.
Ogallala, Nebraska
Nicknamed Nebraska's "Cowboy Capital," Ogallala marked the end of cattle drives from Texas over a 10-year period beginning in the mid-1870s. After driving cattle over the dusty plains, cowboys would celebrate with a drink at the local saloon. You can relive those days with a visit to a Front Street saloon and enjoy a sarsaparilla soda. Check out the western town storefronts, and enjoy dinner at a local steakhouse.
With free admission, browse the cattle drive-themed exhibits at the Front Street cowboy museum. No visit to Ogallala is complete without a visit to Boot Hill Cemetery, the city's original burial ground. It got its name after many cowboys interred here with their boots. For a unique look at art, the Petrified Wood Gallery features sculptures created from petrified wood. It also has an impressive arrowhead collection.
Deadwood, SD
From Wild Bill Hickok's "Dead Man's Hand" to shootouts on the street, Deadwood was a cowboy town during the 1800s, and that history is reenacted daily during summer tourism season.
While Deadwood is a casino town, children can visit some, such as Saloon No. 10. Here Hickok met a bullet over accusations regarding his poker hand – two black acres, two black eights, and an unknown card. Actors portray Wild Bill, gamblers, and saloon employees. A visit to the Days of 76 Museum takes you on a walk through history as you explore wagons, stagecoaches, weapons, and more from the 1800s.
While some people find visiting cemeteries uncomfortable,  a visit to Mt. Mariah Cemetery offers a look into cowboy history, as you can visit the gravesites of Wild Bill and Calamity Jane, among other notable western characters.
Wichita, Kansas
Once the end of the line for cattle drives on the Chisholm Trail, Wichita's Historic Delano District continues to share the story. As longhorns rambled on present-day Douglas Street, it's been recognized for its role as part of the Chisholm Trail. Today, you can purchase a handmade cowboy hat from Hatman Jack's along Douglas Street. You can even order a custom-made hat from the almost 50-year-old store.
Another area to celebrate the city's cowboy history is Old Cowtown, a living history town. As you stroll around the attractions such as a general store and train depot, stop by the saloon for a family-friendly sarsaparilla drink. But, don't get too rowdy, as you could end up meeting the local town Marshal and spend your visit in an 1800s jail cell.

From an 1880s town to a cemetery where cowboys were buried with their boots on, the Midwest has many cowboy stories to share. And, you can create your own western-themed story when you visit.