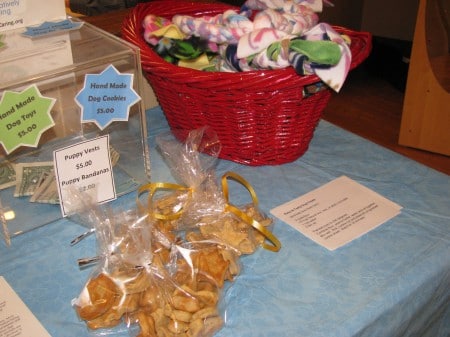 I am a dog person and totally excited to tell you about a great fundraiser for dogs that took  Here is another great community project Creatively Caring put together at Nibbles Play Café.
How can you help a dog shelter? Of course, you can take a puppy home, but you can also make few dogs happy.
Creative Caring, non-profit organization, put together One for You and One for Me event: anyone could make a batch of dog cookies to give and craft a cute puppy to take home. Free admission for all the participants cutesy of the play cafe.
Creatively Caring works with local businesses and non-profit organizations to enrich our community through fun, family service projects. Families with children of all ages are encouraged to participate in our projects which help people, animals and the environment. 
Nibbles Play Cafe (Wheeling, IL) is a fusion of cafe and kids indoor play place, where adults can relax and young children keep busy in imaginative play! Nibbles has committed to support community and its members.