This post is promoted by The Museum of Science and Industry
via Mode Media #msichicago #MSIrobot
A few weeks ago we spent a whole day at the Museum of Science and Industry in Chicago and hardly covered a third of the exhibits. As the closing time approached, my husband asked if we could stay here and have a night at the museum kind of experience. Is it possible to visit everything in one day? How have I lived 17 years in this city and have never been to one of the largest science museums in the world? Possibly I thought it was uncool of the 20-year old me to do touristy things in my city? Maybe I was just too busy to pay attention to what surrounds me.
The minute you step onto the museum floor, you realize this place lives by a different set of rules and the time here moves slower. We had so much fun playing at the Robot Revolution exhibit, the Idea Center, the mirror maze, a passenger train exhibit, and the U-505 submarine threw us back into 1940s to deliver a one of a kind experience.
Robot Revolution
Have you explored a cutting-edge collection of robots from all over the world in Robot Revolution, supported by Google.org? Many of the robots here have rarely been shown to the public before. You can spend hours in here learning the things these robots can do – from controlling an all-terrain crawling robot to battling tic-tac-toe 'bot, and watching a competitive game of robot soccer!
We spent a considerable amount of time at this exhibit. You can read more about it here if you need another reason why The Museum of Science and Industry should go on your summer to-do list.
It was exciting to see so many girls visit this expo – with the STEM program developing rapidly in the schools, girls seem to be more involved in techie activities these days. Cutting edge technology is no joke!
Numbers in Nature: A Mirror Maze
Have you seen the show "Numbers"? The main character there is a mathematical genius who helps to solve the toughest crime cases by using numbers and patterns. That is what I thought of when we got to this exhibit. Numbers in Nature: A Mirror Maze is a new permanent exhibit that exposes and explains the patterns that surround us.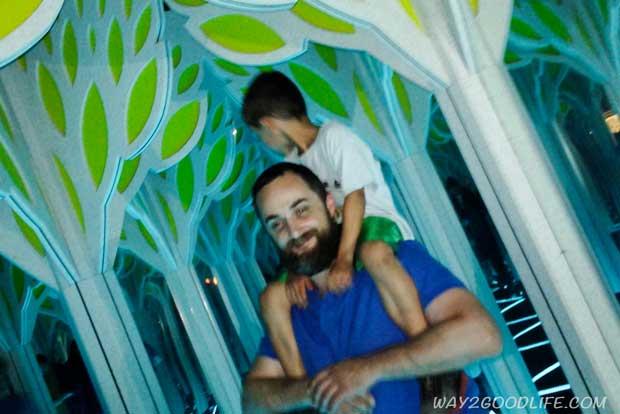 The exhibit's centerpiece is the 1,800-square-foot mirror maze with a sea of equilateral triangle chambers that repeat in a dizzying array of mirrors. It looked, at times, like we wouldn't be able to find a way out, but we did finally make it to the other side – me pushing the stroller and my daughter 5 steps ahead of me.
U505 Submarine
If you are looking for a place where time stands still, look no further. You enter the exhibit by following this hallway and travel back into the scariest events of 1940s waiting to share the story of the U505 submarine with you.
As you walk into the exhibit, you will come face to face with a live German submarine that sank hundreds of ships during the war. Walk around, touch this incredible piece of history, and learn about the people who changed the course of the war by helping to capture this submarine.
However, if you want to jump into the history pages, consider taking the submarine tour. The Museum of Science and Industry invites you to step inside the U-505 — the only German submarine in the United States.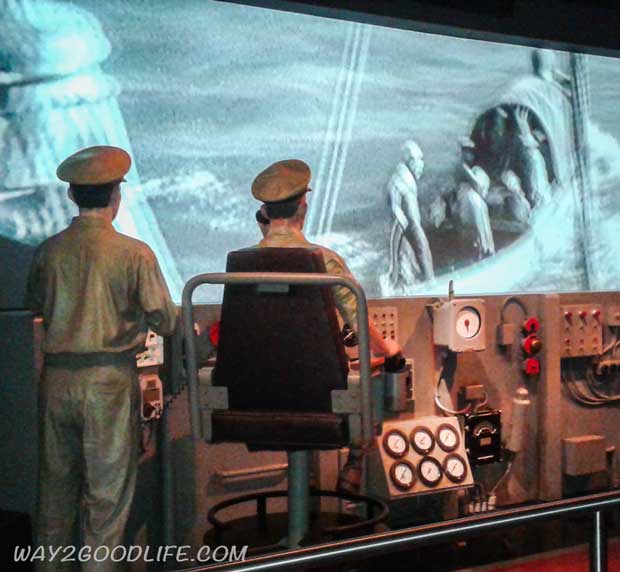 Today it's a national memorial to the 55,000 American sailors who gave their lives on the high seas in WWI and WWII. Fair Warning: pre-buy the tickets, as they do sell out ahead of time.
Science Storms
If you ever wanted to get a better understanding of the forces of nature, this is the place to visit. From far away, it looks like a futuristic city, but get closer, and you start seeing natural phenomena happening in the different parts of the exhibit.
Science Storms exhibit reveals the science behind seven natural phenomena—lightning, fire, tornados, avalanches, tsunamis, sunlight and atoms in motion. Investigate the fundamental scientific principles behind nature's power as you try more than 50 amazing experiments that take two floors and 26,000 square feet to contain. It's a perfect storm of physics, chemistry, and curiosity.
Can there be a tornado in a big city? Here you can participate in the experiment that will help you understand (and feel) the answer to this question. What does a tsunami feel like and how does it look from the other side? It is all here – just come and see.
If you are planning a trip to the Windy City, make sure to visit the Museum of Science and Industry. However, if you live in the Chicago area, do something touristy – get some great hands-on science experience that your whole family will enjoy.
The Museum of Science and Industry, one of the largest science museums in the world, offers world-class and uniquely interactive experiences that inspire the inventive genius in everyone and foster curiosity. Visit MSI on Facebook to learn more about MSI's groundbreaking exhibits that can't be found anywhere else and hands-on opportunities that make you the scientist.