(Sponsored, but completely honest. See full disclaimer at the end of this post)
December is usually one of the most difficult months when it comes to a healthy lifestyle. Besides temptations, there is also holiday stress and a list  with so much to do. I am sure you heard that an average American gains 10 pounds during the holiday season and it is just sad. However, I am out there with you, chasing, running late, and always afraid to under-deliver. Suddenly nutrition takes a back seat, because I just have no time for the proper balanced food.
Lean Cuisine might not be the ideal choice if you are on the super healthy train. However, you have to agree that the frozen good quality portioned meal sounds like an excellent idea when you are hungry and your perfect dinner is just not an option. If you are not on super clean "everything free" organic diet, frozen options like Lean Cuisine might be your perfect back up option.
But guess what: as awesome as these entries might look, one of these boxes will not keep me full for long and that is why I love balancing these meals with a salad.
What salad would work perfect for the whole family? Is there one salad that would keep everyone happy? In my family everyone wants something different, but lucky me in just a few minutes I can make 4 different salads without going far out-of-the-way.
I start with a generic salad – great box of mixed greens at Sam's Club makes a great starting point (and it's organic).
Where can you go from here? The sky is a limit, but here is what we did for dinner on Sunday to satisfy everyone cravings and desires.
Incredible Flavor:
Broccoli, croutons, cherry tomatoes, sunflower seeds, and feta cheese.
Feta cheese is incredibly flavorful and really doesn't need any other dressing.
Sweet Tooth:
This salad has few cucumbers, cherry tomatoes, sweet pepper, and shredded cheese, but it is also loaded with dry cranberries, sweet toasted almond pieces, mandarins, and served with Cranberry, Walnuts & Gorgonzola dressing.
Nutritious and Delicious:
Here are all the basics – cucumbers, sweet peppers, shredded cheese, but add garbanzo beans, sunflowers seeds, and almond pieces for optimal taste. It goes great with Cilantro Salad Dressing (if you like cilantro, of course).
All Colors:
There is a little bit of everything in this one –  sweet pepper, tomatoes, cucumbers, croutons, and cranberries. However, humus dressing gives it a Middle Eastern look and taste.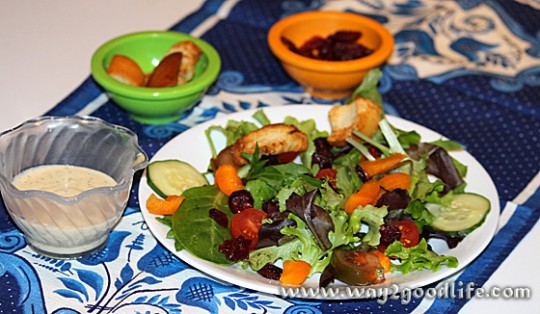 And now let's move onto the main course – I was very pleasantly surprised with our dinner options as they looked quite fancy and could have easily go as a restaurant takeout.
Chicken Teriyaki Stir Fry
Tender white meat chicken with long grain white rice, delicate snap peas, carrots and zesty red peppers in a sweet and savory teriyaki sauce. This food option includes half a serving of vegetable, so you need to supplement. Vegetables in any shape or form would go great here.
Sesame Chicken
Sesame breaded chicken tenderloins with pasta, green beans and red peppers. Do not forget the salad and have a great well-balanced meal. Talking about eating in style!
Ginger Garlic with Stir Fry Chicken
White meat chicken with snap peas,whole wheat pasta & ginger garlic sauce. This dish does have 2 portions of vegetables (and no, that doesn't mean that you should skip the broccoli). Personal opinion – you can't have too many vegetables – add a salad of your choice and indulge in the array of flavors.