If you recently discovered that you have a gluten sensitivity – don't panic: you have options.
Easy Gluten Almond Cookies is a delicious and easy to prepare gluten free treat great traditionally served with hot tea or coffee. This easy to make gluten free almond cookie recipe uses almond paste (not to be confused with almond filling or marzipan) which can be found in the baking aisle of most supermarkets. If you haven't used this ingredient before check the label carefully first, most almond pastes are gluten free but some brands might contain wheat starch. Easy Gluten Free Almond Cookies are great eaten freshly baked, and will also keep in an air tight container for up to 5 days.
This recipe makes 25-30 cookies
Ingredients:
1 can gluten free pure almond paste (around 8 ounces)
1 cup white sugar
1/4 cup pine nuts
2 egg whites
A pinch salt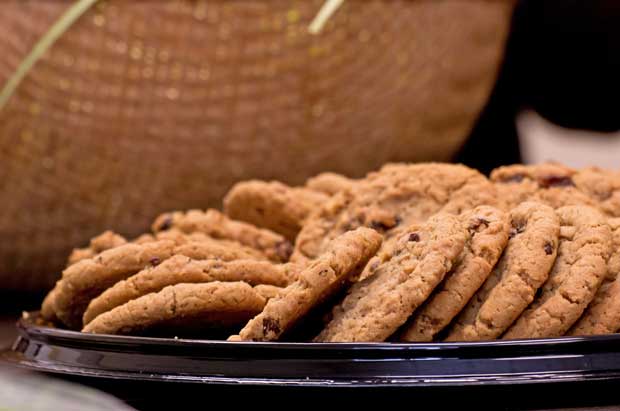 Preheat the oven to 325F (165C), and line two baking sheets with parchment or grease proof paper and set to one side.
In a food processor or blender, blend the gluten free almond paste until smooth. Gradually add the sugar into the almond paste and continue to blend together until smooth.
In the food processor and add the egg whites and salt and pulse the mixture until a smooth batter forms.
Using a large tablespoon, separate out the dough onto the baking sheets (leaving some space to allow the cookies to expand). Portion and shape into your desired cookie sizes and gently press 4 pine nuts onto each cookie.
Place on the middle self of the oven and allow to bake for 15 minutes, or until the cookies are firm and golden.
Allow the gluten free cookies to cool completely before carefully removing from the parchment paper.
[amd-yrecipe-recipe:5]
Like this article? Check out other Easy Gluten Free Recipes, Articles, and Product Spotlights
If you recently discovered that you have a gluten sensitivity – don't panic: you have options. Learn what's on the market, look into nutrition, check out our spotlights and reviews – make an educated choice!
Follow Way 2 Good Life's board Easy Gluten Free Recipes and Products on Pinterest.