It happens every year right after the season change and just as kids settle in schools – the Halloween Season. Being a working mom, I know first hand how easy it is to miss something during the season. If you find yourself in a similar situation, we want to remember this – YOU ARE AWESOME NO MATTER WHAT! And when it comes to the treats, we got you covered!
When you are in a severe crunch for time – there is nothing better than something ready-to-go. This is something like Witch's Brew by Celebration by Frey would make a perfect fit. It is individually wrapped and would also make great treats for the Halloween evening.

Gumball Jar
However, you can always create your gum bowl jar in the Halloween shades – just ask the creeps. For our jar here we picked black and white gumballs, also mixed with the eyeballs.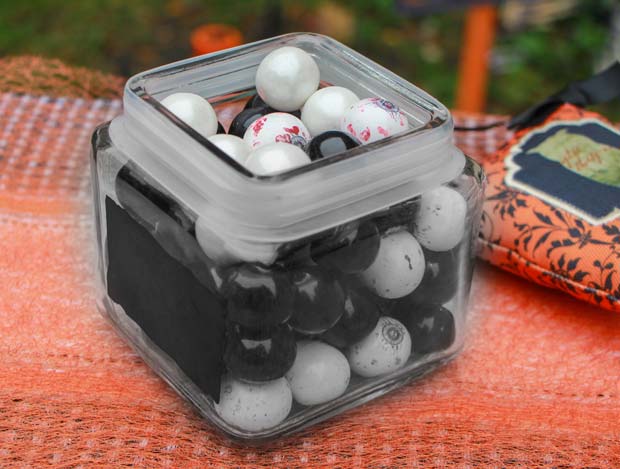 Snack Bowl
You have no idea how delicious this is until you try it. To get started, you need a mixing bowl, two kinds of cereal, popcorn, and Halloween themed Sixlets. We decided to go with Honey Cheerios and a Peanut butter crunch, and I have to say it adds significant value to the taste combination.
Mix all the ingredients in a mixing bowl or a big ziplock bag – popcorn, cereal, sixlets. Put it in the serving containers and enjoy!
Ultimate Party Favor
And if you have to think about a quick party favor gift, would you seriously be able to do better than a bag of gumballs? You know you can create these in under 2 minutes.
Candy Candle
We have another great treat for you, but this one is also is a beautiful decoration! A bought a few of these jars at a dollar store a couple of years. This trick saves me every year – it is festive, delicious, and yes – safe with a flameless candy.
If you only have a few minutes, consider one of these for a cute, great looking Halloween treat.