My family received a complimentary stay at Staybridge Suites Davenport.
However, my experience is unique, and thoughts are genuine
"She took my picture," a girl in the swimsuit sad pointing at me as I walked into the breakfast area with my 3-year old son. I did snap a quick picture of the dining hall with my phone just minutes earlier from the second floor for my blog post, yet for some reason, I almost felt uncomfortable at somebody pointing it out.
I chatted with her mom for a bit: their family originally from North Iowa just sold their house and was moving cross country to Houston. They had a long drive ahead of them, and the girl wanted to swim in the hotel pool before they were back on a highway.
As my son picked a seat with a high chair next to the TV, he pointed at it:
"I want to watch Umi Zoomi."
"No buddy, you don't get to pick what you watch in the community area."
He frowned and crossed his arms to show that he is very upset. We were surrounded by about a dozen people with most of them conversating with each other. It always surprises me how easily some people can strike a conversation with strangers they meet. I noticed that about Iowa – there are a lot of friendly people here. Being an introvert, I have to make an effort to ask a question. Davenport, IA is only Missippi river away from Illinois, but it sure looks like Iowa, the land of friendly people here.
Lucky me though, I did have a company for breakfast – my three-year-old son. We got to the hotel late last night. With both my husband and I having full-time jobs, we love weekend travel. There are so many places to see within two to four-hour drive from our home, and the Quad Cities are one of our favorite destinations. I usually leave after work and check into the hotel Friday night to make sure we are ready to get our family up and explore on Saturday morning.
By the time we pulled into the parking lot my three-year-old was tired and cranky
"I said I want to go home!" 
"Sorry, buddy today we are sleeping at the Staybridge Suites. I will go to check us in, ok?"
"I go check us in!" he insisted. He was exhausted and I really needed a quick check-in.
The reception was indeed fast and painless – five minutes later I swiped the key card and pushed the door of the suite on the second floor right above the dining area. Even in a dim light, the hotel room looked warm and welcoming.
"This is not my room," my son said but proceeded with caution.
No, I thought, It's better. Twenty minutes later my little guy got comfortable on the beds he was sharing with his sister and hid under his blanky.
Located right in the heart of the Quad Cities Staybridge Suites Davenport hotel goes out of the way to make you that home feeling. Located right off I-74, just 6 miles from downtown Davenport. It is also close to the IMAX movie at the Putnam Museum, the Isle of Capri Casino. Bettendorf, Rock Island, and Moline. With a work desk and an endless list of cable TV channels, I could spend a weekend here catching up on my stuff and relax. Door magnets are a nice touch too: what would they think if I put all three of them on my door?  
"Mommy, I am hungry… I want a banana and cereal, and milk!" he jumped and down on my sofa trying to get my attention. Regardless of what time my son goes to bed, he wakes up before everyone else. He does mind the fact that I want to sleep – he wants me up!
If I thought about morning through ahead of time, I would've brought some cereal and milk and stored them in the fridge or I could've cooked something last night for him to eat this morning, but who wants to do extra steps when you have free hotel breakfast. I had to get up and take my bouncy child to breakfast.
I must've dozed off, as my son brought me back into the breakfast reality by grabbing the spoon out of my hands:
"I said I do it by myself," he said and dug it into the cereal bowl.
Sipping coffee I looked over the breakfast buffet again – they really do have a lot to choose from. I knew my older kids will have a field day loading up on all their favorites – from eggs and bacon to Belgian waffles and juice.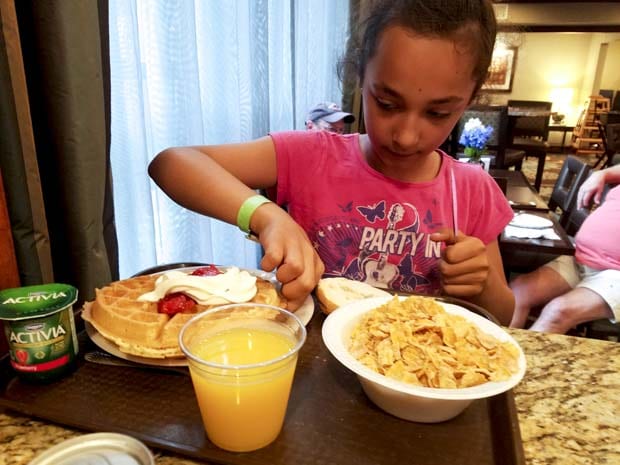 As we walked out of the dining area, my toddler insisted on taking a banana: how much does this child eat? It's 8 am – time to get the rest of my crazy family up – we have Quad Cities to explore!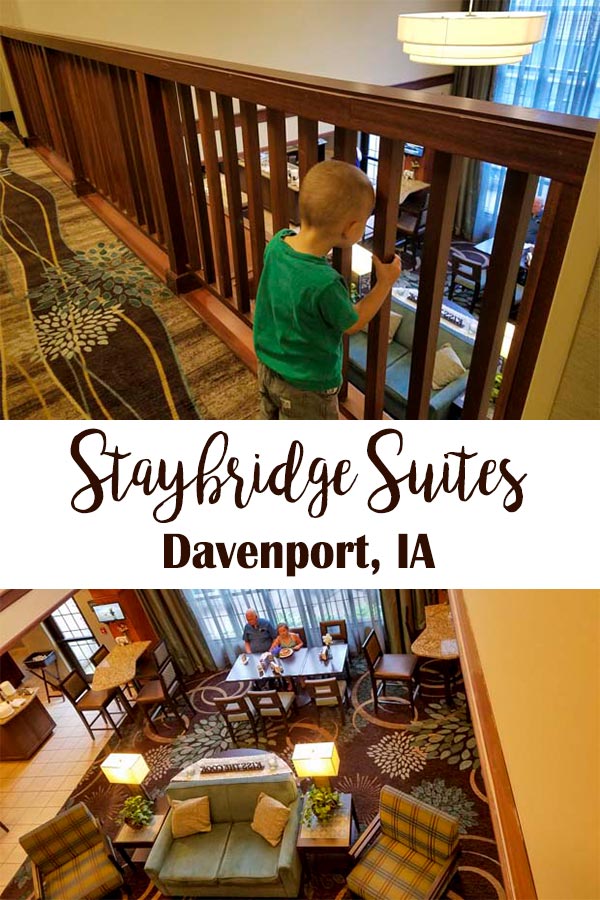 MORE ABOUT QUAD CITIES:
Hungry in Quad Cities? Check out These Food Spots
Fun and Free Activities in Quad Cities
Weekend Destination Stoney Creek Hotel