Thank you, Visit Kansas City, KS, and Midwest Travel Network for the KCK experience and weekend travel ideas.
Time to explore something new this summer. There are a few Midwest states I haven't seen, so a Midwest Travel Conference sounded like a great excuse to meet old friends and make some new ones, all while exploring a new state during my weekend in Kansas City, Kansas!
START YOU KANSAS CITY, KS WEEKEND!
GETTING THERE
Drive, fly, or take a train – the choice is yours. The flight to KCK will take about an hour and a half while driving or train will take around 7-8 hours. I took a train from Naperville, IL, to Kansa City, MO. I felt like a great idea to kick back and let the train take me to the destination.
WHAT IS KCK KNOWN FOR?
From quick research, Kansas City, Kansas, seems to be known for BBQ, Art, Heritage, and Diversity! Kansas City International Airport (MCI) and Kansas Union Train Station are located in Kansas City, MO, a short drive from Kansas City, Kansas.
WEEKEND LODGING in KANSAS CITY, KS
While visiting and looking for weekend TRAVEL IDEAS in Kansas City, KS, I stayed at the Hilton Garden INN and enjoyed everything. The sixth floor is the highest floor of the hotel, and it gives you a nice view of the streets, very nicely lit up in the evening. The hotel also has a full bar and some dining options. However, there are also some fantastic dining alternatives within walking distance.
Love Vocational Rentals? I found a few unique options in the area
100+ year old speakeasy Guest House
100+-year-old shotgun bungalow
Aloha rooms in the lower level of KC's Stadium B&B
A Fully renovated Airstream with a Hot Tub
COFFEE SHOPS
I discovered several coffee shops with many options on my morning coffee crawl. I love my coffee nice and strong, but Kansas City stepped up the coffee game offering things I had to Google to understand.
KINSHIP CAFE
KINSHIP CAFE is located within a few blocks from Hilton. It seems to have a loyal customer base, as I never saw it empty. Two garage doors type windows give the Cafe an open view of the area on a bright sunny day. In addition to offering traditional drip coffee, The Cafe offers Cold Brew and Flash Brew. Flash Brew brews Coffee over ice, which helps to lock the flavor. Kinship Coffee's signature drinks include The Cinnamon Delight and The Berry Latte.
Three Bees Pottery And Coffee Shop
THREE BEES offers a Mexican vibe to its customers. In addition to traditional Americanos and Macchiatos, it also serves Horchata ( Rice milk flavored with cinnamon and vanilla), Dirty Horchata (Horchate with Espresso), Atole (Harina de haba, sugar, cinnamon, and vanilla), and Champurrado (Mexican Chocolate Atole). Here you can also treat yourself to a dessert Tamale, Chocolate, or vanilla, gazing at the Mexican pottery the cafe buys exclusively from the Mexican artist.
Don't forget to try a cookie. My picks are a strawberry cookie, a lemon cookie, and a Smore's cookie.
SPLIT LOG COFFEE
SPLIT LOG is located in the Strawberry Hill Neighborhood of Kansas City, Kansas. Splitlog Coffee Company's mission is to make extraordinary coffee experiences easy. While you might not see it visiting their shop, they make Coffee making rocket science, constantly experimenting with the roasting and brewing processes. The shop offers several varieties of coffee and a wide variety of pastries.
The shop also offers a great line of Quarantine Cookies with names like The Parent Trap, Snickerdoodle, and OG Chocolate Chip. My personal favorite is The Vortex.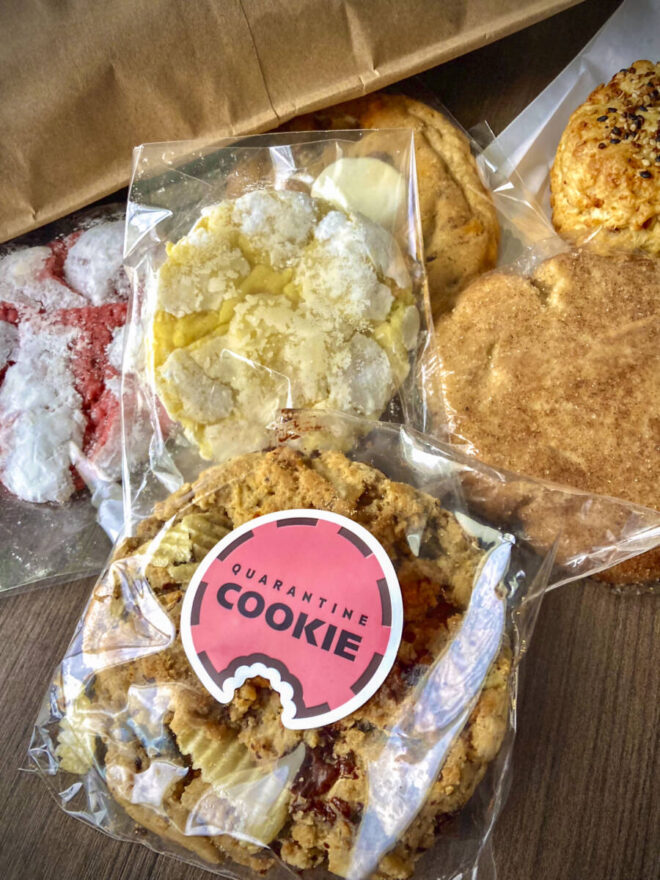 CONNECTED CAFE
CONNECTED CAFE is a community project. The café employs current or former foster youth. It provides the opportunity to gain work experience, and job skills and develop professionally in order to navigate future employment and advancement opportunities successfully. This cafe is a great stop only a few blocks from Hilton; it serves breakfast and lunch.
PARISI CAFE
PARISI Artisan Cafe is a Missouri chain, but if you travel by train, complete your weekend in Kansas City with a breakfast at the Union Station. A perfect option for those taking a train and would like to enjoy a cup of joe with a delicious chocolate croissant. They offer an overwhelming variety of Coffee varieties and brews along with incredible-looking pastries.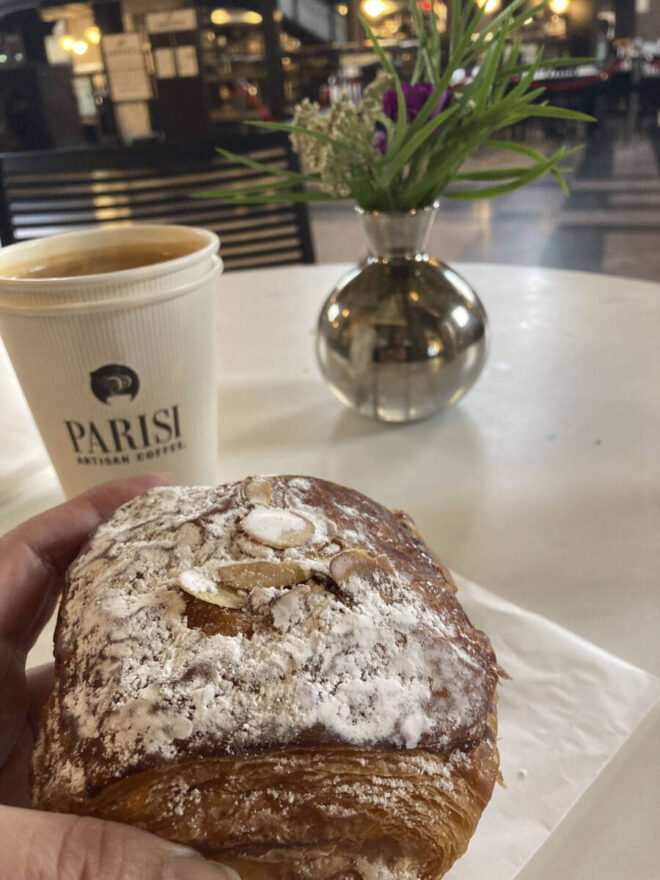 FOOD
SLAP BBQ
SLAP BBQ is an excellent restaurant for lovers of good ole BBQ, as this shop barbecues various types of meat and lets you mix and match different proteins. Their ribs are fall-off-the-bone delicious, and my favorite sides were Cheese corn and Cole Slaw.
THE OLDE MILL
OLDE MILL – looking for something different? Check out Old Mill Properties in Bonner Springs, Kansas. You will find it a great dinner spot with fantastic burnt ends and cheese corn, a brewery, a bar, and an ice cream shop. Dine inside or on the patio, enjoy the weather, and play a few rounds of cornhole.
However, this place is more than that. The Fuel House is Kansas City's premier automotive country club. Members only, it is a place to work on your car, and network with like-minded individuals, the Fuel House is a one-stop location for automotive enthusiasts.
Services open to both members and the public include
Coffee Bar
Cigar lounge
In-house mechanic
Outdoor Activity Space
Outfield Brewery
Gym
and much more
Thirst, hungry or bored, it is a pretty cool place to hang out if you have a few hours to spend
LUNCH BOX
LUNCH BOX – if you are leaving time very early on Sunday morning, breakfast might be a challenge. It opens at 6 AM and takes orders for delivery or pick up. They offer great breakfast burritos and hot breakfast sandwiches, but sadly, no coffee accompanies your breakfast.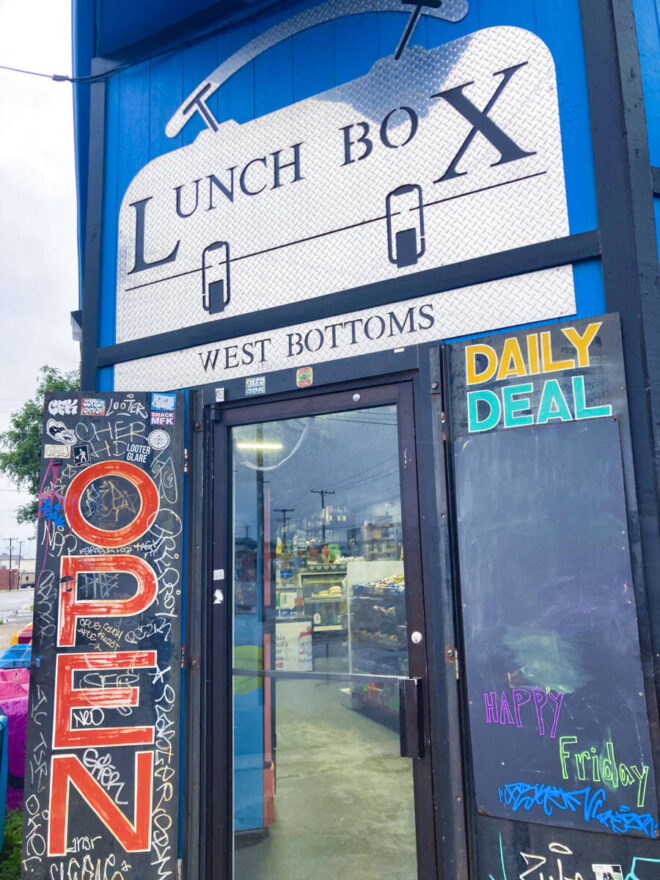 ENTERTAINMENT
Here are some of the most favorite family activities at the KCK
Kansas City Zoo
Worlds of Fun
LEGOLAND Discovery Center Kansas City
Deanna Rose Children's Farmstead
Kaleidoscope
Paradise Park
SEA LIFE Kansas City
The Union Station
Explore Strawberry Hill – a multicultural community.
Legends Outlets Kansas City
The Legends Outlets host 100+ outlets, retail, dining, and entertainment options. The center is big enough to occupy your day and work up an appetite a few times over. While the kids, I am sure, would love to spend some time at Dave & Buster, you can find a great lunch option there.
I love the Bowl – it is full of flavor and color and will make you feel better about your food choices and might justify getting a Pecan Popcorn from the American Popcorn Company.
If you are traveling with a teen, take them to Journeys, J Crew, Levi's, GAP, American Eagle Outfitters, etc., which will intrigue even the pickiest teenager. Moms will enjoy The Cosmetic Company Store, Coach, Michael Kors, Tory Burch, Vera Bradley, etc.
Children's Mercy Park
Children's Mercy Park is home to Sporting Kansas City and located just across the street from the Legends, it will give you an unforgettable in KCK.
Cider Hill Orchard
The Orchard's mission is to create a place where families can come and spend time together either in the Orchard, in the Pumpkin Patch, or at the Fishing Pond. It is all about creating memories and making fun of family traditions.
The Union Station – Kansas City, MO
The Union Station in Kansas City, MO is just over the state line. It is not just grand in its looks but has much to offer visitors. There is an Escape Room, A Cinema, An Illusion Room, and a Planetarium. There is also a Spider-Man exhibit open there for all Marvel Fans. If you happen to be at the station before all these attractions open, consider visiting the Model Train Exhibit, which opens at 6 AM. Many displays are motion activated and come to life as you enter the exhibit quoting down after you leave.
Is a Weekend enough to explore Kansas City, Kansas?
A weekend is not enough; a week – maybe, several weekends – possibly.
5 THINGS TO SUMMARIZE KANSAS CITY, KS:
Drive or Fly?
Drive or Train – 7-8 hours or fly to Kansas CIty, MO in 1.5 h.
How Long to Stay Here
A week or several weekends
Will you need a car to get around?
You need a car to get around in this area.
Family Activities:
Kansas City Zoo, Worlds of Fun, LEGOLAND Discovery Center Kansas City, Deanna Rose Children's Farmstead, Kaleidoscope, Paradise Park, SEA LIFE Kansas City, and The Union Station.
Local food not to be missed.
Slap BBQ, Kinship Cafe
Looking for More Midwest Travel Ideas? Explore Midwest One Weekend at a Time as a family!