How difficult is it to be fabulous after 40 when you're are a mom and a professional. While trying to come up with a dinner idea on the way home from work, who has time for fashion trends and the latest fall colors. However, today, I would like to share the easiest way to continue being trendy without overspending and overthinking.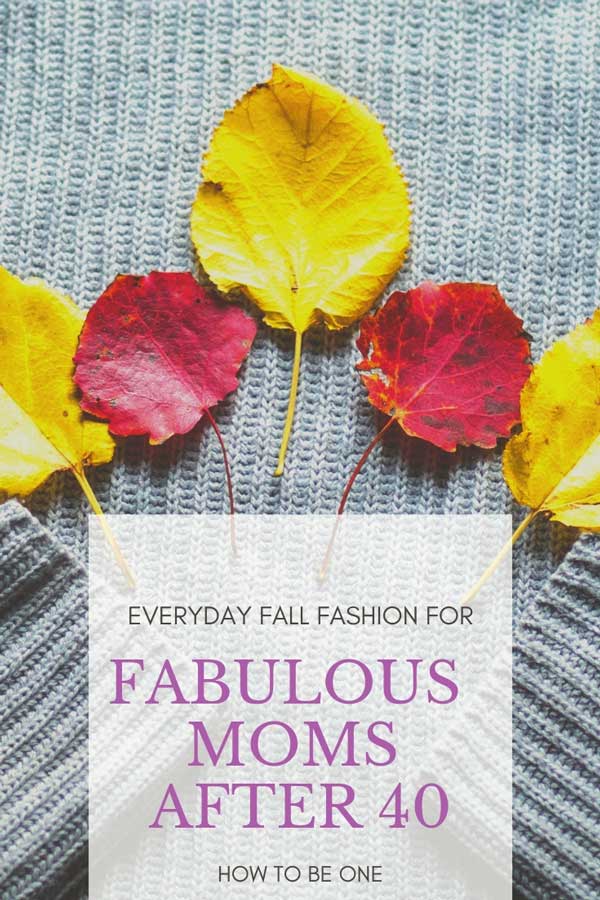 Fabulous Moms after 40
Fall Fashion Tips
Here in Midwest we sometimes experience four seasons in one day – leaving home dressed for a rainy day, melt to a summer temperature by lunch, we experience a decent fall day for a few hours on the way home just before it gets super cold and windy int he evening.
However, while fall is a very moody season, we still have an advantage of incorporating lots of summer element into our wardrobe. Let's spend a few minutes talking about everyday Fall fashion clothing and smooth transition from summer open styles to the colorful options.
Remember Summer!
If you are not ready to say goodbye to your summer attire, yet you are starting to feel the cold breeze in the evening, keep the light summery dresses and layer up with accessories, jackets, and boots. Boots and tights of fall colors will give your summer dress a gorgeous fall look.
Edgy leather jacket for the night on the town or a blazer for the office or a family party – go in style wherever the road takes you, but don't forget to complete the look with accessories.
Fall Colors
Bronze, Merlot, and Red never go out of style, and they look amazing with black. Such a sharp color combination is not only timeless, but it is also practical and can be used every autumn.
Think you can't pull off red? Think again! Deeper shades in colors define anything that needs a boost yet hides imperfections we trying to cover.
Why to Change Colors?
The short answer is – Incorporating color into your ensemble is an excellent way to feel fresh, fashion-forward and fabulous! It might seem easier to stick with the black (I did for years!) for the slimming effects, but does it do the job? The fit of the dress is a lot more important than the color, and the right hues will dramatically improve your mood, the color will give you the confidence.
We have talked about dressing up for different body types here.
Baby Steps to Color
If you are new to color, start small by adding color accessories to your neutral and black shades of clothing.
Go step further – get a dark solid dress, but instead of your favorite black, go for the dark blue or purple. Keep making baby steps toward color every day.
Care to Experiment?
While playing with colors of the season, I went with two fall favorites – orange and red
My Orange
This nature-inspired looked Mix It Up Tunic, Side Detail Ponte Legging, and Large Link Necklace and Hoop Earrings along with a high heel ankle boots.
The tunic is very textural with an uneven edge for flattering the curves and vibrant patterns to help hide the midsection. The Side Detail Ponte Legging gives a slimmer look to legs, brings attention to the faux leather side panels while hiding wider hips. The Necklace is another way to draw the attention away from hips and mid-section, and I think this Silvertone Large Link Necklace does an excellent job doing just that.
My Red
My vibrant red look includes Boiled Wool Jacket, Side Detail Ponte Legging, and Large Link Necklace.
Hooded swing style jacket is a definite head turner with front princess seams, raglan sleeves, and hood with drawstring. Love the way it looks and feels.
Confidently wear red in a tomato-tone skirt suit with a mermaid flare. The added dimension at the hemline adds visual interest to your ensemble, and the vibrant red color will give you a stand-out look. The Side Detail Ponte Legging brings attention to the faux leather side panels and away from the hips. The Silvertone Necklace is an excellent way to complete the look.