Friday evening is a great time to kick back and relax finally. Right? Wrong! Rather than watching someone else having his dreams come true, you can go on your adventure! A weekend is long enough to have a getaway and Midwest is full of hidden gems waiting to be discovered.
What Hidden Gems? Where you do you find them?
That's where we come in. Blogging has opened the incredible doors to adventures for us, and we want to share it with you! It's true, a unique experience is only a short drive away, and I can't think of a better time to spend as a family. This particular Friday we are taking a ramp onto I-294 with plans to spend some time in Lafayette, Indiana.
Lafayette is a city in and the county seat of Tippecanoe County, Indiana -just about 63 miles northwest of Indianapolis and 108 miles southeast of Chicago. Lafayette is best known for being the home to the Perdue University in West Lafayette. But, it also can tell the story of the Tippecanoe Battle in 1812 between the Prophet and American Troops. There are also plenty of things to do in Lafayette Indiana for a family with kids.
What to do in Lafayette?
Ready to explore the city of Lafayette, IN, the home of Perdue University? Buckle up, as we are leaving the State of Lincoln and entering Indiana. Two and a half hour drive is an easy one tank trip.
We prefer to travel on Friday after work to wake up on Saturday morning and get the most out of the weekend. We pulled into the parking lot of the Four Points in West Lafayette around 9 pm, which was late enough to send kids to bed right away and early enough to make sure we get some rest before a busy weekend. A quick check-in later, we unlocked two merging rooms – one for older kids and the other one for us and our youngest one. My 3-year-old crawled onto the bed next to a window and buried himself into white sheets. Before I could change him into pajamas, he was sound asleep
My three-year-old is often the first one to wake up. This bright Saturday morning he appeared next to my face and gave me a big hug,
"Mom, where are we at?"

"Lafayette," I yawned.

"Lafa-yet?"
Time to get up – we have a busy day ahead of us.
Exploration Acres
We visited Lafayette, Indiana in the harvest season – time for pumpkin farms, corn mazes, and hey rides. If you plan to spend some time in Lafayette in September – October, come to the Exploration Acres and spend an hour or a day here!
What to do at the Exploration Acres
We founded parked at the entrance as we read the Farm Flyer and grabbed a little green wagon – a perfect fit for a small child and a few jackets.
Enjoy a day testing your skills at a pedal cart, firing a corn cannon salute or dive into a mound of straw.
Pumpkin Patch and a Hayride was an excellent start for the day and after that kids went to the Straw Mound and Straw Tunnels. How often do my suburban kids get to play with a pile of straw? Rarely.
Other fun activities are Tractor Train, Tube Slide, shelled Corn Bin, Pumpkin Races, and Tumble Tubes and much more.
Of course, a cool farm wouldn't be complete without a corn maze, right? The exploration Acres hosts 4 Corn Mazes covering 10 miles of paths and 20 Acres of land. Last year's mazes were mapped after a popular Netflix series Stranger Things.
About Exploration Acres
Lewis and Hazel Beeler established the farm at Exploration Acres in the early 1920s. Their family settled in Tippecanoe County, Indiana in the mid-1800s: raised chickens, sheep, hogs, and cattle and produce corn, soybeans, wheat, and hay.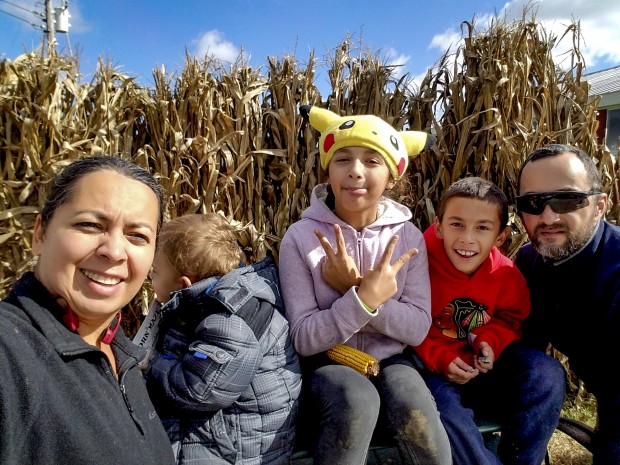 The purpose of the farm changed over the years. In the 1990s, the Beeler family switched their focus to farming the 550 acres of land. In 2008, Exploration Acres Inc., a fun family center, opened to the public.
What to do first?
You can spend a day at the Exploration Acres – rent a fire pit a have a day in the sun as a family.
My kids could not stay away from Corn Bin: There is something therapeutic about letting shelled corn run through your fingers.
My older kids competed in a Tumble Tubes contest, and the little one was head over heels for the Pumpkin Races. We also tried our luck shooting the Corn Cannon 500 ft in the air, and while it was fun, we didn't reach the target.
Columbian Park Zoo
While spending time in Lafayette, make time for a Columbian Park Zoo. It's open daily from mid-April to mid-October and is free to visit.
The History of Columbian Park Zoo
The Columbian Park Zoo was founded in 1908 with foxes, skunks, pelicans, deer, lynx, Prairie dogs, and wolves filling first exhibits. Over the years the Lafayette zoo went through significant growth.
The Zoo
You will find plenty of American and Australian animal exhibits as well as an interactive family farm as well as a Historic Animal House and a Butterfly Garden. Have I mentioned that the entrance here is free? The highlight of your day might be feeding goats in the Animal House. You might yourself hopping along with the kangaroo joeys or visiting the butterfly garden.
The Hidden Side of the Zoo
The uniqueness of the Columbian Zoo might be in something you don't see visiting the park. A building on the back of the Lafayette Zoo doesn't look like anything special, yet it hides an incredible educational enrichment program.
Heather, a Zookeeper met us upfront and invited to follow her on a tour of the secretive building.
Have you ever seen a hellbender? This species lives across the eastern United States and spends its entire lives in the water. It's also a near-threatened species and is protected in several states. Colombian Zoo Enrichment program has been helping to preserve these creatures I didn't know existed.
On our tour, we also met a parrot that tried to strike a conversation with my nine-year-old son. Heather asked us not to encourage him.
We met a shy sloth that was taking a long nap in a box and wasn't interested in interacting with us.
My daughter wanted to touch giant hissing cockroach while my son was mesmerized by a very curious snake. The snake seemed to follow us inside of the cage – anytime we turned around it was standing on by the wall closest to us rocking from side to side.
The most exciting experience we had was with an armadillo. We watched it transform itself from a ball. Its legs descended onto the floor, and it wobbles around to move around the room. With so many things to do in Lafayette, Indiana you have to make sure to come to the Columbian Park Zoo. From the zoo my kids went straight to the play park and getting them out of there was a unique challenge – the park was HUGE!
Wolf Park in Lafayette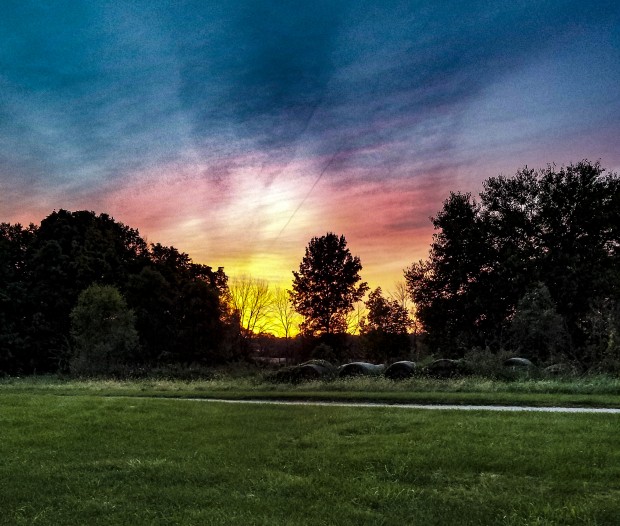 It was getting dark when we pulled onto the road leading to the Wolf Park. Before we got to the gate, we had to stop at the tail of a long line of cars. It's a Wolf Park Howl Night! What does it mean? A few people we suggested that the Howl Night is a one-of-a-kind of experience. You get to howl with the Wolves!

Wolf Park in Lafayette
Wolf Park is a sanctuary for wolves. It's also an education and research facility located in Battle Ground Indiana. In 1972, a pair of wolves, siblings Cassie and Koko arrived here from the Brookfield Zoo in Chicago. Erich Klinghammer, an ethology professor, wanted to learn about wolves' behavior and communication.
Over a few years, Dr. Klinghammer received wolves from other zoos, and in 1977 the first litter was born.
Research continued at the Wolf habitat. Wolves assisted with cognition studies led by Dr. Clive Wynne and his graduate students. The 2009 students raised pups and recorded their problem-solving growth as they developed.
Today the Wolf Park in Lafayette hosts a variety of activities for the community. There are an overnight children camps, Animals' Birthday Party, Walk for Wolves, an infamous Howl Night and other events.
Wolf Park After Dark
Once a month, Wolf Park opens late for the Howl Night. The gate goes up at 7.30 pm and stays open until 11 pm. If you are spending time in Lafayette, Indiana during one of these nights, put this event on the top of your list. It's a perfect time to walk the trails, observe animals at a time of day they are most active. If you visit this wolf sanctuary in summer, you will spot fireflies and listen to the frogs. In the fall and winter, the wolves get more active, and they were the stars of the evening we came to the park.
The Howl Night
Other visitors ran from their cars to the building. Everyone seemed to be in a hurry to get in. We tried not to fall behind, which was not an easy task. Three children in our family are not known for moving in the same direction on the cue. As we got to the Fox enclosure, the presentation was well on its way.
… They are great climbers and can climb the tree but rather often prefer not to hang out with a large crowd of people…
"Pretty Doggy!"

my three-year-old exclaimed as he spotted a fox.
Bribed by the treats, a fox showed up and glanced at the group of people. Following the lecturer, it jumped from one structure to the other higher and higher. And next minute it was gone again in the dark – enough is enough.
We headed to wolf habitat! As we approached the wolves enclosure, a small pack of wolves took positions in the lit up area – like accommodating hosts they patiently posed for the photos until all visitors settled on the bleachers. They were the center of attention, and they knew it! Being a young Wolfpack, this group of wolves acted like teenagers. They played "It" and picked on one another: pull the tail and run! What a fun game that was for at least three out of four wolves at any given moment.
Next, it was time for us to learn a new skill…
…Howling With the Wolves
There is science to the howling, and it also takes confidence – you don't want to look like an amateur when you do it. You also don't want to look a wolf directly in the eyes – that would be taken as a direct threat.
Take a deep breath. Inhale slowly and consistently until your lungs are full of air. Begin with a low, mournful note, and increase your pitch by one octave: "A-woooooooooo!" Build up the volume of the howl to get louder and louder. Hold the howl for at least a few seconds. As you start to run out of breath, gradually low your pitch and "fade out" of the howl.
Half a minute have passed, and the pack of wolves in front of us responded! And as an echo in the dark, another wolfpack replied. From a different direction a response, but that one sounded different – higher pitched and with a yip. That's a pack of coyotes joined out night howl!
Walking back to the car, the kids were unusually quiet. Where they tired or did they learn something new Spending time in Lafayette, Indiana has been very educational, but we had another day ahead of us. Another day in Tippecanoe County.
Looking at what else to do in Lafayette? Read on!
5 Things to do in Lafayette, Indiana:
Drive or

Fly

?

Lafayette is only two hours away from Chicago. Easy drive down Rt 65 will get you there in no time.

How Long to Stay Here.

A perfect weekend trip! There is more than enough to keep you busy – Historical field trips, Wildlife, and farms



Will you need a car to get around?

Yes! Everything is

relatively

close, yet you will need a car.

Family Activities.

Too many to list, but Columbian Park and Zoo, as well as the Wolf Park and Exploration Acres, are great for a family with little kids

.

Local food not to

be missed

. Triple XXX, Town and Gown Bistro, Dog N Sud's, Igloo Frozen Custard. Read more about our 7 Best and Unique FOOD SPOTS in Lafayette, IN.