Your summer might be filled with fun and games, but any busy family needs some down time and let's just be honest, in most families that mean – all family members are hiding in the corners of the house with their electronic devices. Don't tell me it's only in my house. Even my three-year-old demands to watch Blippi on YouTube.
However, let me offer you an alternative that will give you a perfect excuse to ditch the tablets, have some quality time together and enjoy it.
Today I have three games, and they have it all – a certain amount of silliness, a portion of grossness, and lots of fun!
Gooey Louie
Boys are obsessed with all things gross, and if your boys anything like mine, they will love picking Gooey Louie's "nose." Lucky for you and me Louie's nose treasures are not as disgusting as what real boys pull out of their noses. What you see my son holding here is Louie's brain (it is not very big and as you can imagine that goes into this head along with other gooey stuff.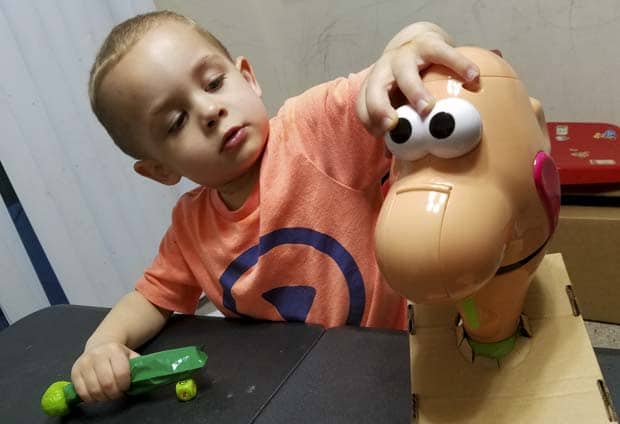 Ready to get started? Dig into the big plastic nose and pull the gooey! Watch out though . . . if you pick the wrong gooey from Louie his eyes will pop, he'll flip his lid, his head will pop open, and his brain will fly out!
This game helps develop fine (and gross!) motor skills and hand-eye coordination. This might be one time when picking boogers is ok and well encouraged.
Shark Bite
Here is another game that required hand-eye coordination and it comes with a certain amount of suspense! In this game, you will have to pull colorful sea creatures out of the shark's mouth before it shuts open and eats you!
Start by placing colorful sea creatures into shark's mouth. Next, take turns rolling the die and fishing for the sea creatures using the fishing rods. But watch out – you never know when the shark is going to bite! When the shark jumps up, the player with the most fish wins! The win for the parents – watching the reactions on their child's face when the shark jumps.
The best thing about this game is that it requires no batteries and very easy to play in the hotel room or the car if you decide to take it along.
Doggie Doo
Another great game with just the right amount of gross! However, this time around it is all about the anticipation of is coming your way. Start by pushing one piece of food into the doggie's mouth. Place the bone firmly into his mouth, leaving it there during gameplay. Now let the fun begin – squeeze the leash and listen the doggie make a gassy sound. You know the doggy will have to go-go but maybe not just yet? Next!
When the doggie goes doo, the player who squeezed the leash last picks up the mess with the shovel and collects a fart token. The first player with three tokens wins!
I am also secretly hoping that after playing this game, my kids will look forward to walking the dog (I can dream, right?)
YOUR FAMILY TIME
How to have Family Time During Holiday Season