We visited Festival Country, Indiana and received complimentary lodging and some activities. Other activities were free.
What gets you up in the morning? Is it smell of coffee? Your children arguing? Alarm urging you to get up to run to your kids' practices? I often find myself exhausted coming to work in on Monday, but what do I do – this is a parent's life, right? Not, really, this might be a great page out of parenting book, but let's agree we all need a break. How about waking up away from the chores and routines? What about a weekend exploring a fun new destination? My biggest travel problems include budget and a lack of time, how about you!
However, if you live around the Chicago area, I bet you don't know half of the fun places you could get to in a couple of hours. Many destinations are budget friendly with many free activities for the kids. Besides, these places are not nearly as busy as events in big cities.
Weekend Festivals at Festival Country, Indiana
This September weekend in Festival County, Indiana was a warm on. We love leaving Chicago on Friday after work and getting into the town we plan to explore at night. What could be better than waking up in a new place bright and early and have a weekend to enjoy the destination to come back to Chicago early evening?
Festival Country, Indiana is known by an overwhelming number of Weekend Festivals. What makes it even more fun are free activities. What an incredible way to get the most out of your travel dollar! Festival Country, Indiana got its name in 2017 when Johnson County community determined what they are known for – festivals! Fun festivals, concerts, and events seem to be what attracted visitors. In all, there are more than 1,000 festivals, events and concerts take place here each year.
For the Curious Minds
Looking for an educational stop? Johnson County Museum hosts many events – from a Victorian Tea in spring to a week-long History camp in summer.
Want to see an incredible historical gem? Stop by The Historic Artcraft Theatre. This theater has a classic Art Deco streamlining and a neon sign with a unique look we love to see the old movies. Opened in 1922, today this traditional theater shows classic movies. The weekend we visited, The Ghostbusters were playing, and we couldn't miss that.
Fall Festival in Festival Country
Franklin, Indiana
Festival Country is all about having a good time and the Fall Festival in Johnson County was not an exception – it was packed with entertainment, food vendors, and a kids zone. The ultimate highlight of the event was a one-mile dance, a dachshund derby, and a fireworks show at dusk.
Above all, there was my favorite part – strolling the street with the local merchants and local crafters. Of course, there was also my weakness – food trucks! A road full of food trucks is a place to be if you are a family of five and each family member wants to try something different. My most significant discovery of the season is the hot apple dumplings with ice cream – yum yum yum!
Apple Works
Trafalgar, Indiana
From apple dumplings to more apples, we took a drive to the Apple Works, an orchard in Trafalgar, IN. It's a store with any apple product imaginable open all year round (yes to apple cider, Dutch Apple Pie, Apple Dumplings, Dutch Apple Bars, Apple Bread, Pumpkin Bread, Pumpkin Pie, and more), petting zoo, pumpkin patch, and an interactive rustic playground.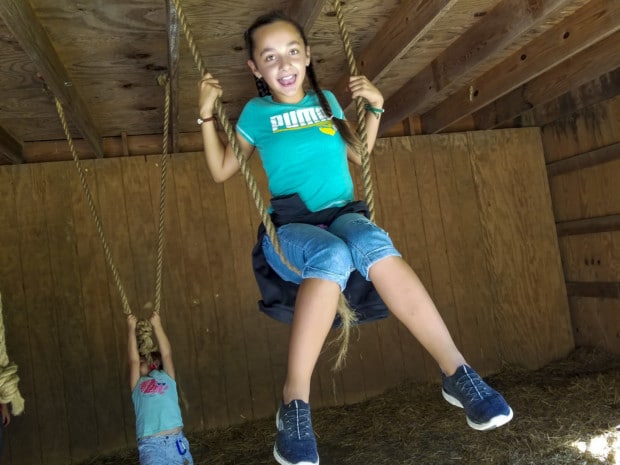 It's best to come here in fall and stay all day watching kids run through the mazes, riding a super slide, playing with animals. September here in Festival Country is also full of entertainment and musical events.
What to Do at Apple Works Orchard?
We went to the Apple Works in Indiana during the Highlander festival and what a treat! Long lines to the food trucks were so worth it as I have never had a more delicious Shepard Pie! Apple dumplings, Apple with caramels – I wished I got in the line before I got hungry.
For anyone on a hunt for a perfect pumpkin, there is a pumpkin patch, and there were plenty of pumpkins to pick from. My youngest son attempted to steal other people pumpkins while we waited for a tractor ride.
Highlander Festivals
In a meanwhile, Highlander Festivals was in full swing – the music of Highland Reign, bagpipers, a reenactment group, and craft vendors. I did have to explain to my children that men wearing kilts wasn't a Fashion statement.
I do have to say that the Highlander is a jam-packed event! Get here early to get better parking.
Kelsay Farms in Festival Country
East Whiteland, Indiana
Located in a rural area, Kelsay Farms is a sixth generation dairy and crop farm. Built on the land granted by President Martin Van Buren in 1837, this farm is still a family business today. The cows at Kelsay Farms produce an average of 8 gallons of milk every day? That is approximately 128 (8 oz.) glasses of ice cold milk… EVERY DAY!
However, while dairy and crop is still most of their business, Kelsay Farms also have space to host a weekend festival every weekend! Maybe that's what they thought when they dedicated a corner of their farm for family fun. A lot of planning goes into the Fall fun at the Kelsay Farm, and it shows. There are corn mazes, a barn filled with corn kernels, hayrides, and straw bale mountain. This farm is perfect for families with kids of different ages. Imagine my 3-year old playing in the corn crib, jumping on the jumping pad and hopping on the little hopping cow. Older kids went for the Human Foosball and chasing each other in the Bale Mountain.
Best Part
I walked into a gigantic 7-acre corn maze but seriously doubted my navigating skills. I opted-in for a little kids corn maze. 10 minutes later I was done!
After that, we all met tired and hungry at the Food stand of the Kelsay Farms. Grill cheese sandwiches and chocolate milkshakes there are the best! Everyone wanted to stay longer, but it was time to head home. Like it or not, Johnson County is about four hours away from our home.
Driving back, kids fell asleep before we got on a highway. What a great way to enjoy the blue sky and peacefulness of the cornfields outside of our windows.
5 Things to do in Festival Country, Indiana:
Drive or

Fly

?

Festival Country, Indiana is around three hours away from Chicago. Buckle up and drive down.

How Long to Stay Here. Johnson County (aka Festival Country) hosts loads of festivals every year. Go ahead: spend the weekend!

Will you need a car to get around?

You will need the car

Family Activities. Check out a local calendar – there is also something going on here

Local food not to

be missed

. Apple Dumplings for sure