I participated in an Influencer Activation on behalf of Influence Central for Mudderella.
I received complimentary admission to facilitate my review as well as a promotional item
to thank me for my participation. #Mudderella2015
What will it take for you to get dirty on purpose? While getting ready for the Mudderella 2015 in Chicago, I realized that many of my friends won't get dirty if you pay them, while others seem to crave obstacles – the muddier the better! Is it the way to deal with personal issues, the need to challenge yourself or desire to do something for a good cause?
MUDDERELLA
Mudderella is the first and only full-day athletic event series designed for women, by women,
to challenge all-round strength, balance, endurance and agility in a team environment.
This is What I call a Commitment!
It had to be more than just a desire to get muddy that forced all these ladies and some men on the obstacle course in Chicago on May 30, 2015. The forecast was grim with the temperatures falling into upper forties, wind and rain all day, but here I was standing in a long line waiting to board the bus to get muddy.
A year before it took us two hours to complete the course, but this year – three hours, with the challenging mudslide like road conditions.
The Team
With me having a baby almost 4 months prior to this event, I wasn't in the best shape and I don't know how I would of made it through the course without the help of my team – my husband and my sister.
Sometimes that meant holding hands going through the dirty water and sometimes it meant pulling me out of the sticky mud.
The Obstacles
Mud Run: you've done it once – you've done them all, right? No! The only thing that was similar about this event was the location – the course was different, the obstacles were different, and conditions were completely different.
The Spirits:
I have to admit, I went through all kinds of doubts on the course – can I really climb up and over? Can I reach that far? Can I get myself out of the hole? The cold weather made the doubts more real and a disturbing phone call from home, I got on the course made me doubt myself even more. However the people, who surrounded me on the course made it possible for me to finish and get my finisher's headband.
I am not just talking about my team – I am talking about about the people that surrounded me on the course. You bet I felt down many times, you bet I couldn't reach, climb up, and get myself out, but any time it happened, strangers offered me a hand, pushed me up and out.
The Organization
If you looked into participating in this event, you probably know that whenever you buy an event ticket, Mudderella contributes to the "futures without violence" to prevent and end domestic violence in the US.
I personally admire this organization and the event they brought to Chicago for second year – the parking is well planned, the area of the event is equipped with tents that provide any service the participants or spectators might need – emergency help, luggage check, registration as well as a gift shop and a beer tent.
However, this year's event was seriously challenged by the weather – it was cold and rainy. Considering the fact that you have to jump in and out of the water, my team and I knew we would get cold, so we kept moving to complete the course and stay warm. Participants, who started after us, were not as lucky – the temperatures were lower, the hills were steeper, the roads were slipperier. More power to anyone who stepped on the course and finished it – hope to see you on the course next year!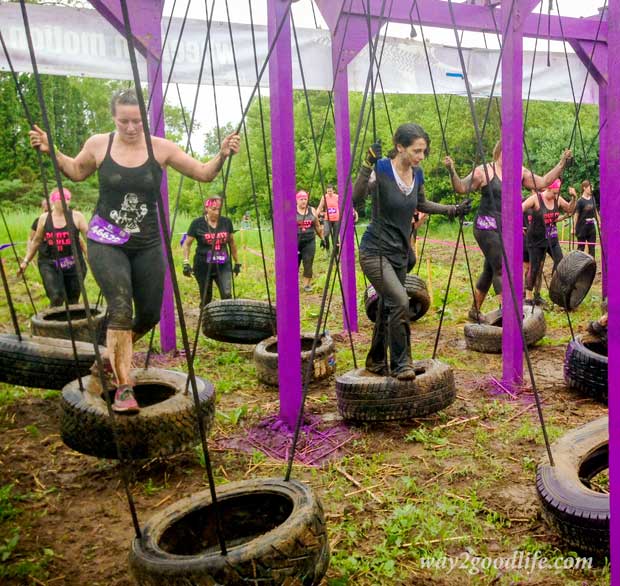 About the Event
Mudderella is the event designed for women by women. The idea is to challenge to us, women (but men can participate too), to do something out of the box – Mudderella is more than just a course, it's a quick-growing community with ways for us to connect with the course and off it. They also provide you with a free athletic workout plan to prepare you  for the event.
Is Mudderella coming to the town near you?
NorCal –

June 27, 2015

– Vallejo, CA
Toronto –

July 11, 2015

– Kitchener, ON Canada
Capital Region –

July 25, 2015

– Clarksburg, MD
Colorado –

August 22, 2015

– Snowmass Village, CO
Pittsburgh –

September 12, 2015

– Slippery Rock, PA
Whistler –

September 26, 2015

– Blackcomb Mountain, Whistler, BC Canada
New England –

October 3, 2015

– Thompson, CT
Have you ever participated in this type of event?