Our family is pretty active, but we usually reserve to on-ground transportation – the van works perfectly with the kids safely buckled up, watching movies or playing games. I do sometimes threaten to leave them on the side of the road if they don't stop hitting each other, but otherwise, we are very much used to hours of driving.
However, this year we decided to take the kids on the vacation that involved air transportation. How do I travel with two kids (5 and 6) if they both want to sit with me and by the window at the same time? Bribes! I had promised my dear daughter an exceptional surprise if she takes the aisle seat, while her brother was just very excited to occupy the window seat.
How do I manage tantrums on the plane? How can I put a kid in a timeout when we are in the air?  How do I keep them quiet?
As a first time flyer with the kids, I have done my research up and down the internet and packed a whole bag of treats and games.
FOOD
When it comes to food, many international airlines offer kids boxes, but our flight to Mexico wasn't one of them.
DO PACK
 Chips

Popcorn

Muffins

Bagels

with cream cheese

Shelf 

stable(not frozen)  waffles with Nutella or Sunflower seed butter
Sugar-free gum

( 

It doesn't just keep kids happy, chewing also helps to get some energy out while sitting still for hours)

GoPicnic

box – shelf stable lunch for kids with a very decent selection

of options

Small size cereal boxes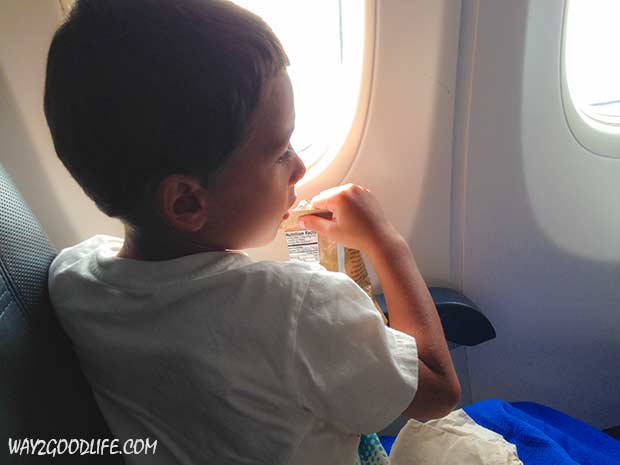 DO NOT PACK
Let's talk about things that would keep kids happy quite
Apps and Movies
We have utilized iPad and mini iPad for this trip,  but there are other options
Ipad, mini iPad
Great for games as well as watching movies. I bought some new games for the iPad the night before the trip. Since both of these are connected to my account, I only had to pay once for the ones that were not free. My favorites apps are Frogs, Cut the Rope, Scribble Hero, Memory Match, Checkers, Maze games, Wild Kratts, and Where is my Water?
We considered bringing our small Asus transformer laptop, which is a computer that can convert into a tablet by detaching a keyboard. However, it is still a laptop, and that means, no quick and easy to use apps. Also when it comes to movie watching, the real tablets have better compatibility with the programs that support movie downloads and viewing ( through Amazon or iTunes).
If you love buying BluRay combo packs, those usually come with a free digital copy, which can be transferred to the tablet via iTunes or Amazon.
We downloaded Hotel Transylvania, Alice in the Wonderland, and Frozen (duh), because who doesn't love singing "Do you want to build a snowman" while flying over the fluffy clouds? The other classics are Polar Express, Lego Movie, Rio, Monsters, Pirate Fiery, but you know that the choices are countless and don't forget to buy kids' proofed headphones!
Games and Toys
I have to say, I attacked the Dollar Store, like it was going out of business for dollar activities – coloring books, play dough, magnetic games, and so much more. What is the worst that will happen? You might have some leftovers for the next trip.
Stuff
We also brought blankets, pillows, and favorite toys, because you never know, when you might just get lucky, and one of your kids will fall asleep and sleep through most of the flight, while the other one will spend hours watching movies and playing games.
I call my preparation success since nobody complained, cried or gave me a reason to think of punishment.
What tricks do you use for flying with kids?