Do you love road trips? Did you know that you could have one every weekend? While most of us can't fly to the all-inclusive resort often, we can explore new and exciting things right in our backyard. We recently visited Fort Wayne – it's a four-hour drive, and I can't wait to share my discoveries with you.
History of Fort Wayne
Fort Wayne got its name from a U.S. military fort established in 1794 by Gen. Anthony Wayne followed Wayne's victory over the Miami Indians. French fur traders were the first settlers of this place, but the fort changed many flags over time. Although no traces of the original fort remain today, a reconstruction, The Historic Fort Wayne is open to the public and often hosts reenactments.\
We often leave for our weekend trips in the evening on Friday, after the workday and arrive at our destination late in the evening. I love waking up in a new place on Saturday – it makes a great start for the weekend and leaves a whole day for exploring new and things. With a four drive from the Chicago Northwest suburbs to the destination, Fort Wayne seemed like a perfect family getaway.
Late check-ins also usually mean little to no wait time and 10 minutes later my older kids were sound asleep on the comfy bunk bed.
This impressive 650 sq ft suite of the Holiday Inn Ft. Wayne-IPFW & Coliseum has an excellent separation between sleeping areas and the separate play area yet still open enough to let me see what is going on in every corner of the space.
Our first Saturday stop was the Fort Wayne Zoo. This place can entertain the family for a whole day.
We loved gliding over the African  Area on the Sky Safari. So cool to observe the zoo from the up high!
Kids absolutely love feeding articulated giraffes and my older ones also decided to hide in an ostrich egg – how often do you get to do that?
The Australian Adventure's highlight for us was the 50,000 gallon shark aquarium which includes blacktip reef sharks, a zebra shark, and schooling fish but the kids especially loved the Stingray Bay for its closeness with nature! – all up close and very personal.
We had a lot more to explore, but with so much more to do we left the zoo and head out to our next stop – Science Central!
The Science Central where the kids can be kids yet they have an amazing opportunity to also be researchers, geologist, and engineers. I love how incredibly fun this place and well it is tailored for different age groups. With the Kids Central designed for the younger kids, my toddler had lots of fun sliding and exploring, while his the older siblings spent most of the time going from stations to stations. My daughter's favorite was the ocean robot – what an incredible experience operating a robot at a distance.
While the boys were having their own fun.
What's next? How about something different? How about Fort Wayne Museum of Art? To be perfectly honest I wasn't sure if my kids were too young for a place like this. I put significant efforts into staying away from the stores and museums for years to make sure my wild kids wouldn't break anything there. Can they be trusted in a place like this? 
We attended American Brilliant Cut Glass: New World Innovation from 1876-1917 with my older kids at the Fort Wayne Museum of Art.
Kids often learn by touch and this is one thing you can't-do in a place like this, so I had to keep a close look after them. They also asked a lot of questions and that meant to me that they were actually living in the moment visually exploring and trying to understand what it is they were looking at.
While kids of this age might not truly appreciate of fine art, checking out an exhibit like this can definitely wow them – how often do you see creations like that?
While we were admiring high state form of art, my husband and the youngest son got a headstart on a great event right outside – Taste of the Arts Festival.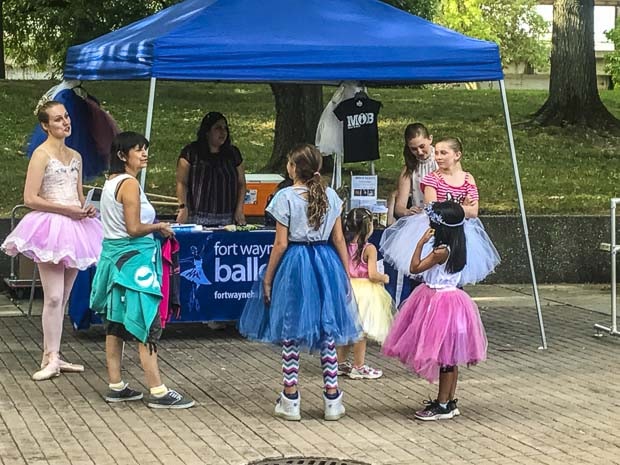 I have to admit Fort Wayne knows how to have fun. The festival was perfectly tailored to both kids adults with numerous activities for the children around the plaza
plenty of entertainment for the adults
and the greatest motivator of them all – food!
Tired, yet still full of excitement we had one more stop to make before heading back to the hotel. Rock the Plaza is the summer concert series that gathers people for some evening entertainment on the Library Plaza.
This Free family event is perfect for a dinner picnic or an evening with friends.
What a fun day. How can we possibly top that off with our Sunday plans? We went kayaking with Fort Wayne Outfitters! If you are a family with a toddler you might think – This is not for, but check this out!
While the older kids had the fun of their own, the little one was sitting comfy on my lap helping me maneuver the kayak until he wanted to catch a ride on daddy's lap. We switched a few times and got to try both the double and the single kayaks while observing the scenery from the water.
We even got very close to the Historic Fort that was getting ready for a day full of activities.
Historic Fort? History? Re-enactment? The history geek in my husband couldn't wait to get to the Historic Fort by land – he already brushed up on the Fort Wayne history and couldn't wait to see it with his own eyes.
This also was an interesting history lesson for the kids, of course, and they had lots of questions!
We were about to pack and head back to Chicago – but not before making one more stop.
Botanical Conservatory is an excellent way to slow kids down from all the excitement of the day, yet give them enough entertainment and knowledge to keep them occupied for a while.
Three indoor gardens in the Conservatory cover over 25,000 square feet and house around 1,200 plants and 72 different types of cacti. From the seasonal offerings in the Showcase Garden to the Tropical and Desert Gardens it was lots of fun of changing climates by just changing the gardens.
However, out all time favorite was the outdoor part of the Botanical Conservatory with the ornamental grasses, rhododendrons, trees, shrubs, and perennials. This also is the best place to take cute kids' and family pictures.
What an exciting weekend – full of new memories we headed home, but hope to come back again soon. Thinking of getting away to the Fort Wayne for the weekend too? Download or print our travel card to keep these family-friendly activities at your fingertips.
Download your Fort Wayne Travel Itinerary