Babies are expensive and that is why I am happy to share some Free Stuff for New Moms! While we all love our children unconditionally, yet most of us had to make some major changes to make sure we can still have ends meet. About a month before I had my daughter (she was the first of my three kids), my husband lost his job and joined me at home where I was spending the end of my pregnancy on medical leave. Talking about a stressful time!
I suddenly found myself doubting everything and anything: how was planning to afford basic expenses with no income coming in. And while the new addition to our family was truly a life to change and I couldn't wait to become a parent for the first time, the cost to have a little one was truly terrifying. Who knew something that small could drain your wallet that much?
However, even if you are not fearing how to pay your next electrical bill, the ideas I am listing below are quick and clever ways of getting free and deeply discounted products from the certain companies.
Free Stuff for New Moms
Check out our top tips for getting free stuff for new moms with little effort. From the much-needed breast pump to magazines and baby items, this list has a ton of tips on how to save money for your family when a new little one arrives!
Breast Pump
Breast pumps can be very expensive and they are a must have if you plan on breastfeeding your baby, but also plan to go back to work. Most people don't know that a breast pump can be covered by your insurance. Call your insurance to see if your plan covers breast pumps, ask your OBGYN to write you a prescription and make sure you specify which model you would like and then have your doctor's office fax the provider the prescription.
Nursing Pillow
Nursing pillows are great not just for nursing – they also help with tummy time and helping your little one learn how to sit up properly. You can get a free nursing pillow. You still need to pay for shipping, but that doesn't beat getting a nursing pillow for free.



Save your diaper codes
If you are looking to get some cool free stuff, whether it is for your little one or even for yourself, stick to a diaper brand that you love and save their reward codes. For all the reward codes you save, you can purchase something awesome out of their rewards catalog – From items for your kids(like fun toys) to things for yourself (like a Starbucks gift card or a magazine subscription). Whatever diapers you are using, there is most likely a reward program to go with it – check out the website.
Free Infant Cold Remedies Cheat Sheet
(free stuff for new moms exclusive)
Infant fevers are scary and that is when you are expected to keep it cool (since everyone around you is freaking out as well). Download this cheatsheet and know exactly what to do the next time fever strikes.
Free Trial of Honest Products
Great company with lots of great products. You have a choice of free trial – pick the diapers they are the cutest! The Honest products are 100% natural, non-toxic and surprisingly affordable. Order your free trial from The Honest Company today!
And if you plan to buy something outside of the free offer, click the banner below to get $10 OFF
Breast Pads
An essential item for any breastfeeding mom, because nobody likes leaky boobs. Just like with the nursing pillow site, pay to ship and get 10 free pairs of pads. They have them in different colors, but here is a hint – get a bunch in the same color and avoid match game – you will have enough to worry about. This is one of my favorite free items for new moms, because no matter if you are breast or bottle feeding, these will come in handy. Psst! Everyone leaks for a few days after giving birth!


Baby Leggings
If you have a winter baby or even if you don't, check these out. They are awesome for added warmth and will ease your diaper access. Free with paid shipping – still a good deal!



Carseat Canopy
Perfect for summer and these come in a number of colors. Free with paid shipping – still a good deal! These can also easily double as a breastfeeding cover if needed on the go or in a hurry!



Baby Carrier
They have the cutest designs and they are yours for free with paid shipping! Baby carriers will save you a ton of time and frustration when your baby just wants to be held but you need to do the dishes!


Nursing Cover
You know you will need it if you are planning to nurse while out and about. Free with paid shipping – still a good deal!


The Belly Button
This is one way to avoid buying more maternity clothes and they are super versatile. You'll love the fact that they help during and after pregnancy for making your clothes fit better!


Baby Registry Gives back
Create a baby registry at the Target, and get $50 worth of coupons plus samples. And they will give you 15% off anything on your list after the baby is born. Buy Buy Baby also gives welcome gifts.
Amazon Family Membership
If you haven't already done so, get a membership from Amazon – it will save you so much money and hassle, just because you will be able to shop quickly and at home. They are two-day shipping is amazing, discounts on diapers and formula are awesome, and their return policy is very favorable. However, you can use all the perks of the membership for free for 30 days. By far, this is one of our favorite things on the list of free stuff for new moms. And may I also say suggest "Subscribe and Save" – it will let you save 5-20% off!
Enfamil Family Beginnings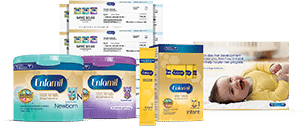 If you plan on using the formula (and even if you are planning not to) it is a great idea to sign up for Enfamil Family Beginnings. When you sign up, you can begin to receive high-value coupons, free gifts such as totes and bottle coolers and they will even send you some free formula samples. Join Enfamil Family Beginnings and get up to $250 in free gifts plus coupons every month
Free Baby Sleep Book
Download this e-book completely free and learn something about baby sleep – The Complete Newborn Sleep Guide.
Walmart Sample Box
This box is developing as I write this. If you are in your second or third trimester – go ahead and sign up. If you have 0-24 months, check back soon. Walmart Baby Boxes delivers free stage-relevant product samples of items sold at your local Walmart and Walmart.com to ease transitions all the way to your baby's first steps and let you focus on their development. You pay $5 shipping.
Get 5 Free Baby Books
Babs is a parent & new grandparent, a best-selling children's author, a career educator, and longtime consultant for schools, parents, and writers. Most importantly, Babs is a former teacher of all ages and abilities and former school administrator! Get $40 code will get you 5 books for free (you will pay the shipping) and each additional book is $3.
If you're a new mom or will be one soon, check out more tips, tricks, and other great articles on Advice for a New Mom page
More Baby Tips:
6 Baby Services for New Parents that Make Great Gifts
Tips for Family Travel with a New Baby
Introducing Solid Food to Baby
Why Would a Baby Need Swimming Classes?
Follow Way 2 Good Life's board Advice for a New Mom on Pinterest.
Liked "Free Stuff for New Moms"
Look for more tips, tricks, and other great articles on Advice for a New Mom page