If you recently discovered that you have a gluten sensitivity – don't panic: you have options.
I always wanted to try a cooking class with my daughter. The 7-year old in my house really loves to cook and I hope that maybe one day she will start cooking for me. Recently, we attended a Mango cooking class at the Chopping Block in Chicago. This place has a schedule of their cooking class on the website, so if you are planning to visit the Windy City or live in the area, consider checking it out.
Our class was hosted by MANGO.ORG and we were lucky enough to learn a lot about this exotic fruit.
Is mango a frequent guest in your shopping bag? I always found it difficult to cut and separate it from the skin to eat it as a snack. And honestly, I never considered cooking with it.
Are you ready for some amazing and quick Mango Recipes?
Mango and Banana Smoothie
Preparation Time: 5 minutes
Ingredients:
3 mangos (about 3 pounds), peeled, pitted and chopped
¾ cup low-fat milk
1 cup ice
½ banana
1 teaspoon honey
Instructions
Combine all ingredients in blender. Pulse until desired consistency. For a thicker smoothie, add more ice.
Cinco de Mango Quesadilla
Preparation Time: 25 minutes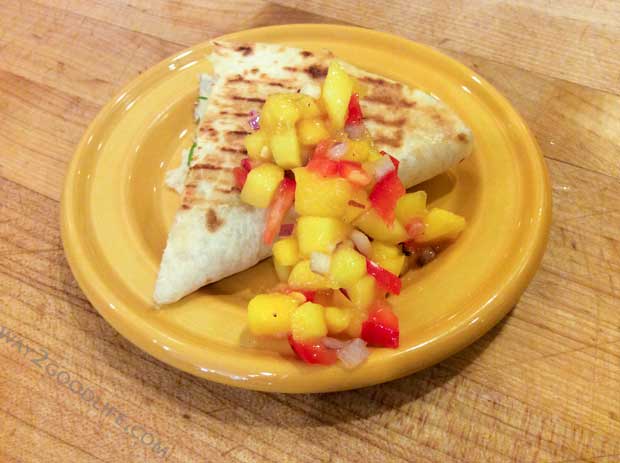 Ingredients:
FOR THE MANGO SALSA
large mango, peeled, pitted and chopped
1/3 cup chopped red bell pepper
1/4 cup minced red onion
1/2 tablespoon chopped fresh cilantro
1/2 tablespoon lime juice
pinch or dash salt
Instructions
Cook chicken on a lightly oiled grill over medium heat for about 5 minutes on each side or until lightly charred and cooked through.
Let cool slightly and cut into bite size strips.
Puree the tomato sauce and dried pepper in a blender or food processor.
Transfer to a small saucepan and simmer over medium heat for 15 minutes.
Add grilled chicken to pan and toss well to coat; season to taste with salt.
Place flour tortillas on a flat surface. Top half of each tortilla with equal amounts of cheese, mango, bell pepper, green onion and chicken; fold over tortilla.
Cook in a large skillet on both sides until cheese is melted and tortilla is crisp, about 5 minutes on each side.Serve with mango salsa.
Mango Salsa: In a small bowl, stir together mango, red bell pepper, red onion, cilantro, lime juice, and salt.
Frozen Yogurt-Dipped Mango Pops
With a sharp knife, slice off the sides of the mango, avoiding the large seed in the middle. Cut parallel slices into the mango halves to dice, being careful not to cut through the skin. Scoop the mango cubes out of the mango skin using a spoon and skewer each mango cube onto a lollipop stick. In a bowl, stir to combine 1 cup of yogurt and 2 tbsp of honey. Dip each mango into the yogurt until coated. You may need to use a spoon to help spoon yogurt onto the mango cubes evenly. Sprinkle desired toppings onto each mango cube and place mango cubes on a baking sheet lined with wax paper. Place in the freezer until mangos are slightly frozen and yogurt has set, 1 to 2 hours. Serve.
Toppings: mini chocolate chips, salted cashews, sprinkles, toasted coconut
Special equipment: 12 lollipop sticks and wax paper
Visit www.mango.org for additional information on mango varieties, availability and recipes.
[amd-yrecipe-recipe:1]
Like this article? Check out other Easy Gluten Free Recipes, Articles, and Product Spotlights
If you recently discovered that you have a gluten sensitivity – don't panic: you have options. Learn what's on the market, look into nutrition, check out our spotlights and reviews – make an educated choice!
Follow Way 2 Good Life's board Easy Gluten Free Recipes and Products on Pinterest.