Living in Chicago and planning a weekend getaway, I usually think of Iowa, Indiana, and Wisconsin. However, how about hopping a state over to Minnesota? Recently my family explored St Cloud, Minnesota – one city in the Land of 10,000 Lakes.
Welcome to St Cloud, Minnesota!
St Cloud, Minnesota LODGING
With the variety of lodging options, you have lots of choices. We stayed at the Best Western Plus Kelly Inn. Overlooking the banks of the Mississippi River, this St Cloud hotel is a great option with a great downtown location and covered garage parking.
We also stayed at the Holiday Inn Express and loved the location – close to the interstate and the airport. It also is closely located in many attractions and restaurants.
Both hotels provided great service, but the real surprise in both cases was the spacious rooms.
St Cloud, Minnesota ATTRACTIONS
Munsinger & Clemens Gardens
1515 Riverside Dr. SE, St Cloud, Minnesota
Munsinger & Clemens Gardens – Located along the Mississippi River across from St. Cloud State University, Munsinger and Clemens Gardens is perfect to spend a morning walking down winding paths and brick pathways enjoying lovely gardens.
You probably wouldn't expect to find fountains and peacocks in Minnesota, but you will be wrong.
Munsinger Gardens began life in 1890 as a sawmill. However, in 1930, Joseph Munsinger converted it into a park. In 2017, Munsinger and Clemens Gardens housed about 75,000 plants. Munsinger is still a great park with a lot of shade and benches surrounded by flower beds and shrubs right next to the river.
Clemens Garden
Clemens Garden consists of six different gardens:
Virginia Clemens Rose Garden is all about different types of roses. It also includes a test garden.
Rest Area Garden is known for its Renaissance Fountain with Cranes. Here you will find sun-loving flowers. The colors and design change every year.
Like symmetry? You will love the Formal Garden! It features geometrical paths and a uniform design of flowers. The design and color scheme changes yearly, but it always keeps a formal look. In the center of the Formal Garden, you will find the Windsor Court Fountain, a low structure with bathing swans.
White Garden was inspired by the famous white garden at Sissinghurst Castle in Kent, England, with white flowers and green foliage.
A Perennial Garden looks different as seasons change, but it is full of native plants and grasses, so it is especially attractive to bees and butterflies.
At the east end of the Gardens, go up the stairs and see the Arbor. It is 104 feet long and has a central dome that is 24 feet high. Under the dome is the Three Graces Fountain.
Quarry Park & Nature Preserve
1802 Co Rd 137, Waite Park, Minnesota
The quarry park is like a giant granite playground with much space for exploration. Two quarries are open for swimmers, and one has a sandy beach. Here you will find playgrounds, great landscapes, and fishing ponds. You will find the sandy beach at Quarry #11, and it is perfect for younger kids, with some great ledges for small jumps.
Quarry #2 is for the older kids, with no beach but high ledges for diving and beautiful views.
Quarry Park and Nature Preserve is a 684-acre park site of 20 former granite mining quarries. It is a busy place during the summer months. In addition to swimming, there is plenty of plant life for nature lovers, which includes everything from oaks and aspens to yellow lady slippers, Indian paintbrush, and prickly pear cactus. There are quarries for fishing, scuba diving, and rock climbing.
Love hiking? Most of the trails are covered with gravel to make for easy walking and even stroller access with larger rubber tires. We spotted plenty of scenic spots while exploring the park trails.
Heritage Park Skate Plaza
265 33rd Ave S, St Cloud, Minnesota
My older son loved the skatepark. Heritage Park Skate Plaza is approximately 20,000 square feet and can generally be categorized as having a large multi-depth bowl, and a large plaza. The bowl has 4, 5, and 6 feet depths with a partial 7-foot extension to create the deepest pocket. The plaza provides different and varied terrain and skate lines. Fun return walls, a stair set, various ledges, rails, and manual pads are all laid out creatively.
Blacklight Adventures
240 33rd Ave S, St Cloud, Minnesota
Blacklight Adventures is a great place to spend an afternoon, especially if the weather is not up to your liking. And you won't believe all the fun is packed under one roof. There is Laser Tag and several escape rooms. My family loved the immersive games in the virtual reality rooms, while I might've spent too much money playing at the arcade.
Clear Waters Outfitting
100 Pine St Suite B, Clearwater, Minnesota
How about spending an afternoon kayaking down the Mississippi River? We visited Clear Waters Outfitting to get our kayak adventure started. They did everything – got us and kayaks along with pedals and safety vests to the starting point of the river and pointed us in the right direction. The rest was a breath of fresh air (literally) – a few hours on the water in good company under the open sky.
FOOD
NELSON BROS. RESTAURANT
950 MN-24, Clearwater, Minnesota
NELSON BROS. RESTAURANT is located at Clearwater Travel Plaza, and while it might sound like an average truck stop, it sure is so much more. The restaurant is a great family place with a variety of food options.
Don't want a sit-down dinner? Visit the food court and shop for gourmet sandwiches, several coffee varieties, or ice cream. Sandwiches come in various bread flavors, such as jalapeno cheddar, garlic black olive, and spinach parmesan. Add a side salad and hot soup, and polish it with a sundae or a shake.
I should also mention huge donuts and sweet rolls! It is impossible to buy just one, but they are huge!
Anton's Restaurant
2001 Frontage Rd N, Waite Park, Minnesota
Built in the 1920's by a gentleman named Cy Brick, Bricky's started as a speakeasy during prohibition. For many decades after the repeal of prohibition, Bricky's became a haven for young people to meet and socialize.
The original dining room was added in the late 1940s. It sports log walls, a picture window facing the river, and a covered wagon frame hanging from the ceiling.
You will find a variety of foods – from sandwiches to seafood and steak as well as dessert options. Think Seafood-Stuffed Mushrooms, Stuffed Shrimp with giant popovers, and Whipped Caramel Chocolate Pie for dessert.
A trip to Anton's is a treat for my travel budget but it is a unique dining experience!
Downtown
Downtown St Cloud, Minnesota, is a great town with wide sidewalks. Take your time, and stroll through the streets admiring public art.
The Greater St. Cloud Area is home to some majestic works of art ranging from architecture, statues, and monuments, to murals and memorials that can all be found outdoors. Grab a cup of tea and hit the streets, exploring some of these areas' hidden treasures.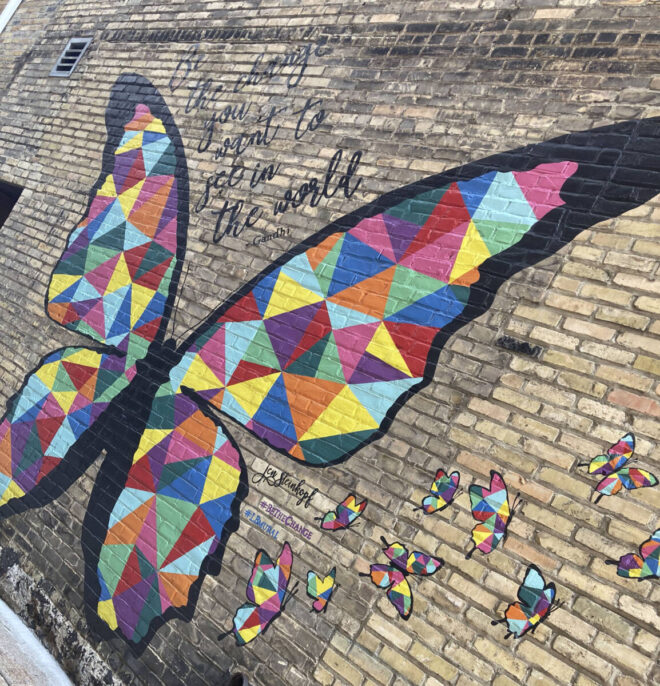 Check out ST. CLOUD AREA PUBLIC ARTWORK collection for a map of Murals, Sculptures, and Memorials.
Looking for other attractions in Minnesota?
AWESOME CHILDREN'S MUSEUM IN MINNESOTA
UNIQUE FAMILY MIDWEST MILITARY MEMORIALS AND MUSEUMS