I love playdates and kids can't wait to have guests over, but how to decrease post-guest cleanup? If you are getting ready for the Christmas season and looking for something fun and productive to do with kids, we have a couple of things to share – both involve M&Ms, games, and a little creativity.
With the weather getting colder in the Midwest, we spend more and more time indoors, and that means we have to think ahead how to keep the kids constructively busy and not boredom destructive. I love play dates and kids can't wait to have guests over, but how to minimize post-guest cleanup? If you don't know what I am talking about, this is what I walked into recently: Who plays like this? My kids do (even so they did try to blame their guests for the damage).
Party Idea: Pixel Art
Make sure to find great containers for M&M pieces – either separate them by color in a muffin pan or put the entire color variety on a big baking sheet
Sure you might lose some candy in the process (because real artists get hungry while working on their masterpieces), but you might be surprised how far their creativity can take them.
Party Idea: Decorating Cupcake
Rather than just letting kids eat their candy or cupcakes, make them work for it. Kids as young as three can help to make cupcakes, and it is the simplest things to do. The Best part of the project is cake decorating. Don't be judgmental – just let them have fun with it and check out our recipe for the whole wheat banana cupcakes at the bottom of this post.
Christmas Tree Cupcake
You know you want to make your cupcake, but are brave enough to do it with the kids still around? I wait for kids to be some place else when I try to get crafty in the kitchen. While the kids were inhaling their cupcake creations in the living room, my cousin and I made our fancy cupcakes. (Scroll to the bottom of the post for the recipe)
Don't Stop Playing
My husband got a bit competitive making our pixel masterpieces – what do you think?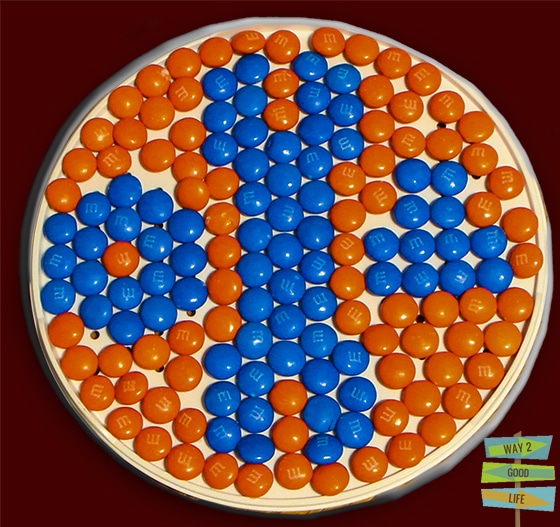 Christmas Tree Whole Wheat Banana Cupcakes
Recipe type: Dessert
Cuisine: American
Prep time: 
Cook time: 
Total time: 
Serves: 12
Ingredients
CUPCAKES:
3 bananas (Ripe)
½ cup sugar
2

tbsps

sugar
2 eggs
¼ cup whole milk
4 tbsps of melted butter
½ tsp cinnamon
2 tsp vanilla extract
1-1/2 tsp baking powder
1-1/2 cups whole wheat flour
TOPPER:
Sugar Cones
Green frosting or vanilla frosting with green food coloring
M&Ms
Instructions
Preheat oven to 350 degrees.
Combine the first seven ingredients and mix well
In a bowl combine the Baking Powder and Whole Wheat Flour.
Add the content created in step 2 to the bowl and mix well.
Grease muffin pans or prepare paper liners.
Fill each Muffin cavity to ¾ full.
Place in the oven. After about 8 minutes, turn the oven off and leave the cupcakes in the oven for another 7 minutes. Do not open the oven door until you are ready to remove the cakes at the 15-minute mark.
If you are using paper liners, immediately turn the cupcakes out of the muffin tray. Otherwise, allow to cool for 5 minutes in the tray, then remove.
For the Christmas Tree Toppers:
Place a sugar cone on top of each cupcake and press into the cupcake firmly. Ice the entire cone with green frosting. Decorating the trees is entirely up to you—just have fun with it!