After I got pregnant with a baby #3, I found it extremely difficult to find time to cook. What used to be the easiest thing is now a daily struggle. At the end of the day, the kids want to eat every day and unless I can figure out how to put something decent on the table, keep children's' tummies happy and my sanity intact.
I spent a whole year after I had an adorable little bundle of joy trying to figure out how to feed my little army. Between a full-time job, a part-time business, this task seems next to impossible. I needed a solid plan, and that meant using any shortcuts in the book.
That is when I got an email from the Krusteaz with an idea of breakfast for dinner.
This story started in 1932 with the women of a Seattle bridge club had a simple idea for an easy-to-make pie crust. They called it "Crust Ease", and little did they know it would lead to a wide variety of home-baked goods enjoyed by everyone around the country.
A Simple Recipe of a Breakfast Dinner
Ingredients:
A box of Krusteaz Buttermilk Pancake Mix
Water
Fruit variety: strawberries, bananas, blackberries
Recipe:
Heat pancake griddle to 375°F (medium heat). Lightly grease griddle.
Stir pancake mix and water together with a wire whisk. The batter will be slightly lumpy. (Do not overmix.) Let mixture stand 2 minutes. Pour slightly less than 1/4 cup batter per pancake onto griddle.
Cook pancakes 1- 1 1/4 minutes per side, or until golden brown, turning only once.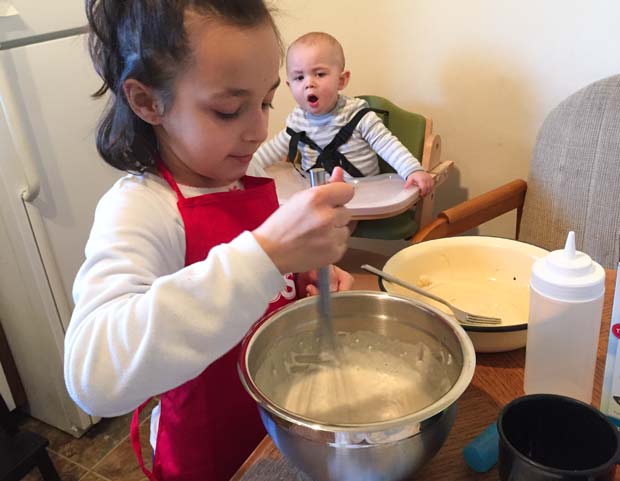 Do you know what is the best time about having breakfast for dinner? It is simple to make, everyone likes it, and kids are happy to be a part of the process.
With a blend of soft wheat flours, pancakes come out light and fluffy every time — plus a touch of creamy buttermilk adds delicious flavor.
Check out this coupon for $0.50 off any one pancake or waffle mix. 
How impressive is the dinner the family helps you make? Better yet, what are going to do with ten minutes of your day? While my family helped to make the dinner, I loaded a load of dishes, started a new laundry load and picked up toys from the floor.
And here is something super cute: just like always, the little mister gets frustrated when the content of his plate doesn't match what everyone else is eating. Hey, why not? How do you like this happy face?