Sponsored stay: we stayed here for free, but we love this place and visit it often
This year has been especially challenging. I started the year with the final months of my pregnancy and having a baby, continued with going back to work, and coming to the end strong(ish) while continuing to juggle it all. However, guess what I didn't have? A vacation! With all the vacation and personal days used during my maternity leave, I had to be at work, while my co-workers enjoyed their staycations and vacations. My solution? Weekend getaways some close!
The Key Lime Cove is an incredible piece of paradise in the middle of Midwest with a perfect weather every day. Don't believe me, look for yourself!
When it comes to the accommodations, consider your options – from a standard room to a two-bedroom suites, it's a perfect way to get some piece a quiet after the busy day. The two-bedroom suite is fantastic, with two separate bathrooms and two bedrooms. It's a perfect solution for a family like mine to keep noisy kids away from a sleeping baby, but most of the time I would probably stay in the standard room for the budget reasons.
Everything here is inspired by the Florida Keys with the beach shops, decor, and food. Kids love visiting Key Lime Cove and ask every time if we are coming back soon, and I love coming here for a weekend getaway with friends. While we get to catch up on the latest gossip, kids enjoy the water craziness in a safely closed environment. If this is not a getaway, I don't know what is.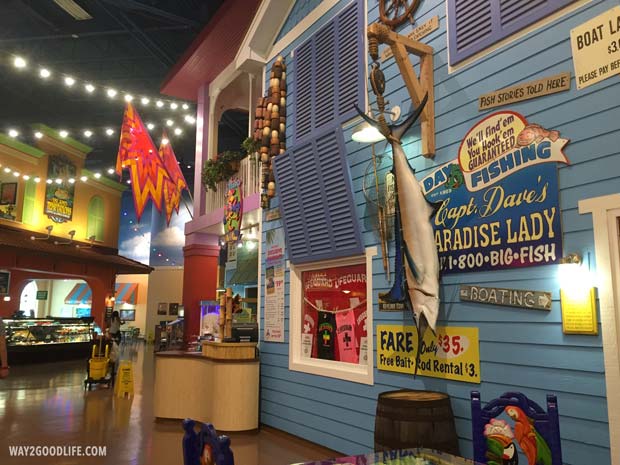 I love the fact that the Key Lime Cove Resort has a variety of relevant programs. As I am writing this article, a few of my friends are packing their bags for the Thanksgiving Special stay, but I am especially excited about their Christmas and New Year program.
You know that next thing you know – the kids will be off for a winter break, and you will have to worry how to keep them occupied. This place entertains children and adults alike with their festive schedule. Can I just live there?
Suits & Boots Dance Party –

Saturday, November 28

Visit with Santa – Fridays and Saturdays,

December 4

, 5, 11, 12, 18 &

19

Story Time with Santa –

Friday

and Saturdays,

December 4

, 5, 11, 12, 18 & 19
Dance Party  –

Friday, December 4

, 11, 18 & 25
Movie Night – Saturdays,

December 5

, 12, 19 & 26
Tea Party – Sundays,

December 6

, 13, 20 & 27
Magic Show – Saturday, December 26
And don't get me started on the New Year Eve. Their New Year program begins at 2 pm on December 31 and ends at midnight with the Beach Ball Drop.  Hawaiian Hula Dancers, Stilt walkers, magic show – can you think of a better way to greet 2016?