My family moved to the United States 16 years ago from a country that didn't celebrate Christmas. We did have our own version of this holiday, but it came with its own set of traditions. However, after moving to the Land of Endless Possibilities, we had to learn more than just American English. We spent years learning the history and etiquette, but how would we learn about the traditions for holidays like Christmas, if we don't have the old family recipes, dozens of Christmas ornaments collected over the years, and old Christmas stories? I remember going to the Hallmark store and asking associates lots of questions since this store is all about good old American traditions.
This time my husband and I are working on something very special for the kids – creating the spirit of Christmas and reminding our precious kiddos that Christmas is a magical time. With the store shelves full of small gifts for every budget, we came up with
Elves Scavenger Hunt – Countdown to Christmas
7 days to Christmas
We are starting with a subtle reminder of Christmas – The Northpole Snowball and its first message in the kids' room:
Coming to the kitchen we found this: What a mess! Kids, didn't I tell you to clean up the kitchen table after dinner?
6 days to Christmas
The second snowball arrives with a special message:
We don't have to go far to find this shiny gift on the doorknob of kids' room and it is so whimsical.
5 days to Christmas
Believe it or not – we have another snowball message:
And here is what we find in the next room. Snow in the house? Is that even allowed? I am intrigued. How about you, kids?
4 days to Christmas
Another day – another snowball. What is it?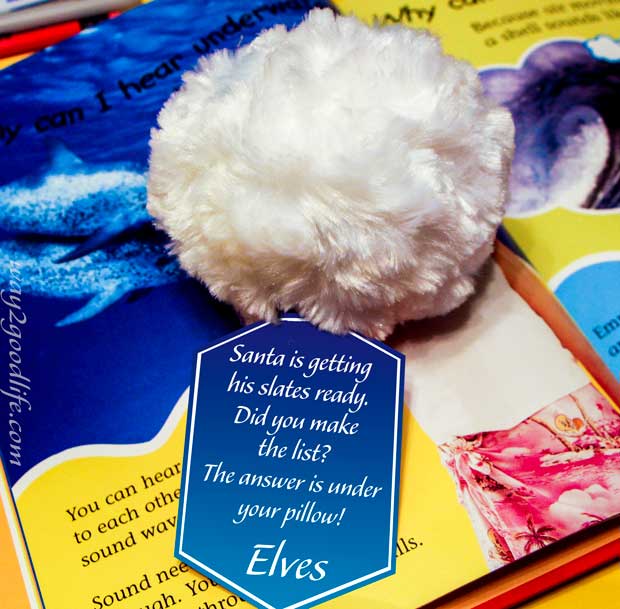 WOW! Hurry put your snowflake on the Christmas tree and make it shine!
3 Days to Christmas
We are getting so close to THE DAY. Who is more excited about the new message, us or the kids?
Kids! Were you making cookies at night? I know I didn't…
2 days to Christmas
WOW – another snowball message? Don't you love this one?
Look what we found! This is one ornament we don't have on our Christmas tree.
Christmas Eve
Let it shine with this snowball – we probably have enough Northpole snowballs by now to have an indoor snow fight!
Are we running out of milk again? Who keeps drinking it? I guess I need to buy some more and soon…