The leaves are starting to turn yellow, and you know what's next – a long season of holidays. Halloween is an exciting holiday that makes me spend too much money. And don't get me started on the Halloween costumes.  This Halloween Costume DIY for Box Trolls is a much easier and more affordable option!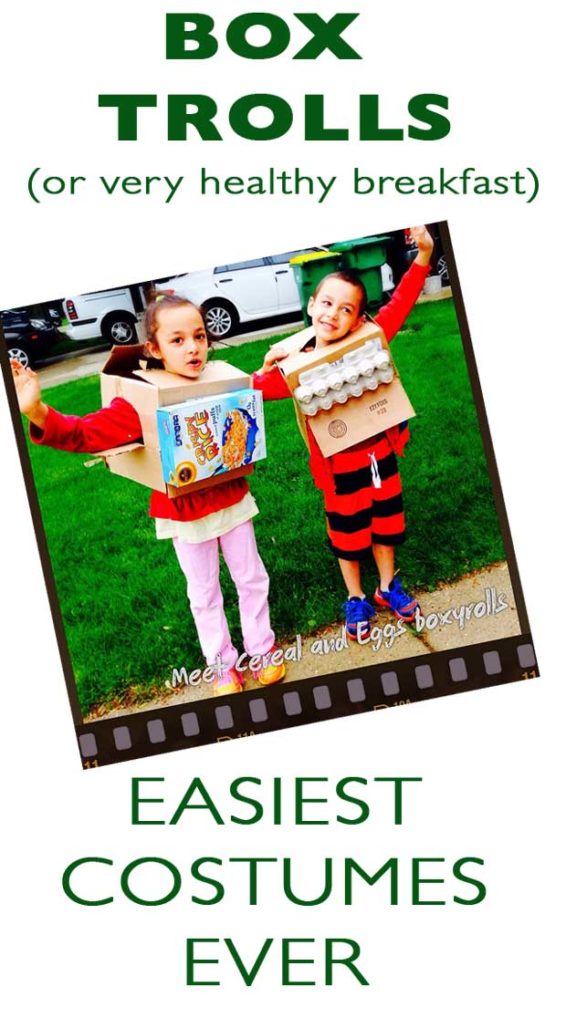 Box Trolls Halloween Costume DIY
After the 50  bucks I spent Elza's dress on Etsy was a complete waste, I wanted to have better options. Don't take me wrong – the costume was gorgeous, but after the first party my daughter said that it was too itchy and wanted to wear something else. Plus, she was one of fifty Elzas at her school Halloween parade. Do you know what is an excellent idea? A Halloween Costume DIY – let your imagination run wild and stop overspending!
This year we are going in style and completely cheap. Have you seen the Box Trolls movie? My kids loved it, and I thought it was super adorable.
Today's costume idea is for the Box Trolls Costumes
Meet Eggs and Cereal! If you remember the movie, the trolls took their names after the words on the boxes they wore. Do you remember EGGS?
Meet the New Generation Eggs!

Supplies Needed:
Box
Start looking around for a box that would be big enough for you to wear.
Craft
Get a pair of big scissor and start cutting:
– A big hole for the head
– Two smaller ones on the sides for the arms
and that's it. You can always flatten the box if you need to transport it.
Details
Write "Eggs", "Cereal" or whatever else on it. Just because there was no Cereal troll, doesn't mean that you can't have one.
OPTIONAL: Tape actual packaging to the box – I bet you can find an empty cereal box in your house for an extra flashy look.
PRO TIP! Older folks might not know about this awesome movie. Don't confuse them  – introduce yourself as the "The Healthy Breakfast DUO"! I bet you will get some extra candy for being such good kids.