Menopause is a boogie man – if we ignore it, maybe it will go away. You know, it will get you some day, but still you don't want to know anything about it. Let's take it slow if you are ready for the 2nd Talk, so you know what you can do now about something that will happen to you in the future. And if you are not ready, PIN this page and come back whenever you are ready, because I have some serious knowledge for you. My guest today is  Kelley A. Connors, MPH, the founder of Real Women on Health community.
Is there anything we can do in our every day life to prepare our body before we hit pre-menopausal stage?
First, knowledge is power. One of the most potent of hormones is called estrogen and many women's health experts thought this hormone was the fountain of youth until the late Bernadine Healy, MD, Cardiologist and Head of the National Institutes of Health put $625 million towards the study of estrogen in the Women's Health Initiative study. The study on estrogen was shut down in 2001 because the results coming in showed that estrogen was NOT the fountain of youth we once "assumed" and that in fact, in excess, estrogen causes certain types of cancers in women and does not even protect the heart against stroke as once thought. So, today, the drug companies and traditional medicine have less power over a woman's body simply because there is much research showing that nutiriton, exercise, mind body medicine can, in fact, help women gain health and wellbeing in the years before menopause.
Equally important is to find a medical doctor with whom you can build a relationship with. Since many women who've experienced childbirth have an OB/GYN, most women opt to stay with this physician. However, it may be a good time to explore a more integrated "team" approach to your health which includes integrative medicine professionals who can help you achieve a higher quality of life by changing your diet, environment and lifestyle. These "non-medical" factors impact the release of hormones which are not only estrogen but a whole symphony of hormones that impact your mind, body and spirit. (progesterone, testosterone, DHEA, cortisol to name but a few).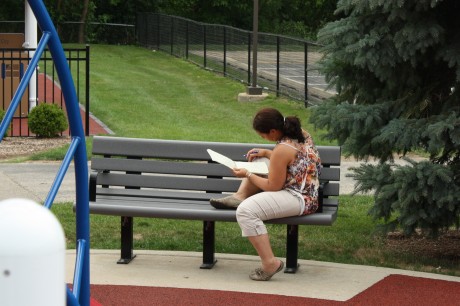 Women have the power to learn more, to talk to their doctor and investigate new "alternative or complementary" options which research is showing all the time have a role to play in women's wellbeing. Stress management (reducing fight or flight hormones that can contribute to osteoporosis as we age) is very important. Finally, the NIH even has an Office on Complementary and Alternative Medicine (CAM) which publishes research on this topic.
And, what about women sharing their journies with each other? This can be a great source of information and add to the knowledge about menopause that is necessary for women to navigate premenopause. Women can be spurred into action and obtain great resources from each other in communities that harness the collective wisdom of women – especially in this very personal and empowering area of women's health.
About Kelley A. Connors, MPH
Kelley is the founder of Real Women on Health, an on-line community and radio show that educates, empowers and engages women to take charge of their health. She is a competitive rower and a yoga lover, living in Connecticut with her husband and dog Lucy.