(sponsored, but completely honest. See full disclaimer at the end of this post)
I am so excited to have another talk about Huffy bike. I am a Huffy Moms on Bikes VIP and here on mission to make you fall in love with bicycle riding. (Is it working yet?).
A little while back I asked a bunch of people the same question:
Out of your daily/weekly running around chores, which drive would you replace with a bike ride (even if it's in your ideal world).
I got a lot of different answers, but so many mentioned that they would like to bike to the grocery store. I totally understand that for some of you even a grocery store is not an option, but for those who think it's a great idea to take a ride to the grocery store, I salute you!
"I like riding to the grocery store if I don't have to get tons of food. If I have close errands like going to the butcher, farmers market or hardware store in town that's a nice ride too." (Annie, mom of two, Western Springs IL)
"I'd LOVE to ride to my local farms to pick up the fresh produce and foods I purchase. I'd LOVE to just ride by the corn fields. it's so relaxing" (Wendy- weight loss blogger- CT)
"…Going to the grocery story. its the longest trip so would mean more exercise…" (Paula, mom of 2 boys, Master of All Things Domestic)
I absolutely love your idea and accepting it as a personal challenge – I am committing  to take a trip to the grocery store on my Huffy bike and tell you all about it.
You don't have to ask me twice – riding the bike to the store? I am all over it
And off I go.
MAP of my ride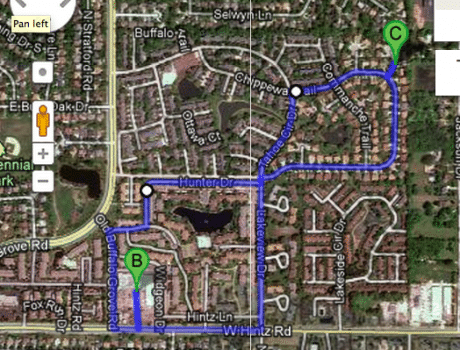 More than half way there
I made it to the grocery store without any adventures just to realize that I didn't bring a bicycle lock. Lucky me my husband was there to take my pictures, so he got to watch my two wheeled friend while I was shopping. Note to self: Next time do not forget the lock if you don't want to walk home!
I made a point not to buy a lot of food. Watermelon would be a good one to take home, but how would I carry it back home? Keeping in mind limited cargo, I probably would have to make my trips to the grocery stores more frequent – not a bad thing since I am trying to stay in shape.
All done and ready to go pack and go home.
All the food I purchased went into the saddle bag in the back.
On the way back
And here I am back at the house:
After thoughts:
My grocery trip with Huffy went awesome. Thank You for the idea!
Learn more about Huffy on their website and Facebook.
 FTC Disclosure: I received this Huffy Cruiser free of charge from the manufacturer as a part of Huffy Moms on Bikes VIP. I was not compensated in any other way for this post. The thoughts, experiences, and opinions are entirely my own. I am not liable for any issues you may incur from use of said product(s).