This month I wanted to ask you, my readers, What do you want to know about riding a bicycle, especially if you haven't been on one in a while.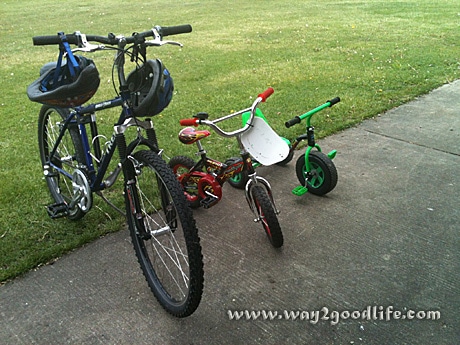 What size is best for me?
(Ivette, Work at Home Mom, Canutillo, TX)
It is probably not that big of a deal, if you borrow a bike from a friend to use once or twice, but if you plan on using a bicycle more or less on a regular basis, you need to get a bike that fits you right.
Straddle Test
Wear the type of clothing and shoes likely to be worn when riding to test for comfort – and fit. The best way to select the right size of bike is to "straddle" the bike, with both feet flat on the ground. Measure the clearance between the crotch and the bicycle's top tube. Bikes for females have a sloped top tube. Therefore, imagine the style of a men's/boys' bike when measuring, considering that the top tube extends horizontally from the front of the bike while standing over the bike. From this imaginary point, measure the clearance between the crotch and the top tube.
Riding style
You should have between 1" and 3" clearance, depending upon your anticipated riding patterns. For instance, 3" clearance is more comfortable for mountain bike riding. For BMX riding, a 2" clearance is sufficient. For rides through the neighborhood, a 1" clearance is sufficient.
Saddle test
You sit on your bike when you ride, so there are quick ways to determine whether you will be comfortable and have selected the right size bike, just by sitting on the bike. First, make sure the seat is in the right position for riding. With the pedal at the closest position to the floor, fully extend the leg with only a slight bend in the knee. Reach for the handlebars, making sure the reach is a comfortable distance.
General Guidelines
The "size" of the bike is based on the size of the wheels and tires. Typically, children's bikes come in 12", 16" and 20". The most popular size adult bike is 26". Age charts, such as the one below, provide general guidelines for purchasing a bike. (Source: https://www.huffybikes.com/
How many calories can I burn biking?
(Anonymous)
If you weigh 120-175 pounds and bike at an average rate of 10 mph, you will burn 215-240 calories per half hour. If you weigh 200-250 pounds and bike at the same speed, you will burn 300-360 calories per half hour. If you weigh 300-350 pounds and bike at the same speed, you will burn 420-500 calories per half hour. (Source www.fitday.com)
How do I know which speed to use? I never figured it out!
(Brandie, mom of three, Bartlett)
WOW, I am not sure how to explain that – I figured that out by trial and error.
Lower numbers are lower geared, and higher numbers are the high gears. First gear is a low gear. Twenty-first gear is a high gear. That's pretty easy, right?
Shifting means going from one gear to another. You shift gears by sliding the shifter on the handlebars. On most bikes this shifts the chain onto a different sized ring. On three-speed bikes the gears are in the hub of the wheel so you don't see them.
Downshifting means going to a lower gear, and upshifting means going to a higher gear. You can also say shift down and shiftshift up.
Here's pretty much all you need to know about shifting gears:
If you're going uphill and it's too difficult, shift down.
If your legs are spinning the pedals way too fast (it's too "easy") then shift up. (Source: http://bicycleuniverse.info/)