Turtle Beach® Recon 200 gaming headset was sent to use free of charge
to try out and share our experience with you. However, the story and opinions are all ours
With the school back in session, we have a new set of rules in the house – no game playing on the school nights. As you can imagine, kids hate this rule yet it makes Friday that much sweeter for them. As kids claim their electronic devices for the weekends my living room fills with all kinds of sounds. I here Roblox, Fortnite, Minecraft, and YouTube. The loudest in the living room, it was also very apparent in the kitchen, laundry room, and even the bathroom!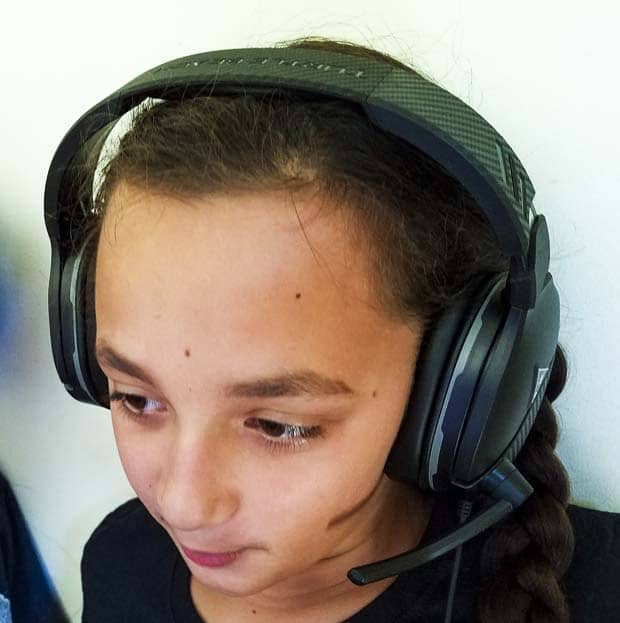 A weekend of gaming and I was ready to either move out of my own house or silence my children. Being a non-violent person, I opt out for the second one  – HEADSET will keep my house quiet and save my sanity!
When I first tried Turtle Beach® Recon 200 gaming headset on, I didn't want to take it off – everything was nearly silent and what mom doesn't like that. Designed with the quality in mind Recon 200 delivers high-quality game sound and crystal-clear chat through its 40mm speakers. Comptatible with Xbox One, PS4TM, Nintendo Switch, PC and mobile devices, this set is an all-in-one solution for your little and big gamers. High-sensitivity flip-to-mute mic makes this headset easy to use and breezy to keep out of the way when not needed.
Metal-reinforced headband and synthetic leather-wrapped memory foam cushions provide added durability and unmatched comfort. The lightweight design won't give you a headache even if worn for a while. Recon 200 comes with a rechargeable battery that will provide your gamer up to 12 hours of gaming time
What About Sound Quality?
When it comes to headphones sound here is what's essential – speakers, bass, and mic. Turtle Beach won't let you hear bass – you will feel it! High quality 400 MM over-ear speakers will deliver crisp highs and thundering lows. Borrow this headset to listen to an audiobook – it makes my mysteries more personal and engaging!
If your children play games the utilize voice chat, you will be happy to know that Turtle Beach® Recon 200 gaming headset comes with a high-sensitivity mic. It's great on picking up the sound loud and clear and can go mute with a flip of the switch. Your gamers will also appreciate the volume controls, which can be controlled inside the headset.
Learn more about Turtle Beach® Recon 200 gaming headset and consider it to be a present you are giving yourself – a fantastic quality product that will bring serenity to your house routines.