Breakfast (at least in our house) seems to be a take it or leave it based on the day. That's why I love this list of Healthy Toddler Breakfasts for our family. My kids aren't crazy about breakfast some days but, they will have a snack, and others they will eat a full breakfast. I try to find healthy options for them to eat whether it is a snacking-type day or a day where they are ready for a full breakfast.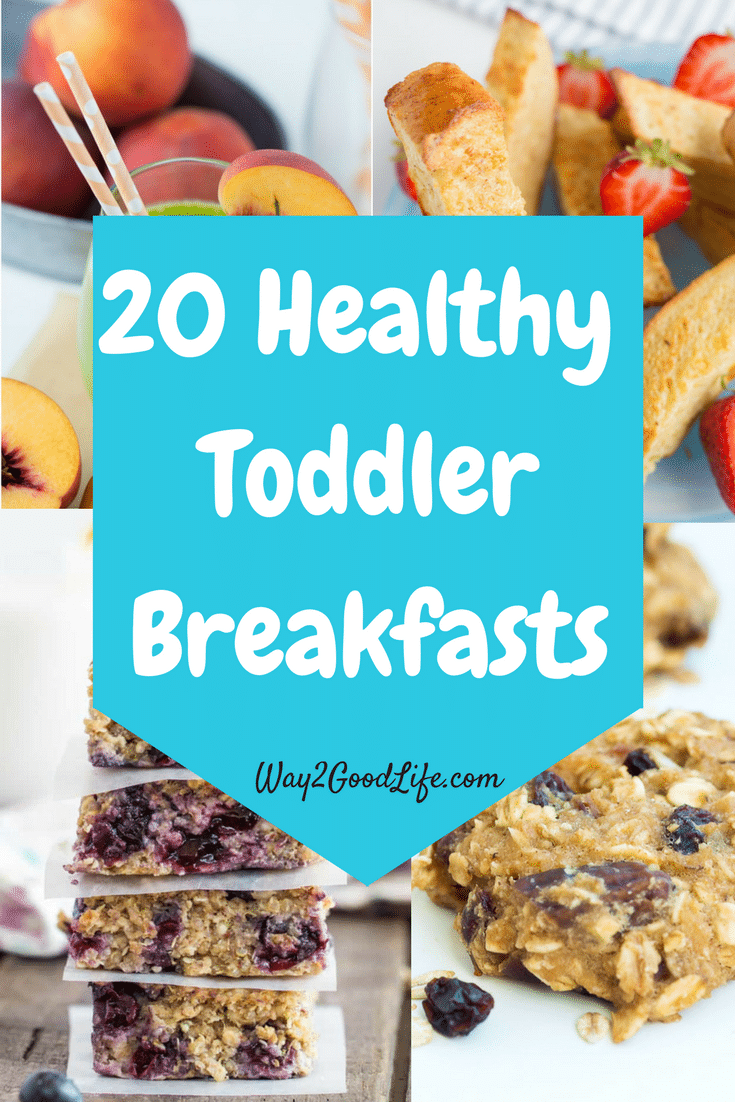 20 Healthy Toddler Breakfasts
One of my favorite things to do to manage healthy toddler breakfasts is to make small portions and have them easy to use as a grab and go meal. If your children are like mine, then they love when I hand them a bag of snacks that they can take to the playroom or snack while watching their favorite morning cartoon. This list has tons of things that are ideal for small portions!
Pumpkin Bread by The Lean Green Bean
Blueberry Quinoa Breakfast Bars by Simply Quinoa
Spaghetti Squash Hash Browns by The Honour System
Cinnamon Banana Pancakes by The Seasoned Mom
Baked Oatmeal Donuts with Maple Glaze by Stir and Scribble
Healthy Breakfast Toddler Casserole by The Tribe Magazine
Banana Sushi by Mouths of Mums
Freezable French Toast Sticks by Super Healthy Kids
Yogurt Fruit Salad by Healthy Eating
Apple Donuts by Eating Well
Morning Glory Muffins by The Seasoned Mom
Breakfast Banana Pops by Chocolate Covered Katie
Green Peach Smoothie by Super Healthy Kids
Apple Cinnamon Breakfast Bars by The Lean Green Bean
Bagels Gone Bananas by Eating Well
Mini Frittatas by Live Well Travel Often
Blueberry Pie Smoothie by Baby Foodie
Applesauce Breakfast Cookies by Happy Healthy Mama
Baked Avocado Eggs by Simple Toddler Recipes
Zucchini Bread Quinoa Breakfast Cookie by Simply Quinoa
Tips for picky eaters:
We also have some great tips for helping you tackle the picky eaters in your home. Healthy toddler breakfasts may be easy to find and make, but you may also find your kids are picky because they know a certain ingredient is in the recipe. Check out our blog post on Tricks to Feeding Picky Toddlers for more ideas. We also have great ideas for Lunches for Picky Eaters if your older children struggle.
As you can see, this list has tons of great ideas that kids of all ages will enjoy, but that are specifically good for your toddlers. For a healthy toddler breakfast, you may want to also invest in some cute little silicone muffin cups, a bento box, or reusable bags to make it easier for you to prepare these in advance!
Enjoy these great healthy toddler breakfast ideas as a way to get your children to eat even when you think they won't!