Goldfish are a favorite snack in our house. Whether they are in my kid's lunch boxes or an after-school snack, we keep them stocked in the pantry. If I'm truly honest, they are one of my favorite snacks as well. While regular goldfish are delicious, we love that the goldfish colors make snack time (or lunchtime) way more fun.
Not only do Goldfish taste great, I love that they don't use dye in their products. Pepperidge Farm makes their goldfish with whole grains and 100% cheddar cheese, and use plants as their sources of colors. They also don't use any preservatives or artificial flavorings. Each serving of Goldfish contains 12 grams of whole grains.
LIMITTED EDITION COLORS
Pepperidge Farm is currently looking for input on the colors for their limited-edition of Goldfish Colors. As my readers, you get the opportunity to vote for your favorites to be included in this batch of Goldfish.
Pepperidge Farm relies on other natural things to help get their colors exactly right. For example, the red color comes from beet juice concentrate and paprika extracted from sweet red peppers. See the other colors here.
Plant your vote for the Red, Green, Yellow or Blue. The chosen color will get its own limited edition bag!
NOT JUST A SNACK
Goldfish are the perfect snack but, they can also double as a learning experience for your toddler. With our Goldfish Colors crackers we did three different activities.
Count your Fish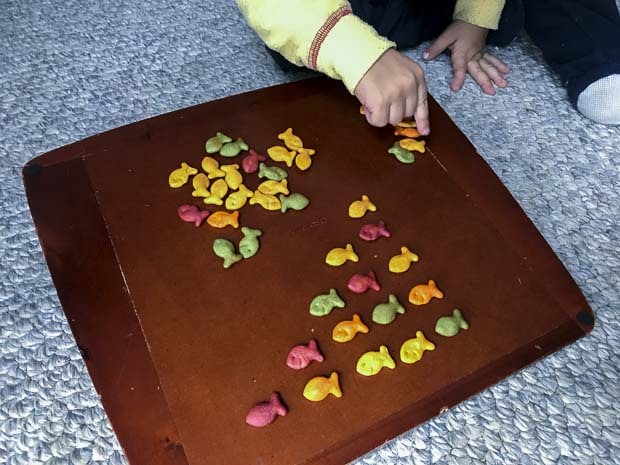 The easiest one is laying the fish out and counting them with your child. The fun part is picking them up and eating them as you count.
Name the Colors
Another simple activity to do while you are snacking is to quiz your toddler on the colors. You can start by asking your child what color each fish they pick up is. Once they master that skill, you can put some in a bowl or on a plate and ask them to find a specific color out of the bowl.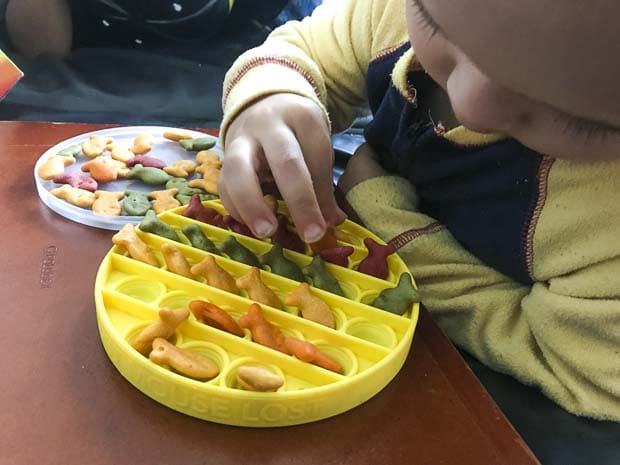 Matching
Click here to download a printable PDF of this game
This one is fun too. Since Goldfish's colors are made from other foods, you can use our flashcards to have your child match each fish with the foods that helped create it's colors.
Pick up your own Goldfish Colors in stores today and put your vote in for the next colors that premiere.